The Dark Knight - User Reviews
Thank you for rating this movie!
Read your review below. Ratings will be added after 24 hours.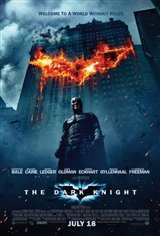 4.37 / 5
User Rating
Based on 8258 votes and 732 reviews
---
Please rate movie 1 to 5 stars
Showing 51 to 100 of 732
October 17, 2008
Awesome great plot and also there was suspense
October 15, 2008
awosme movie best ever
October 11, 2008
IT WAS AWESOMEEEE!!
October 10, 2008
BEST-MOVIE-EVER!! MY FAVOURITE MOVIE! i want it to come out on blu-ray soon december 9 is too long!! Heath Ledger played Joker perfectly.
October 09, 2008
The BEST superhero movie of all time! The Joker was awesome... I wish Ledger was around for the next one.
October 09, 2008
One of the best if not the best batman movie/superhero movie ever Micheal Caine and Heath Ledger were terrific
October 06, 2008
I give this movie 4 stars and not 5. It lost a star because of Christian Bale's performance as Batman. He just doesn't have a good Batman voice. The 4 stars all go to Heath Ledger's performance as the Joker. He made me want to stay 'til the end of the movie to see what he could possibly come up with next. If anyone connected to the making of this movie ever reads this, please be aware that Bale is a terrible Batman. Don't ever cast him as the dark knight again... Please!! for the love of all that is good!!! DON'T LET HIM COME BACK AS BATMAN!!!
October 04, 2008
perfect movie
September 30, 2008
definitly the best superhero movie of all time, maybe the best movie of all time...i've seen it 3 times in the theatre it is unbelievable....you think it's over and you are content with a great movie and another hour of new plot comes out and its even better wow
September 27, 2008
the dark knight was one of the most amazing movies I have ever seen!
September 27, 2008
amazing... thats all i can say
September 26, 2008
best movie ever. Ledger played the part perfectly props to him all the way RIP
September 26, 2008
its the best
September 26, 2008
AMAZING!!!
September 24, 2008
Comic book adventure masterfully brought to the big screen. I was transported back to that feeling only a 10 year old can have at the time of first reading such drama and adventure.
September 20, 2008
This movie is a work of art.
September 18, 2008
Outstanding study in the true nature of chaos and entropy!
September 17, 2008
The joker is worth it if nothing else. Heath ledger will be missed all the more after this.
September 15, 2008
dark knight.. is one of the best movies i have ever witnessed. just as you think it's about to end it doesn't and twists into an even more exciting event. heath was an AMAZING actor and it's such a waste that he's gone now. dark knight is the BEST MOVIE I HAVE EVER SEEN ! you have to go watch it. i'm going to go watch it in the theatres one more time and then buy it on dvd. that's how good it is :D
September 14, 2008
I HAVE LOVED BATMAN SINCE DC RELASED ISSUE NUMBER 1 !!! OH MY GOD!!! BATMAN IS A GOD, I LOVE HIM, IF I EVER GET TO MEET BATMAN (BECAUSE THE DARK KNIGHT IS REAL!!!) I WILL MARRY HIM AND HAVE CHILDREN WITH HIM!!!!! HEATH SUCKS, JUST BECAUSE BATMAN IS A SUPER-GOD!!!!!!!!!!!! I LOVE BATMAAAAAAANN!! DUNANANANANANANANANANANANANANANA BATMAN!!!!!!!!!!!! :D ;D
September 13, 2008
BATMAN IS AN AWESOME CHARACTER IN THIS MOVIE AND HEALTH LEDGER AS JOKER BEATS THE OTHER GUY WHO PLAYED JOKER
September 11, 2008
unbelievable. ledger is my hero (rip). kept me on the edge of my seat the whole time.
September 08, 2008
ABSOLUTELY AMAZZZZZZING I SAW IT 3 TIMES!!!!!!
September 07, 2008
all I can say is this movie was GREAT! It's been a long time where I have enjoyed every minute of a movie. I'm buying this one when it comes out on DVD
September 07, 2008
this movie is so so awesome
September 06, 2008
Heath for sure deserves and Oscar! Jack was good but Heath was MAGNIFICENT!!!!
September 06, 2008
Great movie but not the epic people make it out to be. Ironman was much more entertaining in my opinion. Non the less good movie.
September 06, 2008
Good acting and effects. However the brutality is disgusting. Violence in movies used to be a few guys shooting each other or cars blowing up, now it's hospitals blowing up & guns held to kid's heads. Do we really need this to be entertained?
September 06, 2008
Where's the Batman??? The whole idea of Batman and his mission is lost with this movie. There was no much of Batman's action there at all. And what he did, really doesn't make sense. Like not going and not saving his girlfriend from their childhood. And what happened with his voice? Why his voice was made to make scared all children who watch him.If it wasn't Heath and his excellent play for a lifetime, the movie would be nothing. Heath was amazing. He is a huge loss for us - the audience.
September 05, 2008
Kickass. This movie was, no, IS -wtfpwn-.
September 04, 2008
Fabulous! Christian Bale was made for this part, all other Batman actors were just auditioning! Heath's performance was the performance of a lifetime!
September 03, 2008
best super heroe/action movie I have ever seen
September 03, 2008
Fabulous special effects. Ledger played madness to perfection and still managed to provoke sympathy for his character. A truly memorable performance. Film was too long and drawn out but we still enjoyed it.
September 02, 2008
the voice is to realistically cover his identity! so that people dont know hes bruce wayne...he did it in batman begins too! unlike some other superheroes who just wear glasses and expect noone to know who they are.
September 01, 2008
I haven't enjoyed Batman movies in the past. This one puts a whole new perspective on my experience of Batman. I can't wait to see what they come up with next.
September 01, 2008
First one was much better. Christian Bale is a great actor but whats up with the "Batvoice"? Ruined the whole experience for me. Thank god we had Ironman to save the summer.
September 01, 2008
the most exciting, thrilling movie EVER seen! better than any movie EVERR! the joker was awesome, the ending wasn't a typical happy "cinderella" ending, which makes it a good movie!
August 31, 2008
Easily the most epic superhero thriller of all time. If Batman Begins wasn't enough of a kick start to this franchise, the Dark Knight surely make its presence known. Every actor brings his A-game to this clever story.
August 31, 2008
#2 I still think Ironman was better but that was fantastic by Heath Leder. He was great and the movie turned out 5 star.
August 31, 2008
wow....im not a fan of batman...but this movie was awesome!!! worth the money!
August 30, 2008
Very good movie- Heath Ledger was amazing! Christian Bale over acts a bit and it is way too long (could've ended about 45 minutes sooner!). Really liked Maggie Gylenhaal (sp?)- much better than freaking Katie Holmes!!
August 30, 2008
this movie was great 5 stars but the voice of batman was kind of anoying and when the bat car turned into a bike that was kinda cheese
August 30, 2008
Unbelievable! Amazing cast, brilliant performance by the late heath Ledger. Oscar worthy performance and not simply because of his passing.
August 30, 2008
i dont like batman but this was asome 5 stars
August 30, 2008
This movie was the best movie ever made in a long time.The joker makes Bin Laden look like nothing.I give it 5 stars.As for haters out there they probaly don't have a sense of humour or personality to appreciate a good movie.
August 29, 2008
Worst peice of comic book crap to come out of Hollywood since the spiderman garbage. When will people grow up. I left before it was a third into it. Garbage!
August 29, 2008
best movie EVER
August 28, 2008
Way too long. Unbelievable plots even for a comics-based movie and they changed batman's voice to make it more credible? come on!!!. The joker was the only refreshing character!!!!!!. He outsmarted and overshadowed batman in every scene and only needed 2, 3 scenes to do it!!!. The person who said the movie should have been named the dark knight and the one who mentioned the movie hype was because of Ledger's demise (rip)were right on the money. This is a 2 stars movie, nothing else.