The Descendants
Thank you for rating this movie!
Read your review below. Ratings will be added after 24 hours.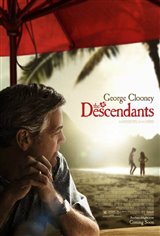 3.97 / 5
User Rating
Based on 362 votes and 130 reviews
---
Please rate between 1 to 5 stars
Showing 1 to 50 of 130
March 11, 2017
Super boring
June 11, 2012
though it was a bit slow, this was a heartwarming drama and worth a watch.
June 06, 2012
i loved this movie. it was heart-wrenching and heartfelt. i have never seen clooney better than he was here and the two girls who played his daughters were outstanding. tough subject matter but a realistic view of a family dealing with a tragic situation. a must see.
June 06, 2012
very good movie...better than expected.
May 28, 2012
one of my all-time favourite films. clooney deserved the oscar for this moving, captivating story. excellent film.
May 10, 2012
i really enjoyed this movie. this is the first time i can say that clooney gave a great performance. alexander payne makes such interesting films and love and life.
May 04, 2012
excellent movie! few places i held my tears! it really touched me!
May 01, 2012
excellent movie !
April 18, 2012
Saw this movie just before my Hawaii vacation. Great movie. Real tear jerker.
April 13, 2012
This movie really sucked!! George cloney is a waste
March 16, 2012
loved this movie!
March 12, 2012
an exellent movie that touches on all the heart-strings. clooney was great.
March 06, 2012
great movie a bit slow. but kept me interested.
February 27, 2012
great flick! so happy to see it take best picture last night!
February 20, 2012
great acting, very emotional story. great movie.
February 19, 2012
i wanted them all to die. boring movie.
February 15, 2012
a very enlightening movie, with superb performances. loved it!
February 12, 2012
i thought this was an excellent movie. the hawaiin scenes and music was wonderful and george clooney was great!
February 08, 2012
a new name 4 the man who 9 out 0f 10 times chooses (oscar nominated) worthy roles. clever clooney exceptional performing artist of our generation
February 05, 2012
it was a good movie, don't go if you are feeling low as it is quite depressing in parts but gc and the girls good acting, amazing hawaii landscape. good story line, do not feel it is oscar worthy but its good, not great just good, a renter for sure
February 01, 2012
loved it
January 31, 2012
very heartwrenching movie to watch. great performances. very well written movie.
January 28, 2012
great movie..now i see why he was nominated for a academy award for it.....
January 25, 2012
i thought this movie was one of the best dramedies i've seen in years. a fantastic movie
January 24, 2012
very good, emotional movie tied together by outstanding performances, especially clooney.
January 21, 2012
this is a really bad movie and as usual, george clooney is overrated. very disjointed and awkward scenes involving a person on life support and her family. the best part of the movie was the visuals of hawaii and many ladies might say the 245 close ups of gorgeous george. yes, i'm jealous.
January 20, 2012
clooney never fails..........
January 17, 2012
a beautifully written and acted movie. clooney gives his best performance ever.
January 16, 2012
Best of the best this yr!
January 12, 2012
An emotional rollercoaster of a film. I laaghed, cried, got mad and sad at the same time. A lovely dramedy.
January 10, 2012
A very good movie that will make you want to hug your loved ones once the movie is over. An emotional ride.
January 08, 2012
Super Movie!
January 08, 2012
George Clooney was great, as usual. One of the very few movies this year that actually brought a tear.
January 07, 2012
Totally awesome
January 07, 2012
Great acting in the film.
January 06, 2012
After reading the reviews here, I am starting to think I was at a totally different movie! It was BORING! Clooney's acting was ODD! Scenes where he should have looked despondent, etc., he had a smirk on his face! However, scenery was beautiful. Wait for it to come out on DVD, or better yet, the free movie channel.
January 05, 2012
nice backdrop
January 05, 2012
bridges and lillard !
January 05, 2012
typical of good searchlight
January 03, 2012
Loved the scenes from Kauai ... My favorite Hawaiian island!
January 03, 2012
Very good movie...Hopefully the OSCARS will remember this film and the great performance by CLooney.
January 03, 2012
very good movie.
January 02, 2012
One of the years very best films. Perfect script and acting here. Not to be missed.
January 02, 2012
This is a great movie - Oscar worthy for Clooney
January 01, 2012
George Clooney is excellent in every movie he makes.
January 01, 2012
I loved the movie, just saw it tonight and was so surprised...didn't know what it was about and was very impressed with the storyline and the acting. It was excellent, touching, funny and I shed a few tears...and of course George Clooney is always a joy to watch and he was especially handsome in this one!!
December 30, 2011
The storyline in this film moves very slowly. The film would have been better, had it been thirty minutes shorter. George is George. The sign of a good actor is that, while watching him act, you forget who he is. That never seems to happen with George Clooney. I found the young girls' language offensive. Their foul mouths added nothing to the story, rather took away from it. Beautiful scenery!
December 30, 2011
A miovie abiout family, love and hope. Great cast, led by clooney who gives a career-best performance.
December 29, 2011
very entertaining film!