The Divergent Series: Insurgent - User Reviews
Thank you for rating this movie!
Read your review below. Ratings will be added after 24 hours.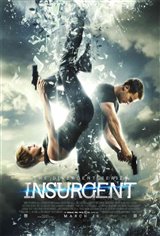 ---
Please rate movie 1 to 5 stars
Showing 1 to 25 of 25
August 17, 2015
Not as good as the first, very slow
June 07, 2015
A good second movie, I enjoyed it but it was fade at some point, isn't constant. Too much focus on useless characters.
May 04, 2015
I loved Divergent but this sequel was just slapped together for the most part. None of the scenes were as convincing or as fun as Divergent was, here the scenes were not thought out nearly as well. What we have here is a total bust in comparison to the original film. A big disappointment to say the least. I gave Divergent a 4 out of 5. This sequel is barely a 2 in my view.
April 11, 2015
Really, really lame acting. Special effects were OK.
April 08, 2015
I did enjoy it, but it often seemed like i was rushing through the story, one moment here then the next there just to get to the end. Because the first movie was relatively true to the book story, I was surprised by how much they changed in this movie. I understand time constraints, but there is a lot more to this story, especially in relationship development, that was just not there.
April 01, 2015
JLawr and her Hunger Games are sooo yesterday - INSURGENT is where it's at! Bring on the next sequel!
April 01, 2015
This is our WIZARD OF OZ.
March 31, 2015
Oh man it was like awesome!
March 29, 2015
Well acted, super movie. It kept you riveted to your seats from the beginning until the end. It had it all, suspense, romance and drama!
March 26, 2015
Wow!!! what an amazing and touching movie..Worth every penny..Well done...
March 25, 2015
My husband and I went to see Insurgent with our 26 year-old daughter. We all really enjoyed it. Very interesting, nothing boring, keeps you thinking. Can't wait to see the third movie.
March 24, 2015
Very well made action sci-fi thriller. Thoroughly enjoyable. If you enjoyed the first one you'll love this one even more. I recommend that you watch the first instalment before watching this one though, otherwise you will be very lost throughout this movie.
March 24, 2015
very good movie worth every penny
March 24, 2015
Action and acting was good, story was ok but for some reason from time to time I found myself disengaged from the movie.
March 23, 2015
I am reading the books now, it was sooo good. Great special effects. Great actors for the characters. It was all just perfectly made. Love it!!!!!
March 23, 2015
I really enjoyed the movie.
March 23, 2015
I really loved the movie! I haven't read the books so I was surprised many times! Which keeps the movie interesting. It's worth seeing! Has a bit of romance and lots of action. I really enjoyed it!
March 23, 2015
LOVED THIS BOOK
March 22, 2015
This is my favourite movie at the time it was just so moving and amazing!
March 22, 2015
Fun movie! Go see it on the big screen - totally worth it.
March 22, 2015
If you loved Divergent you will love Insurgent!
March 21, 2015
SUPER MOVIE. GREAT ACTING.
March 21, 2015
Go see Divergent: Insurgent, you will love it!
March 21, 2015
It was an awesome movie. You will not be disappointed. Great story and action.