The Family (2013) - User Reviews
Thank you for rating this movie!
Read your review below. Ratings will be added after 24 hours.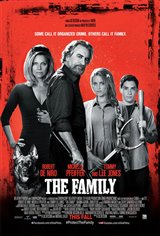 ---
Please rate movie 1 to 5 stars
Showing 1 to 43 of 43
June 22, 2014
This movie was so funny and it was great. Way to go to the cast.
February 13, 2014
I like it especially the ending it was great!!! It could have been more better as it was a it boring too.
February 02, 2014
Very good movie. Great cast including the 2 kids, well written and Luc Besson knows how to mix serious, comedy and family. Highly recommended.
December 29, 2013
Very entertaining movie !!
December 26, 2013
This movie sick!!!! Don't waste your time and money.
December 21, 2013
fun, fun, fun ... but not for stupid people
December 17, 2013
Well written and directed. It was seriously funny and not stretching past the unbelievable as most comedies are these days. A very good choice of cast makes it well worth seeing.
November 17, 2013
It was cool to see how life would be after their line of business. Really enjoyed it.
November 15, 2013
What a great show! Super funny. Great premise - mob family under Witness Protection trying to "fit in" with locals. Good cast - Michelle Pfeiffer and Robert DeNiro, two favourites of mine. DeNiro, especially, always does a great job in comedies. A movie not to miss!
November 15, 2013
Of course those who`ve read the book of Tonino Benacquista might be a little disapointed as the book is usualy better than the film. Though amazing cast in Robert DeNiro, Tommy Lee Jones, Michelle Pfeiffer and the very beautiful Dianna Agron. The film seemed a little bit too much of a comedy for my taste (always compared to the book)and i doubt they will make the second book to the screen.
November 10, 2013
I did not enjoy the movie
November 05, 2013
bonne histoire
November 01, 2013
This is an entertaining family. Everyone in the family has their own issues which make them the perfect fit to be in the same family.
October 31, 2013
Was actually much better than I thought it would be - has some surprises
October 31, 2013
Okay movie. Didn't like the ending. Needed more definition at the end. It wasn't bad. Glad I saw it. It's in that category of see the others, let's see this. And that's okay.
October 31, 2013
all excellent actors, but the movie was just okay
October 29, 2013
Piece of crap. Not funny, no drama, boring throughout the whole show. I'm happy i went on cheap Tuesday so I didn't waste too much money.
October 29, 2013
It was alright nothing special.
October 29, 2013
"The Family" is a movie whose R rating comes not solely from its content, but also because if you're not over the age of 17, there's a good chance you're not going to get much of the humor from the film's basic premise. If you haven't seen "Goodfellas" -- or "Mean Streets", "The Godfather", "Taxi Driver", "Casino", etc. -- or any of the other films in which Robert De Niro has played a gangster or similar character, you're going to struggle to get behind and fully appreciate "The Family". The idea here is that the gangster character De Niro has played -- all of them, combined into one -- has gotten older, raised a family, and subsequently snitched on the gangsters with whom he used to do b
October 29, 2013
This movie had the right balance of action, humor and heartwarming. Robert De Niro never ceases to amaze me!
October 05, 2013
If your humor is not a little twisted compared to the societal "norm" then you may not enjoy this movie. I personally wish the movie had been longer.
October 04, 2013
If your idea of a comedy is a constant stream of murders and violence, this movie is for you. Nothing funny about it.
October 04, 2013
loads of fun
October 03, 2013
I enjoyed the movie, I don't understand all the negative ratings.
September 27, 2013
I am glad to see that most viewers felt the same way I did - disappointed and disgusted. What bad role modelling for kids to watch. You're supposed to laugh when a girl beats up a guy with a bat? I know he had it coming, but not that way.
September 25, 2013
The cast was ok, but the rest was just garbage. Cheesy dialogues, no morals. Waste of time.
September 25, 2013
Not well written, couldn't decide if it was a comedy or a gangster movie. I was disappointed as Robert De Niro, Michelle Pheifer and Tommy Lee Jones are great actors but the script failed to deliver:-)
September 24, 2013
Loved it
September 23, 2013
not worth going out of the house for it sucks .great cast very disappointing .
September 22, 2013
Pure garbage. My wife and I decided to go and see something on the light side. What a mistake. Where is the morality? Teenage kids gunning people down. Please!!!! The sad thing is that this kind of gratuitous violence for some reason sells I don't get it. Pure crap stay home and clean out your sock drawer instead.
September 21, 2013
I actually really liked this movie. If you think it may be your type of movie then I would go see it. I'm actually not understaning why anyone would rate it so low.
September 20, 2013
Don't waste your time or money. Very disappointing.
September 19, 2013
Never to be a cult classic, or anything else.
September 18, 2013
Worst movie I have seen in years. I tried hard to like it but after 40 minutes I left my husband to watch the rest by himself and opted for a refund. I got 2 free passes so it wasn't a total waste.
September 16, 2013
What a waste of time. Nothing good here.
September 16, 2013
Good cast...horrible movie. Too bad.
September 16, 2013
I was entertained ,movie was funny, had a plot I could fallow. Will not win any awards
September 15, 2013
not that funny, dissapointed
September 14, 2013
Not a good movie at all. Too much violence,especially the kids using guns. No plot. Did not have any sympathy for The Family. They were just a bunch of thugs. Very disappointed considering who was acting in it.
September 14, 2013
Good movie
September 14, 2013
This was a terrible movie...not at all what we expected. I never laughed once! I'd give it 0 stars, but it doesn't go that low.
September 09, 2013
looks like a fun movie.