The Favourite - User Reviews
Thank you for rating this movie!
Read your review below. Ratings will be added after 24 hours.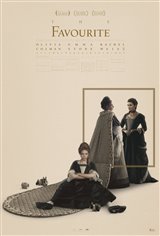 ---
Please rate movie 1 to 5 stars
Showing 1 to 50 of 98
April 22, 2019
worst movie I seen in a long time. The ending was stupid. Acting sucked story line sucked.save your money.
April 15, 2019
Why does this have a low score? Because the "average filmgoer" who goes to see this is perhaps a little too, let's say unsophisticated, when it comes to art house. Perhaps they would prefer another Transformers sequel? Some part of me is secretly glad they felt put off or robbed by this film. They frankly deserve it. Haha.
April 02, 2019
This was a waste of two hours. Terrible! The language was offensive to women. Save your money. Only gave it one star as you have to, should be zero stars.
March 13, 2019
I liked nothing. They should have refuned our money. The muic was also the worst.
March 11, 2019
Weird movie...I would not recommend it.
March 06, 2019
Pure trash!! Do not understand how Olivia Colman won Best ? Actress when, clearly, Rachel Weisz, had the predominant role
March 06, 2019
A terrible movie, it was painfully boring. I too would give it a ZERO if I could.
February 26, 2019
Olivia Coleman !, so many people were talking about Glenn Close, which was very good. This film was a sort of ride for the ages, but the deceit and power rivals made it even more delicious, Emma Stone and Rachel Weiss are superb. Ouch, too much over use of fish eye lens.
February 19, 2019
It depicted women as either blithering nagging screaming pathetic babies like queen anne, conniving all about eve bitches like abigail or women who will f**k anything to get near and a piece of the power like Lady Sarah Marlborough. In this day and age we don't need yet another movie that denigrates women. Even if its supposed to be a comedy...
February 18, 2019
This movie was pure crap!!!!!!!!!!!!!! They just don't know how to make a good movie now a days
February 16, 2019
A film for people who like films and not just the recycled garbage of Hollywood, which, it appears from the reviews you see on this site, are what most of the Tribute readers are looking for. This is one of those rare historical films that manages to tell a little know patch of actual history while keeping it pretty entertaining. I should note that some of the event may not have happened it is based on stories from people in the court, including Sarah Churchills own tell all. Beside that, the acting is fabulous and there are a lot of great laughs
February 15, 2019
If you are a masochist you may love this film. I'm not a prude but it is beyond me how the Producers raised the millions to make this piece of trash. Story was weak. Music was distracting. Acting was average at best yet somehow it got 10 Nominations. Save your cash money and watch when it is released on DVD if you must. I'd give it Zero or minus if I could but one star for costumes.
February 13, 2019
Outstanding(mature only!) lt's an"Amazing" experience.
February 11, 2019
Absolutely the worst movie I've seen in a very long time. No story line and horrible ending. Don't waste your time or money. One star is for the queens acting
February 07, 2019
Great cast, terrible movie. Boring, not funny or entertaining.
February 06, 2019
Very disappointing , acting was very good, Olivia did good job, but movie was quite boring
February 06, 2019
So unimportant! No historical significance....only nasty rumored sexual affairs between women. PLEASE do NOT bother.
February 06, 2019
A tour de force of 3 amazing performances! One of the best movies of the year!
February 05, 2019
Absolute horrid movie from beginning to end! Raunchy, depressing & totally unbelievable! The One & Only saving grace to this movie was Olivia Coleman's terrific acting!
February 05, 2019
The trailers were the best part. Should have read reviews first ~ acting was fine, but the storyline was awful ~ read the other one stars and I would concur. Wasted 2 hours watching hoping for something worth my time. Sorely disappointed ~ not wasting anymore time reviewing.
February 04, 2019
This is about the dysfunctional politics of the English court. If you don't go in to it with that in mind you might be disappointed.
February 04, 2019
wonderfully acted, costumed and styled.
February 02, 2019
This is an exceptional period drama/black comedy showcasing three brilliant actresses. Of course, being an entertainment, it squews the facts a little. However, the backbone of the story, the rivalry of two ladies in waiting for Queen Anne's affection, and the power that is attached to said affection, is historically correct. Olivia Coleman has already garnered the Golden Globes, Best Actress Award for her turn as the declining Queen Anne, emotionally and intellectually ill equipped for her position as Head of State. Of the many highlights of Ms. Coleman's performance my favorite, (no pun intended), is the one where, in a single, continuous take, she transforms from a happy, smiling observer of her friend dancing, to a woman on the verge of tears, with eyes welling up almost to the point of overflow. While I did not expect this British, period piece to take in a fortune at the American box offices, I did expect those who chose to see it to appreciate it far more than this site suggests. BTW.....the ending had a definite point, for those who thought it disappointing. It brought the younger "Favorite's" rise and fall full circle. Certainly not uplifting, but very apropos.
February 02, 2019
Spectacular! I went in not knowing what to expect and it blew me away. Took some liberties with the history, but no one knows for sure what really went on! Some of it was accurate and acting was superb.
February 02, 2019
This movie is insane with seriously no point, but if you can be present with it. The acting is genius. Loved it!
February 01, 2019
The writers treated the audience (must be idiots to watch this) with as much disrespect as the characters treated each other. I felt I had been beaten with a two by four by the time I left the theater.
January 31, 2019
Costume period piece that reminds us that the good old days really weren't so good. Nothing redeeming about this film except sets and costumes. The story, script, acting, film directing, and editing all pure sh*t. A waste of everyone's time and talents including mine. They should burn every copy.
January 31, 2019
I'm a fan of Emma Stone & Rachel Weiss, and normally love period / historical pieces. But this movie was terrible; script not clear, score was SO distracting. So disappointed & waste of time!
January 30, 2019
GARBAGE!!! A TOTAL WASTE OF TIME!!! Historical fiction at its worst!! If you want to see an ugly 450 lb woman stuff her face, then watch a close up of vomit spewing out of her mouth into a large metal container followed by her in a lesbian love scene while someone is attending to her fat foot (she had gout) - this is your movie. I left after 45 minutes. Had enough of this crap to last me a l o n g time!! DISGUSTING!!! PHEW!!!!
January 30, 2019
ABSOLUTE TRASH GARBAGE ON FILM.... I WANT MY MONEY BACK ASAP!!
January 30, 2019
Didn't like me this movie at all , we left before it was over.. Pretty discusting and very boring..
January 29, 2019
unbelievably b-0-r-i-n-g - left before the ending, and please, no one tell me it's ending, because I don't care! It was so bad, I couldn't even sleep thru it either.
January 29, 2019
This was the worst movie I've ever seen! How critics can say it's good is beyond me. Save your money!
January 29, 2019
Glorified porn film. Ugly in sooo many ways. Dont see it. You will reget it for weeks to come.
January 29, 2019
Costumes and special effects impressive. Acting superb. Story not so good and a little disgusting. Would have liked to been somewhere else.
January 29, 2019
This movie was horrid. Previews are decieving about the lesbian acts performed in the movie. I was very uncomfortable. The film is slow and boring. Waste of time and money.
January 28, 2019
Too much gratuitous sex. Sound wasn't good on the speaking and way too loud for the background "music". Not a very clear story line.
January 28, 2019
The scenes inside of the mansion were impressive as were the costumes. However, the movie was flat. I felt like the the little boy in the fable who was expected to say that the king's clothing was beautiful. Like him, I did not see a good story, engaging dialogs or any virtue worth the time and money for this movie. My advice - skip it.
January 27, 2019
Movie about Queen Anne's reign about 1700 to 1707. I'm not a prude but sure wasn't expecting to hear the cxxx wors, the fxxx word and scenes about the queen enjoying lesbian sex with her favourites. Good movie depicting the horrible, harsh life in medieval England.
January 27, 2019
Not worth watching very poor quality movie and acting and cant believe Emma Stone would go this low. Walked out it wasnt going anywhere.
January 27, 2019
So much fingering. It was a wasted time and money. Poor story line it was very slow and the ending was ridiculous
January 26, 2019
I hated this movie. I thought it was vulgar and boring. A waste of time and money,
January 25, 2019
Pure trash! Don't waste your money! High school acting. Terrible script.
January 25, 2019
Excellent performance by Olivia Colman!!!
January 25, 2019
Finally a good movie in Tyler for adults!!!! I loved it!
January 22, 2019
I don't even think it is worth rating. I thought it was disgusting! I cannot believe Emma Stone would choose to do a movie like that. I left before it was over. Waste of money.
January 22, 2019
Awesome story...acting excellent. I did find the ending a bit disapointing.
January 21, 2019
This movie is very unappealing dont waste ur time and money. Emma Stone's worst movie ever. It grossed me out.
January 21, 2019
With 2 weeks, I saw The Green Book, The Wife and (the movie with Brian Cranston and Kevin Hart) at The Wharf - these were all excellent and I recommended all three to friends. The Favourite was dreadful and made me uncomfortable - as it did many of the people sitting close to me. It was also "panned" by many when we left the movie and were in the ladies' room. I should have walked out. If I was watching it on Netflix, I would have exited it and watched something else. It may well be "true," but the exaggeration and extreme emphasis on sexuality were definitely not my taste; I did see a trailer and read a few reviews, but these avoided the depth of the director's emphasis on sexuality and debasement.
January 18, 2019
enjoyed the humor and the acting was good - story was not, ending was bad, would have asked for money back, some people did walk out half way through