The Fifth Estate
Thank you for rating this movie!
Read your review below. Ratings will be added after 24 hours.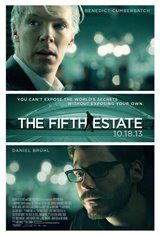 3.56 / 5
User Rating
Based on 276 votes and 113 reviews
---
Please rate between 1 to 5 stars
Showing 101 to 113 of 113
October 17, 2013
I really enjoyed the movie. It was riveting, realistic, and suspensful. I didn't give it 5 stars because sometimes it wasn't really clear what was happening, but overall I would highly recommend it. Benedict Cumberbatch is one of my favourite actors and he did a wonderful job in this part.
October 17, 2013
Great movie overall. However, it lacked suspense in my opinion and not enough personality to some of the characters. Also, I'm still confused whether Julian is schizophrenic or not, and whether he has a family. I know it's trivial but it still bothers me.
October 17, 2013
The movie gave a terrific insight into Julian Assange's character and motivation to do what he thought was the right thing by publicizing top secret information. I thought it was a show that kept your attention throughout. One of the more thought provoking shows I have seen.
October 17, 2013
This film held my interest and curiosity from the opening credits. It's a great story about how information is handeled and the secrets big government and billion dollar banks and companies have - and what they're trying to get away with. Benedict Cumberbatch does an amazing job as the founder of WikiLeaks and every scene he's in he owns. Never a dull moment, always churning and building as the story progresses. Directed very well, shot and imagined beautifully and delivered flawlessly by the actors. Such a thrilling and interesting story everyone needs to know about. Loved every minute of this flick. Go see it as soon as you can.
October 17, 2013
I had extremely high hopes for this film. I followed everything that happened with Wikileaks fairly closely and appreciated that the film was relatively accurate. However, I found the script to be lacking and the actors to be underwhelming. SPOILER - One minute Daniel's chatting with his coworker and the next she's his girlfriend? Where is the plot development? I also found Daniel Bruhl to be a very one-dimensional actor. Benedict Cumberbatch was a good pick to play Julian, but I felt the script did not capture the characters charm or wit the way it should have. It was just an overall melodramatic movie with very little excitement. I would not recommend this movie.
October 17, 2013
The subject matter is current and thought provoking and I thought in general they did a good job of telling the story but there were some holes in the script if comparing to the real events and how it got there. Probably needed more time to tell the story, especially when it is still evolving.
October 17, 2013
this was a very good movie, great story line. I would recommend it for sure.
October 17, 2013
An interesting look into the motivation and character flaws of the founder.
October 17, 2013
Engaging story and well acted! Would recommend.
October 17, 2013
i liked the movie lot it had action packed the way i like my movies
October 17, 2013
Better than we'd anticipated - though it really tries to mythologize WikiLeaks' rise to prominence and those involved. A lot of hero-making going on here. Cumberbatch nails the twitchy, sweaty nervousness of Assange, while Daniel Brühl functions well as the viewers' surrogate in the story. Interesting visualization of the UI experience and networks, but ultimately full of holes, plot devices and fiction. Worth renting.
October 17, 2013
A bio-pic, documentary and espionage movie.Well acted. Kind of a modern All the President's Men
October 17, 2013
Very interesting it generated all the talking points you wanted to know. A very good thriller. I was pleased.