The Front Runner - User Reviews
Thank you for rating this movie!
Read your review below. Ratings will be added after 24 hours.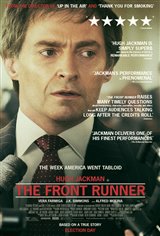 ---
Please rate movie 1 to 5 stars
Showing 1 to 6 of 6
December 03, 2018
Rough language. Excellent acting. Hugh Jackman great. Gives someone a clear understanding of the media.
November 26, 2018
He is really good at politics.
November 23, 2018
I was interested in the story and how true to the facts of this historical blip in US political history it would be. It was slow, too slow, boring, nothing new reveals. However, the depiction and treatment of Donna Rice was compassionate. Same old story of men in power and their eventual downfalls. Wait until its on DVD or TV.
November 23, 2018
Glad he was kicked out, but didn't enjoy watching this movie because he was such an arrogant, unfaithful, lying SOB.
November 22, 2018
Hugh Jackman is perfect as the somewhat naïve, somewhat narcissistic presidential candidate Gary Hart. JK Simmons is a terrific actor, and he proves that once more as Hart's campaign manager. Vera Farminga also nicely captures "long-suffering wife." The whole thing is well-crafted, and the film is riveting, in spite of depicting well-known historical events....guru bob..................94/100
September 17, 2018
Saw it at TIFF. Not sure what the filmmakers (or Hugh Jackman) are trying to say, but I would not want to vote for anyone who was a cheat and a liar either. I'm glad Hart's political career went kaboom. He deserved it. And I don't feel sorry for Donna Rice, even though the movie's secondary plot tried to manipulate the audience into that. She slept with a married man. She knew he was married. She keeps saying how intelligent she is, but she's just a dumb bimbo. She got what she deserved too. The innocent people here are Hart's wife and daughter. That's who I feel for. They got the short end of the stick. What a despicable man she married, she should not have stood by him for a minute (same goes for Hillary - whom I would have more respect for if she'd left Clinton).