The Gambler - User Reviews
Thank you for rating this movie!
Read your review below. Ratings will be added after 24 hours.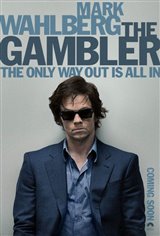 ---
Please rate movie 1 to 5 stars
Showing 1 to 35 of 35
May 07, 2015
mark is best in the movie
May 07, 2015
best and nice and great
May 06, 2015
One of the worst movies I've ever watched. There should be a way to put in a Minus Star rating!!!! (Minus 5 stars) Wahlberg must have really been in a lot of debt, to do this movie.
May 06, 2015
best gambler movie
May 06, 2015
mark wahlberg is great actor for evry movie
May 04, 2015
Great cast, but awful movie.
May 02, 2015
this was a good movie. whats wrong with people--rating it so low. don't be fooled; about a third gave it 5 stars.
April 02, 2015
this is a terrible movie! I watched up till his mom went to the bank and I lost interest in the movie... dont waste your money to see this!
January 20, 2015
Terrible, one of the worst movies I have seen. Boring, slow, no real character development so you can connect with anyone. The love interest is a joke -- no chemistry or actual interest. Dialog is lame and forced. Trying hard to be something but never even came close. Don't waste your time or money. Shame on Mark Wahlberg.
January 12, 2015
Folks this movie is a remake of the 1974 The Gambler with James Caan not the 1980 TV movie with Kenny Rogers
January 10, 2015
My wife and I walked out after 20 minutes. Worst movie of all time.
January 07, 2015
Horrible, boring and long. Don't waste your time.
January 07, 2015
Very slow movie. Only a few intense moments when the gambling is involved. Won't be watching this one again. Glad it was cheap night at the theatre
January 06, 2015
we went New Years eve 20 mins into the movie a patron stands up & in a loud voice this is the worst F#$%&king movie i have seen I want my money back & walked out .. shock ..in the end he was right .. .. brutal don't go ..
January 04, 2015
This will really be a forgettable movie. The script does well to illustrate that Wahlberg's character is a degenerate gambler but doesn't provide enough detail as to how he got to be the way he was or how he ends up clearing his debt.
January 03, 2015
I found it tiresome, boring, and not worth taking the time to see it. Trite, stereotypical, empty. Do not bother to see it. Weak beginning, weak middle, weak ending. Spend your money on anything else.
January 01, 2015
For the idiot who thought this was a modern remake of the Kenny Rogers' film, The Gambler, you are obviously very young or just stupid. This is a remake of the James Caan film from the 70's which is set in Chicago. How dumb can you be? Read a book you dumbwit!!!
January 01, 2015
This was a horrible movie and I couldn't wait for it to end.
January 01, 2015
Saw this movie have to say it was the worst movie i ever saw. I fell asleep thought it would get better but didn't. very very disappointed i wasted my movie pass on this movie. Sorry mark you sucked in this movie!!!!!!!!
December 31, 2014
really smart movie
December 31, 2014
5 star movie, really good.
December 31, 2014
What a pointless movie; a worthless pile of cow dung.
December 29, 2014
this movie sucked so bad ,
December 28, 2014
wow.... what a drag. I couldn't wait to get out of that movie. no flow to the movie, it was just down right odd.
December 28, 2014
sick movie
December 28, 2014
Why was I smiling the movie was over! I'm a fan of Mark Wahlberg this was a low point for him.
December 27, 2014
Some good scenes but all-in-all not a top grade movie. That said John Goodman continues to rule.
December 27, 2014
Disappointing to say the least
December 26, 2014
Loved this movie! Intellectually stimulating, intense and entertaining. Thought Mark Wahlberg was fantastic.
December 26, 2014
Very disappointed, not at all what I expected.
December 26, 2014
Terrible movie, low budget and non sense.
November 11, 2014
5 star movie
October 30, 2014
Remake of the Kenny Rogers classic is okay but nothing special in the grand scheme of things.