The Goldfinch - User Reviews
Thank you for rating this movie!
Read your review below. Ratings will be added after 24 hours.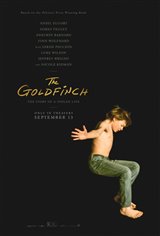 ---
Please rate movie 1 to 5 stars
Showing 1 to 30 of 30
October 31, 2019
great story and weaving of plot
September 28, 2019
This was a great movie! The acting was superb which made for a much more believable story. This movie was thought-provoking and insightful.
September 24, 2019
Best movie I have seen in a very long time - meaty and satisfying story & characters with complex storyline, would gladly watch it one more time.
September 22, 2019
Slow and long went twice still didnt see the ending 5 out of 10
September 22, 2019
Outstanding film. It is not a film for those who just want a "shoot em' up and explode cars and airplanes" story. It is a film that requires thought. Beautifully depicted.
September 22, 2019
One of the worst movies I have ever seen. Jumped around constantly and extremely hard to follow. We almost walked out after the first 30 minutes but kept waiting for it to get better. It never did.
September 20, 2019
Really loved this. Read the book as well. While books are always better than movies, this movie satisfied my interest enough. Visually beautiful. The poor reviews of this movie across the board are sorta the sign of the times - a culture with weak attention spans. What can we expect from a society that watches people eat Tide pods and are on their phones 6 hours a day? Not much. Read the book and enjoy the film.
September 20, 2019
Really like this movie, really liked the book. Good story and great acting.
September 20, 2019
Great movie. Not difficult to follow the plot as some viewers suggest. Intelligent and thought provoking. Excellent acting with wonderful character progression. Treat yourself and go see it.
September 19, 2019
Overall enjoyed the movie but it started to drag toward the end!, a bit too long!
September 19, 2019
Yesterday 2 of my neighbors and I went to see The Goldfinch and we all loved it!! Most times movie remakes of books are a letdown, but this was outstanding. Best movie I have seen in quite some time. I am shocked and disappointed the Dallas Morning Newspaper rated it a "D". I hope readers don't see that score and fail to take it in, Whoever writes the Dallas News Movie Reviews needs to have their head examined...just joking people!! OK, not really, maybe they just need another job. Great movie...GO SEE IT!!!!
September 19, 2019
The movie was better than I thought it would be. Over all a good movie.
September 19, 2019
I fell asleep for short time in the beginning. My partner elbowed me to wake me up. Can't blame it on the short snooze but I just couldn't get 'into' this movie despite my total love of everything Nicole Kidman does.
September 18, 2019
Alittle slow but all in all an ok movie 7 out of 10
September 18, 2019
Excellent adaptation of book. A little long but so was the book.
September 18, 2019
Too long; difficult to follow; not enough character development but well acted and intriguing.
September 18, 2019
Thoroughly enjoyed the movie it showed a portrait of how life can be cruel yet rewarding. A long movie but necessary to tell the story properly. Great acting and a journey of a young boy becoming a man much wiser in the end. Robert
September 17, 2019
There were 4 of us, two had read Goldfinch and two had not. We all loved it. The cast was superb, they followed the book closely. One of the best movies we have seen in a very long time! So tired of endless remakes, gratuitous violence, and car chases, etc etc. I liked it so much I am going again with my daughter.
September 16, 2019
Weak, slow, boring and star studded.
September 16, 2019
What a movie! I was not sure what to expect for this two and a half hr movie, it was superb! The actors for Theo and Boris were impeccable! Remarkable acting as the young Theo and Boris, leading into adulthood. I vote this as the best movie I have ever seen. An academy winner for sure!
September 15, 2019
Long and boring. To much back and forth.
September 15, 2019
Swept into the plot and lives of the characters .. Loved every minute!
September 15, 2019
Not as bad as some reviewers rate it, but not as good as it wants to be. It's a messy movie with wildly indifferent acting from Kidman and better acting with the child version of the protagonist. The drug-dealer who has a psychopath job, but is actually a quite friendly nice guy who goes out of his way to help, looked unrealistic. The themes of loss, guilt and missed opportunities do resonate. Of course the cinematography from Roger Deakins is excellent.
September 14, 2019
The movie had you captive and the time slipped away. This is an excellent movie for discussion.
September 14, 2019
Great movie. The story is so intriguing and the acting including Nicole Kidman is stellar. As the story progresses, it completely holds one's attention and the 2 1/2 hours slips by. It's a must see movie.
September 13, 2019
Best movie so far this year. Loved it. I couldn't get into the book but the movie was excellent. Should get some awards.
September 13, 2019
Excellent script, direction and acting. A really intriguing plot. The young boy who played the lead character was exceptional and will probably be nominated for an Oscar. One very minor criticism: a tad too long.
September 13, 2019
This was an overly long movie. There were far to many shifts in the plot, mostly about going back and forth from the beginning to interim points and ending. I was most grateful for the end.
September 13, 2019
This was good as a drama exploring the neurotic world of young Theo who falls into despair and the throws of Nihilism before his 14th Birthday. Along the way he meets family and other adults more messed up than himself which suggest the future for him holds the promises of substance abuse, failed marriages and a despairing progressive world view. As an audience we are not helped as the picture ends up being like a jigsaw puzzle thrown on floor leaving the audience on hands and knees trying to put events and pictures together to find the story. For such a part, it is a shame a film like this didn't come out thirty years ago where Woody Allen or martin Short could have plain the neurotic young Theo. The film works at a serious level but missed the opportunity as a masterpiece of being a disturbing comedy.
September 10, 2019
It was delightful. Superb recognizable actors . A drama surrounding an actual painting by great Dutch artist Carel Fabritius in 1654. Cinematograper Roger Deakins and Director John Crowley make an excellent team. I have to read the bestseller book now by Donna Tartt. Not recommended for young children. It was GREAT.The ending juxtaposing the paintings viewed was also enigmatically well done.