The Good Liar - User Reviews
Thank you for rating this movie!
Read your review below. Ratings will be added after 24 hours.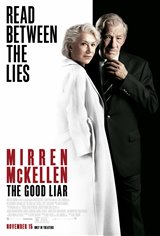 ---
Please rate movie 1 to 5 stars
Showing 1 to 43 of 43
January 25, 2020
Acting was impeccable. Storyline very compelling, though you could not help but think there would be a twist.
January 19, 2020
Excellent acting and unpredictable finish
January 08, 2020
This was one of the best movies that I have seen in a while! Helen Mirren was GREAT!
December 11, 2019
Lots of twists and turns. Loved it.
December 11, 2019
EXCELLENT! Great story, great acting. A nice change from what they are showing today.
December 09, 2019
Saw the 'twist' ending a mile away. Average movie.
December 04, 2019
Exceptional acting & wonderful suspense. Helen Mirren is always convincing & talented. Ian McKellen is a wonderful foil to her character.
December 04, 2019
An entertaining mystery story, with a heroine, especially appealing for women. The story strains credulity, but is competently presented. It was suspenseful for the most part. Worth seeing once.
December 03, 2019
Great acting from two established pros .. Story has lots of twists to keep you guessing
December 02, 2019
Early on, I suspected that both lead actors were engaging in lying (but the German slant I never saw coming)! The film captivated my interest throughout.
December 01, 2019
Well done!! Great acting and good plot!! Didn't expect the twist! We really enjoyed it!!
December 01, 2019
It moved slow and i would've liked to have seen more twists instead of one toward the end.
December 01, 2019
Ahhhhhh quality acting at last. Refreshing to watch actors actually acting. Still. No school like the old school. Mirren and Mckellen were absolutely fantastic together.
November 29, 2019
The pacing was fantastic, the characters consistent throughout the movie, the plot was a wonderful mystery that slowly and methodically unfolded. A truly mesmerizing movie!!
November 29, 2019
Mirren and McKellen are excellent.
November 28, 2019
Suspenseful, very well acted, somewhat of a surprise ending. We both really enjoyed this movie.
November 28, 2019
Hmmm...not entirely sure how to rate this. Acting was excellent. I predicted the plot, but then there were some twists that were somewhat surprising but also disturbing. Not a feel good movie, but an interesting one.
November 28, 2019
Loved the performances of all the characters. Twists and turns kept you guessing what might happen. Bravo!
November 27, 2019
Very good movie - I didn't see that coming.
November 25, 2019
Great Story.
November 24, 2019
I enjoyed watching this movie. Ms. Mirren was excellent. I liked the twists. It was nice to see once again Hollywood putting out movies showing blended families. The other most recent movie I saw showing a blended family (Last Christmas) was also set in England.
November 23, 2019
This movie kept me guessing. I knew something was up, but there were surprising twists and turns. Enjoyed it.
November 23, 2019
Always find Helen Mirren to be excellent. McKellen was ok. I was expecting a bit more - found the plot to be very predictable. Enjoyed and would recommend.
November 22, 2019
Kept me interested through the entire movie. Also love Helen Mirren.
November 22, 2019
Such great fun watching the twists and turns. Interesting reality of World War II scene showing jealousy, greed, and revenge in the end. Even if you guess the end, a great entertaining way to spend a few hours with real actors instead of something generated by computers. Outstanding !
November 22, 2019
Great pairing of McKellen and Mirren . A nice twisty thriller , a little predictable but entertaining otherwise . Was not expecting how it ended with a nice little twist.
November 21, 2019
2 brilliant actors in a complicated sad movie. Enjoyed it !
November 21, 2019
Good movie or Boomers, mystery, historical type thriller, Mirren is always 5 stars!
November 21, 2019
Ridiculous plot, a predictable twist, and dare I say bad acting? A perfect example of a movie that promises to be good, based on the past successes of stars that we know and love. The Good Lie was the movie trailer that got me to purchase a ticket and sit through something much worse than advertised.
November 21, 2019
Excellent actors and excellent story line!
November 20, 2019
Great movie! Great twists! Great acting! Worth watching.
November 20, 2019
great acting. Wonderful plot twists.
November 20, 2019
excellent cast very well done nice to see these two great actors on screen together
November 19, 2019
The movie was a great mystery full of twists and turns. Five friends went to see the movie and we all loved it.
November 18, 2019
The movie was very good: interesting, good plot, intriguing and suspenseful. We thoroughly enjoyed this movie if you enjoy suspense movies.
November 18, 2019
Justice was served. The was a bit surprising but satisfactory
November 17, 2019
Decent movie. Not star material but not bad compared to all the other movies out there.
November 17, 2019
Screenplay, Direction & Performances
November 17, 2019
taut with character tension, and an unforgiving ending.
November 17, 2019
ending wasn't the best. Prior to that, very good movie
November 16, 2019
Very enjoyable movie with some interesting twists. Loved the online dating scenes at the beginning, very true to life. The movie keeps your attention with no periods where you're tapping your toes wondering when something is going to happen. I highly recommend it.
November 16, 2019
The best movie we have seen in a long time. Don't miss it. Such a great story.
November 15, 2019
Very good acting and entertaining, drawing your attention from beginning to the end. Worthwhile to watch.