The Good Shepherd - User Reviews
Thank you for rating this movie!
Read your review below. Ratings will be added after 24 hours.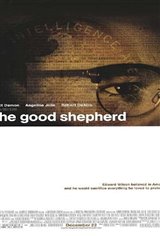 3.21 / 5
User Rating
Based on 3386 votes and 99 reviews
---
Please rate movie 1 to 5 stars
Showing 1 to 50 of 99
April 17, 2007
NOT a great movie. requires thinking. Not for you if you want to be entertained. Very disappointed. NOT all movie stars can direct. This is another example of poor writing. Who is doing what to whom in this movie? We`re not all ex-CIA here. DeNiro should stick to acting. 1*
April 02, 2007
It was long but quite good. great performances
April 02, 2007
Great movie. requires thinking not for you if you want fun and laughs
April 02, 2007
excellent movie. Matt deamon was great
April 02, 2007
clooney and blachett??? they are not in this movie .. you people just write reviews without watching movies. it was a great movie. deep dark and thought provoking
February 27, 2007
found it confusing and a bit hard to follow. I did not like.
February 13, 2007
I didn`t like at all
February 09, 2007
Boooring.
February 04, 2007
I was not impressed by this movie...at all!
January 29, 2007
Clooney and Blanchett are spectacular!
January 27, 2007
i thought it was a horrible movie, very boring and way too long. expected it to be different because of the good casting but it was a big disappointment, i still dont even really no what it was about!way to confusing...
January 23, 2007
this movie took my money what do they need money for a set???That was the cheapest made movie ever. They had no money for the movie after paying all the high end actors. hahahah booooooooo to this movie.
January 21, 2007
good for falling sleep!
January 20, 2007
This movie is definitely not for those who need the big Hollywood fluff and special effects to enjoy a movie. It is a little long, I`ll grant you that, but it is a character study that makes you think. Howver, if what you are thinking is "when does the bang bang blow em up, special effects crap start?", you WILL be disappointed. This movie is for people with brains.
January 18, 2007
Boring.... Don`t see this movie when your tired. I fell asleep not only once but about 5 times. While I was awake the person to my left was sleeping. I finally left after 2 hours... The movie does NOT get better.
January 17, 2007
boring......do not see
January 17, 2007
DO NOT SEE this film. It is incredibly LONG and drawn out. I usually enjoy thought provoking movies but I found this one to be unbearably dry. I also did not buy into Angelina and Matt Damon as a couple. Her acting was atrocious in this movie.
January 15, 2007
It` a good movie. but I wouldn`t recomend it to anyone who are not use to thinking
January 15, 2007
Clooney does it again!
January 15, 2007
Most boring movie I`ve seen for awhile. Don`t waste your time.
January 14, 2007
Boring, boring, boring, awful, awful, awful - hard to follow and a waste of money & time. Although, I had a good nap during it. Left before it was over - to sit through anymore would have been like someone putting sharp objects under my fingernails.
January 12, 2007
long and boring; not even worth renting
January 12, 2007
I was ready to leave after watching twenty minutes of the movie.
January 11, 2007
worst waste of 3 hours of my life I ever did in a movie theatre. I love DiNiro but he should stick to what he knows..acting. It was 2 1/2 hours before any resemblance of a plot. Avoid this turkey save $11.00
January 11, 2007
that was one of the most boring movies i have ever seen. that movie could be compressed into a 1 hour movie with maybe some added action. DONT WASTE YOU MONEY
January 10, 2007
OH MY LORD, DON`T WATCH THIS MOVIE. BORING. SLOW. I JUST WANTED TO PULL ALL MY HAIR OUT AT THE THEATRE.
January 10, 2007
Might have been long, but absolutely enjoyed every minute of it. This movie is definately not an action movie, but keeps you thinking!
January 08, 2007
for those of you wishing or expecting to see an action movie go rent mission impossible. I found this movie to be very thought provoking and interesting. It did have some slow parts, but overall, this movie was not about action but the characters in it.
January 08, 2007
very slow and boring
January 08, 2007
This movie was refreshing. it challenges the audience all the while it keeps the viewer engaged throughout the film. This was amazing overall in all aspects. At the same time the movie was intellectually complex to follow which a good thing. It wasnt simple.
January 08, 2007
Hmmm, I am not sure what to say. The cast seemed great, the story seemed like it would be great. I don't know. I'm not sure if I just didn't understand it, or if the writing and directing were bad. I found it slow and long. Maybe it was aimed for a higher age group. Although a lot of people left before it was over. I stayed and watched it all hoping the ending would put it all together, but nope!
January 07, 2007
Good movie and a great cast, but The Bourne Identity it is not. It has a really good story line.
January 07, 2007
I knew this movie was going to be long and slow from the very beginning when Matt Damon is walking back and forth from here to there in a slow pace with a blank face! honestly i expected so much more from this movie. I am already not a fan of long movies, but after seeing DEPARTED which kept me on the edge of my seat, i thought i`d give this a try. Usually i like complicated movies that you have to watch twice to figure out what happened, but in this case you only think "WHO CARES REALLY?" there`s nothing there to figure out that`s worth knowing! I would wait till it`s on rental just so you can say you saw it!
January 07, 2007
Very slow moving & confusing. Al Pacino keeps everyone in the dark.
January 07, 2007
Great actors! I left confused and disappointed. I get the story overall, but I think they could have done a MUCH BETTER job illustrating their points. Maybe it was the writing...this film will definitely keep your interest, but unfortunately there wasn`t much of a payoff. Maybe it would make more sense the second time around.
January 06, 2007
slow, long, boring, yawwwwnnnnnn
January 06, 2007
Confusing, No climax...good actors...but matt damons face never even changed expressions..
January 06, 2007
This movie is only good for older ppl.. But this is one of the worst movies I`ve ever seen in my life! So boring because all they do is talk .. Story line is very slow as well...takes forever to get to a point
January 06, 2007
THIS IS THE SLOWEST MOVIE EVER AND YOU CANT EVEN UNDERSTAND WHAT IS HAPPENING. YOU SHOULDN`T EVEN GO IF THEY PAY YOU IT IS DA WERST MOVIE TO EVER BE MADE
January 05, 2007
if you are tired but you cant go to sleep then go your local theature and watch the good shepherd. it is soooooooooooooooooooooooooo so so so slow. i took my friends there and now im the laughing stok of my school because i went to such a crap movie. good advice, donot waist your money on this movie!
January 05, 2007
This movie was the worst movie i have ever seen in my life. Save your money
January 05, 2007
Very very discusted, it is definately the very very worst movie I have ever seen in my 47 years, I feel that I wasted about 3 hours of my life sitting thru it , I would have left but I was with other people.Deniro should send me a refund check in the mail.The actors should be ashamed of themselves to be in such a terrible movie.
January 05, 2007
dont hate the movie because you dont understand it. after hearing all these things about this movie , i still went to watch it last nite and it was very moving and deep. Great acting and great drama.
January 05, 2007
Excellent! Dark and very thought provoking. Great movie and great story. just a bit long
January 05, 2007
Excellent !!
January 04, 2007
i wouldnt even give this movie one star..it was so terrible!!! the whole story was unclear and confusing!it was way too long and not worth the money!!like someone said it dont even watch it for free its terrible!!
January 04, 2007
If you suffer from insomnia, go see this movie..! I regret not asking for a refund.
January 03, 2007
What a waste of time. This movie was very slow and boring.
January 03, 2007
it doesnt get worse than this. Dont even go for free.
January 03, 2007
Lots of detail, like a fine book, keeps your interest to the end.