The Goods: Live Hard. Sell Hard.
Thank you for rating this movie!
Read your review below. Ratings will be added after 24 hours.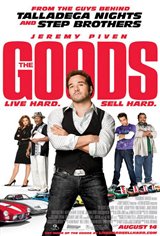 ---
Please rate movie 1 to 5 stars
Showing 1 to 32 of 32
July 20, 2012
very funny movie!
September 02, 2009
I thought it was hilarious. Whoever thought it sucked obviously has a terrible sense of humour or a huge lack of common sense lol
August 27, 2009
Bad, just plain bad. I felt embarassed to be in the theatre it was so stupid.
August 27, 2009
THIS MOVIE IS ABSOLUTELY TERRIBLE. NOT FUNNY, NOT ENTERTAINING, NOT INTERESTING, NOT CLEVER. JUST BAD...AND I LIKE DUMB COMEDIES! I LOVE MOST WILL FERRELL MOVIES! NOT THIS ONE, IT SUCKED.
August 25, 2009
I like comedies that are stupid and talk about nonsense but this one sucked. Did have some laughs, but none more than I had when laughing at the previews.
August 24, 2009
If you like your movies dumb, void of humor, short on storyline and vapid - then this is the one. The first movie in a long time I was actually begging to get out of. Why would these talented people inflict this much agony? For those 18 or with an IQ that matches...UGH!
August 24, 2009
This movie was alright, not fantastic, but okay for a summer movie no one has even heard about. There was some good laughs in the first half, but after that, you wanted to shoot yourself due to boredom. Don't waste your money on this movie, rent it if need be. Not worth the 13 dollars on the big screen.
August 24, 2009
I agree with one of the Reviewers that it was a stupid/vulgar movie! The vulgarity in it was undescribable!! I had to go out to the Lobby too much! It got too difficult to listen to. It shoould have been 18A. I still Wouldn't want teenagers listening to it to defile their mlnds and hearts!! What a good plot though. Both me & my roommate walked out of the show about 1/2 way throgh.
August 22, 2009
funny as hell.
August 21, 2009
should be 18a really, but o well hilrous, and jokes are easy to get if your that age, if not dont be surpise if you didnt laugh the whole time
August 21, 2009
Very funny. Plenty of guest stars to keep the audience entertained. Will Farrell, once again, provides plent of laughs. I'd see it again. Hell, I might even buy a bootleg copy. People who rate this movie poorly obviously don't understand the complex character development throughout the movie.
August 20, 2009
Good, solid, sleazy comedy. Call it "Used Cars" for the new millennium - with Jeremy Piven in the Kurt Russell-type role.
August 20, 2009
The Essence Of Pure Comedy
August 18, 2009
1 star because there wasn't a zero available. This was a horrible movie - not funny, not clever, and very predictable.
August 17, 2009
People who go to a comedy for the "story line" are morons. Do you go to dramas for the laughs? It is what it is go get a life people. If you don't like to laugh, stay home!
August 16, 2009
Great movie with BIG laughs!!!
August 16, 2009
This movie is just downright awful! This movie is rated 14A, but I don't feel this movie is suitable for anyone under 14. This has to be one of the worst movies I have ever seen! And for those of you who said it was the best movie of the summer, you need to get out more! The only redeeming quality was that there actually was a decent plot/storyline to this incredibly stupid/vulgar movie!
August 16, 2009
I found this movie fricking awesome. Obviously not as funny as the hangover, but a movie that funny hardly drops anywhere. Definately in the top 3 to 5 for comedies of the year!
August 16, 2009
kinda disappointed..story line was quite weak
August 16, 2009
I got excatly what the trailer promised, A funny, dirty, Movie. I liked it. Had a few suprises. The "Never Again" seen will go down in movie history as one of the funniest. Z Man
August 15, 2009
One of the worst movies I have ever seen. Don't waste your money even when it comes out on DVD which considering how bad it is will be next week.
August 15, 2009
It's a rated R comedy, what were you expectaions? This is not as good as the Hangover, but still pretty funny. OH yeah WARNING for those who are too stupid to figure out what movies to bring your kids too, I would pass on this one. ESPECIALLY the guy who thought it was a good idea to bring his under age daughters to the hangover. Wake up people!
August 15, 2009
This was the worst movie I have seen in a long time!! I love comedy and many of the cast members in The Goods, but it comes up short. Horrible, horrible movie.
August 15, 2009
gr8 muvie! 5 starts!!!!!one11!!
August 14, 2009
I really wasn't too impressed. I had high hopes but it just didn't do too much for me. Jeremy Piven should only play Ari
August 14, 2009
Jeremy Piven sold this movie, he is a genuinely funny actor. Ed Helms plays an idiot convincingly. Funny movie worth seeing.
August 14, 2009
DING DING DING the GOOOD is your new champ
August 14, 2009
wow it was so funny this movie was great 5 starts
August 14, 2009
lolololololol
August 14, 2009
funniest movie of the summer
August 14, 2009
MOVE OVER HANGOVER YOUR NEW CHAMP IS THE GOOOOOOOOODS! I know some people aren't that smart, but I don't recommend bringing your kisd under the age of 15.
August 13, 2009
hilarious