The Great Gatsby - User Reviews
Thank you for rating this movie!
Read your review below. Ratings will be added after 24 hours.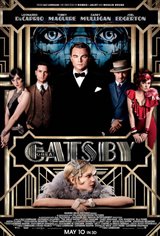 ---
Please rate movie 1 to 5 stars
Showing 1 to 40 of 40
October 05, 2014
I had no idea what this movie was going to be like. I didn't watch any previews and I base my rating on how well this movie stacks up against all the films I've ever seen. The Great Gatsby failed to keep me interested in the film for more than, I'm not kidding when I say this, 10-15 minutes. Because that's how long it took me to realize I was in for 2hrs watching a movie that is going to really suck. When I sat down to watch this movie I didn't have any expectations, other than I expected Toby and Leo DiCap to do their thing and do it well. This movie doesn't really have a plot. We are supposed to care about some absurd back story then become enthralled by an anti-climactic finish that l
October 25, 2013
Nice old cars and that's all.
August 29, 2013
beware chick flick! Slick but tragic love story.
July 25, 2013
horribly long and annoyingly boring!
June 14, 2013
poor casting, especially Tobey, led to this movie's downfall..
June 12, 2013
waste of time and a good story!
June 09, 2013
I loved this movie ! It was captivating from beginning to end!Costumes were fabulous-wish they were in my closet! It is the only movie I would like to see a second time! Told my friends to make sure they don't miss it !
June 09, 2013
Good movie when finally started. Music to be desired. Modern day, would have liked to hear music done to the era. Seen original after seeing this one, this one not as "fluffy". Great cast
June 05, 2013
The movie and some of the acting was surreal, except for Gatsby's love for Daisy. That felt real. The rest was fluff. Was that the USA in the 20s? No wonder there was a financial crash.
June 02, 2013
Wonderful, Wonderful, visually, musically and acting. Great casting especially DiCaprio and Mulligan. Worth a return experience
June 02, 2013
Superb movie as long as you didn't stay the one dimension visual route. This is a very thought provoking story of the human condition. It adds much to the experience to know something about F. Scott Fitzgerald. Di Caprio a deeper Gatsby than Redford. Director amazing ! Only weak element was McGuire as Nick but he did a very good effort just not perhaps the best casting.
June 02, 2013
I loved the book and the way Fitzgerald put forth the ideas of the irresponsible 1920's. Redford/Farrow movie a JG6classic. The current film is excellent and kept me riveted despite knowing the story. Leo superb but did't think Toby M perhaps not the best Nick but again a hard act to follow after Sam Waterston. The imagery done beautifully by Luhrmann and cudo's for staying true to his vision. One couldn't help but hate Tom Buchanan from the start and he looked evil to boot. Hard to do a remake but this was exceptional and the music a subtle reminder that this excess can happen at anytime with deadly results. The best though was DiCaprio one of the true "actors" vs movie stars of the
May 30, 2013
Robert Redford and Mia Farrow create movie magic.
May 30, 2013
A complete waste of time. McGuire was a horrible choice to play the lead in this movie. Di Caprio was good, as was the other actors. However, the director let his ego get the best of him and ruined this film.
May 30, 2013
The director took a great story and ruined it with the over-the-top glitz, ridiculous soundtrack, and his own overblown ego. I could hardly wait for it to be over.
May 29, 2013
GREAT! My favourite film of the year so far!
May 24, 2013
Absolutely one of the best movies of the year!
May 24, 2013
Amazing movie- from the first scene till the last. All actors - L. DiCaprio, T. Maguire , C.Mulligan, J.Edgerton - fantastic job!
May 21, 2013
The most beautiful movie I have ever seen. It far exceeded my greatest expectations. A+++
May 20, 2013
Easily the best new movie in years.
May 20, 2013
Just reading some comments about the soundtrack. The director does this on purpose to put present influence in a movie that took place in the 20's??? He did the same thing with Romeo&Juliet which also starred Leo D. I liked it made it different and fun. The only song that could have been excluded was Beyonce's Crazy Love... Of course JayZ had to put a Beyonce song in the mix... My only negative thing about it. Otherwise I loved the music, it's made for a younger audience obviousy.
May 20, 2013
I didn't read the book, so I really didn't know too much about the story. I really enoyed this movie, the way it was filmed was very similar to Romeo&Juliet, which was okay with me. Rekindled my girl crush with Leo :) LOL
May 20, 2013
lol Seriously there was really nothing great about this 'Gatsby' dude. I think I wasted my $10 on this film. It's a film that should be be seen on Netflix or cable tv. Just sick and tired of these repetitive Hollywood films, that more or less have the same plot like films released in the past. All I am saying is that there absolutely nothing unique or original about this film. Just the same typical American decadence.. blah boring. Enough said.
May 18, 2013
Incredibly well done. I could done have without daisy's husband's accent though. His accent sounded so phony! Also, yes the sound tract and a few songs Didn't go with the era of the times! I was very pleased with your choice of actors.
May 17, 2013
i agree with the music critique, music did not make any sense. with be way better to captivate 1920ties. director learn from Cameron !I still like it by hey, not the best1 original way better.
May 17, 2013
So what if the film is flawed? It's an overwhelming experience that captures an era and the concept that the same person can be simultaneously hopelessly corrupt and a shining beacon of hope.
May 16, 2013
The hip hop soundtrack was beyond stupid. That really hurt an otherwise good movie. What were they thinking? It's the 1920s for gods sake, have a soundtrack that reflects the times.
May 15, 2013
This movie was amazing and well done. It's rare that I leave a theatre and say "I really enjoyed that movie!!!!"
May 14, 2013
Absolutely great movie, reminded me of Titanic, only on land. McGuire and Dicaprio were excellent in their roles
May 13, 2013
Oh my.... The most incredible movie I have seen to date... The book was a great piece, but this movie was remarkably beautiful. The two and a half hours were the most surprising, entertaining, fun, and illusional hours of my life. AMAZING JOB! I recommend this movie to every single one of you.
May 12, 2013
Beautiful film with a powerful message!
May 11, 2013
This movie was a very accurate rendition of the original book, and DiCaprio's acting was very moving. I could really feel Gatsby's vulnerability.
May 11, 2013
Amazing movie, I got attached to the characters contrary to other reviewers, I loved J. Gatsby and Daisy!!
May 11, 2013
Absolutely mezmorizing. Everything I imagined it would be and more. I could literally write an essay on how absofreakinglutely amazing it was. The costumes, jewellery, hair, makeup et all! Another great one Baz Luhrman!!
May 11, 2013
Loved it class with a hint of modern appeal!!!!
May 10, 2013
Why is this in 3-D?