The Hangover Part II - User Reviews
Thank you for rating this movie!
Read your review below. Ratings will be added after 24 hours.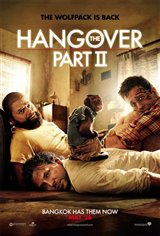 3.38 / 5
User Rating
Based on 836 votes and 224 reviews
---
Please rate movie 1 to 5 stars
Showing 101 to 150 of 224
July 10, 2011
Outside of adding more male frontal nudity and replacing the tiger with a monkey, this is - beat for beat - the exact same movie as The Hangover. Only set in Thailand. It's a cash grab and not much else. Only Ed Helms survives the wreckage with anything approaching dignity. The Hangover, Part 2 should never have been made.
July 10, 2011
Funny movie
July 10, 2011
More of the same; that's why it so good!
July 10, 2011
no new ideas
July 10, 2011
I loved it! Easily as good as the first one.
July 10, 2011
HILARIOUS. Not as funny as the first, but that is possibly because I didn't know what to expect from the first one at all so it came as more of a pleasant surprise. I knew what to expect here, but it still cracked me (and all 13 of my friends) crack up! I would watch it again.
July 09, 2011
Just as funny as the 1st movie but not as surprising. Still worth watching.
July 09, 2011
One of the funniest movies I've seen in a long time!
July 09, 2011
Hijinks ensue as expected, but before you go just thinking it's just like the first one, wait for the taxi cab chase....PLEASE! lol.
July 08, 2011
Funnier, and Zach once again steals the show!
July 08, 2011
over the top in hangover style. Funny but no academy award winner.
July 08, 2011
It's as good as the first movie
July 03, 2011
Different location, but virtually the same as the first with poorly re-worked humour. Watch the original and imagine a monkey instead of a baby, and you've seen this movie.
July 02, 2011
To everyone who has doubts of seeing this movie: If you enjoyed the first one, go watch the second one. If you appreciate gross-out humour, funny punchlines, good character chemistry, unexpected moments, etc then you will appreciate this movie. To all those who commented, "what a waste of money, same plot as the first": That is what a sequel is! Part 2..meaning continuation. Really, when you think of the first one and heard about the second one, what did you expect? That's what makes this movie so great. If they would've completely switched it up, people would be saying "what the heck is this crap? It's nothing like the first one!" And keep in mind, the people commenting on this movie wh
June 28, 2011
Probably the worst movie I have ever seen. Not worth the price of admission. What a waste of time. Don't do it.
June 27, 2011
I know u don't think it's possible: but it is! This was better than part 1!
June 24, 2011
Hangover II is a sad copy of Hangover I...
June 23, 2011
Just as funny as the first one down to the discovered camera shots at the end of the movie.
June 20, 2011
omg sooo funny yo
June 14, 2011
The must-see movie of the summer!
June 13, 2011
Sucks!!! Don't waste your money!
June 12, 2011
UMMM ITS NOT BETTER THAN THE FIRST ONE,BUT IT IS GOOD.
June 12, 2011
it is really grate and wild they always bring the unexpected its really fun would love to have a nother one
June 12, 2011
Loved it..very funny
June 10, 2011
deja vu called, it wants it's movie back
June 09, 2011
Definitely not as funny as the first! A rental for sure!!
June 09, 2011
Same plot as the first story but still as entertaining!
June 09, 2011
so funny!!!!!
June 09, 2011
aWwwwwwwwwwwwwwwwwwwwwwwwwwwwwful
June 09, 2011
i have no idea what u guys r talking about this was way better than the first one and it halarious
June 08, 2011
Even better than the first!
June 07, 2011
not as good as part 1
June 07, 2011
not as good as the first. But not terrible either. a couple good laughs.
June 06, 2011
Really, they tried to do it like before. I didn't find as many laughs. I still like the characters though. They all have good chemistry. It's a rental in my opinion. I hope to god they stop at this one. Funniest part was the stripper.....you have to see it to believe it.
June 06, 2011
Hangover 1 was soo boring and not funny. America society are retards even with the depression, need to wake up and raise it to the next level.
June 06, 2011
Sad to say it but its a bad movie. Nothing compared to the first. still funny though.
June 05, 2011
If I could've chosen "NO STARS", I would have! Simply terrible, absolutely no time in writing this script! I think that the people giving this movie 2 or more stars....kill yourselves!
June 04, 2011
If I could give it less than one star I would. I didn't even watch the whole movie, I stopped after the first hour. It was painful to sit through, giving yourself a swift punch in the junk would be more entertaining, and funnier for people to watch.
June 04, 2011
Not quite as good as the first just because there wasn't anything new. It was no doubt entertaining though. It was much grittier than the first film, but hey if you're a fan of the fist one you'll enjoy this. It's lots of fun to watch.
June 04, 2011
If this was the first movie everyone would love it. The problem is the show the same jokes/story push the boundaries a bit and expect it to be new. if you haven't seen the first one punch yourself in the throat and then go see this one and you will love if it you like immature guy humor, if you've seen the first one, pick up either 1 or 2 at video store in a few months
June 04, 2011
Very funny!!
June 03, 2011
Just as funny as the first one!! Much more nudity... definitely not for anyone under 18! I am thinking there will be one more for when Zach Galifankas' character gets married... should be awesome!! I laughed the entire time!
June 03, 2011
PLEASE, PEOPLE OF A SUB-HUMAN INTELLIGENCE... Stop saying this movie was "just as funny as the first"... you are not worthy of commenting on a movie. This movie was absolute garbage. Punchlines so... Meh! I was in denial for almost 30 minutes, then came to the sad realization that, yes, HANGOVER 2 SUCKS!
June 03, 2011
GOODEST MOVEEE EVER
June 02, 2011
Funny but a copy of the last one, it's a renter for sure!
June 02, 2011
This movie makes me question the morals of society and people's mental state. There is not a very positive Christian message