The Help - User Reviews
Thank you for rating this movie!
Read your review below. Ratings will be added after 24 hours.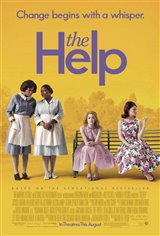 4.35 / 5
User Rating
Based on 1366 votes and 346 reviews
---
Please rate movie 1 to 5 stars
Showing 301 to 346 of 346
August 23, 2011
how can this movie be rated with only 3 stars. It's one of the best movies I've ever seen!
August 23, 2011
I devoured this book. I lived through the turbulent sixties and life was like this. I believe those who don't like this movie are not appreciating how far society has come and how long it has taken to have a black president. We still have a long way to go - but maybe someone will be inspired to be more tolerant, to change an attitude and to accept everyone as an equal - imagine.
August 22, 2011
I cried when I realized I spent 12.95 on this junk. What's a souther accent?
August 22, 2011
Absolutely incredible! I laughed, I cried and I want to watch it over and over again!
August 22, 2011
Very good movie. True to the book. You'll laugh and you'll cry.
August 22, 2011
How is this movie number 1? It soooooooo bad. Nice fake souther accent Emma Stone
August 21, 2011
such a warm movie-great acting and great cast. and of course a great story
August 20, 2011
Loved this movie. One of the best we've seen this year, and I really don't understand how anyone could give it one star.
August 20, 2011
i gave the help five starts because i enjoy watching the movie and a lot of people will to love the movie
August 19, 2011
Best movie ever!
August 18, 2011
Great movie - Will see it again. Acting was excellent. Very true story.
August 18, 2011
Shocking another bandwagon movie people "like" so they can pretend they aren't smart or racist.
August 18, 2011
Awesome Movie! Will win Oscars! A Must See for All!!
August 17, 2011
One of the best movies I have seen this year.
August 16, 2011
What a feel-good movie! I laughed, cried, got angry, all in a span of 2 hours. The premise is believable, the acting is superb, and I highly recommend it to everybody - it's not a chick flick, kids could learn some history from it as well. Both book and film are equal in my opinion. I'll buy it when it comes out on DVD!!
August 16, 2011
WORST MOVIE EVER!!!!!!!!!! Boring!!!!!! Wasn't what I thought.
August 16, 2011
Loved the movie. Fantastic cast. Viola Davis was great and played the role beautifully.
August 15, 2011
No Bruce and his boys saving the Earth. No Hollywood hunks or explosions or special effects... Just a really good, well acted drama.
August 15, 2011
Exceptional Movie....The point of the movie IS the racism of the times, and how individuals of both races reacted to it. Hopefully people today WILL BE offended by the treatment of those days. But it's NOT the fault of the movie. Well acted. great script. funny at times. tearful at others. Most movie goers today wont get it. It requires thought, and has no computer generated characters. A movie the way they USED to be made.
August 15, 2011
this movie is soooooo fake. Yeah that's right the black servants and rich white folks are buddies. That doesn't even happen in modern times! This movie should be called, GIVE ME BACK MY MONEY
August 15, 2011
Glad I watched it. I thought it was well done.
August 14, 2011
Incredibly moving and inspirational. Great plot and exceptional acting.
August 14, 2011
Great movie, slavery ended at the end of the civil war, 1865, their wage in 1963 was $.97 per hour. Not a lot of progress for 98 years ,and some of the treatment received from the southern white people was a quite bad. We all can learn something from this film. 65 yer old white male.
August 14, 2011
It shoudl be called the racism.
August 14, 2011
people who use "quotes" are cool! I found this movie to be offensive.
August 14, 2011
This is a fantastic movie. This movie had me glued to my seat from beginning to the end. I am telling all my friends and family to see it!! It's a MUST SEE movie!!
August 14, 2011
absolutly wonderful...I smell an Acadamy award on this one..
August 13, 2011
A beautiful movie about unexpected friendships... LOVED it!
August 13, 2011
This is not a movie this is history. Those were the days, like it or not.
August 13, 2011
I just read the previous reviews and cannot understand why several of the viewers panned the movie by calling it a racist or superficial film that glosses over the issue of black slavery. First of all, I grew up in a black neighborhood in Kentucky in the 1950's where I saw racism and prejudice on a daily basis. This movie very accurately portrays the prejudice of white southerners in that era. In my own town, there were segregated restaurants, restrooms and every type of segregation that you could imagine. I saw how some wealthy white people treated their black employees. They did treat them like slaves. I also saw how these black people reacted to and dealt with that nonsense.
August 13, 2011
The great Viola Davis!
August 13, 2011
This movie should be called "The racist". Where is Jesse Jackson on this crap?
August 13, 2011
What an amazing movie!! I laughed and cried!! Wonderful!!
August 13, 2011
Just an excellent movie!! Such a stark contrast to most other recent releases. Great plot, acting --- a film with meaning and integrity.
August 12, 2011
Fantastic movie! I enjoyed the book so much, that I was quite skeptical about seeing the movie. Fortunately, it far surpassed my expectations. I think it captured the essense and main plotlines of the book. Great acting/casting!
August 12, 2011
Yes black slavery is something pretty funny. HHAHA, Are you the same losers who laugh when old people fall? This movie is a joke!
August 12, 2011
One of the best movies of the year. A great ensemble cast. Shows "some" of the problems in Jackson, MS regarding racism. The ads for this movie show it as a comedy but this is also a very serious film. Both laughs and tears. Brings back some of the memories from the 50's to 60's. Very well acted and filmed. Well worth taking your teens out to see some of the "history" that isn't always covered in high school.
August 12, 2011
I took my mother to see the movie and we both just loved it. I would recommend this movie to everyone!
August 12, 2011
the movie did the book justice. A really great movie , without taking the book out of context. I would tell all my friends, read the book, see the movie!!!
August 11, 2011
One of the best movies made in years- a great drama with many laughs and a few tears- so worth the watch!
August 11, 2011
Excellent casting, acting. True to book.
August 11, 2011
I would give it zero stars but somebody might call me a racist
August 11, 2011
yet another example of white america trying ot make themselves feel good about themselves. PURE DRIVEL
August 10, 2011
Yet again white america pretending not to be racist, by exploiting black america
August 10, 2011
This movie was very good I would recommend this movie!
August 09, 2011
Great movie. This is the frist movie I've seen in a while that did not have anything blowing up or gratuitous violence or any nudity. I enjoyed it. I was at an advance screening with my mother and everyone was gasping in shock at some scenes and dumbfounded that this racism existed and STILL exists. It also showed the point that it's bred! It breeds if we do not stop it. I'm glad to see in 50yrs since that things have changed and hopefully keep changing for the better. This movie will make you think and ignite discussions like we all did when we left the theatre. This is a film, not a movie! Academy take notice.