The Hero - User Reviews
Thank you for rating this movie!
Read your review below. Ratings will be added after 24 hours.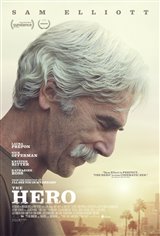 ---
Please rate movie 1 to 5 stars
Showing 1 to 15 of 15
July 25, 2017
Disappointing! Sam Elliot has made better and greater movies than this one. This movie was boring, too unusual flashbacks, and the ending didn't make sense Something was missing that could have brought this movie together that didn't leave people feeling...."WHAT??" I thought Sam Elliot lowered his standards to appear in a movie that didn't do him justice. The best part of the movie was looking at Sam Elliot....even at his age, he's still a turn on :)
July 22, 2017
Boring, boring, boring. I left after 40 minutes!
July 21, 2017
Good story line. Foul language terrible and strong sexual content. Not Oscar material.
July 14, 2017
Sam Elliot makes every movie better.
July 11, 2017
Best acting - Oscar worthy performance!
July 09, 2017
amazing story, sam elliot is Oscar worthy, deep performance, believable in context of washed up actors, hilarious at times and gut wrenching sad at others, a sleeper of the year
July 07, 2017
I liked this movie. Nice to see Sam Elliot again.
July 04, 2017
very slow moving movie! struggling to pay attention to a simple sentence being completed. Flashback were inaffective and a distraction. This movie could have been a whole lot better. DISAPPOINTING! One of the worst movies I have ever had to sit thru. Wondered why there were only five others in the theatre.
July 04, 2017
Where in the synopsis, or trailer does it tell us that this movie promotes drug use?! Sam was great as always, but, I think they could have told this story without drugs, it would have been better. Too many camera shots of the BACK of his head for me also.
June 28, 2017
This was the worst movie ever! It was all about Sam Elliot's mustache and voice. His relationship with Charlotte was not believable and was totally below the belt. As usual with a man of his age and background his communication skills with his illness were abysmal and not poignant as they should have been.
June 27, 2017
Nice movie! There should be a Charlotte for all us older guys.
June 24, 2017
Wonderful performance by Sam Elliott. Great movie!
June 24, 2017
An amazing film.. beautifully cast.. a must see!
May 20, 2017
Wonderful real heartfelt movie bringing the best out of the best actors.
April 22, 2017
Sam Elliott does performance of his career. Beautifully shot nice emotional movie. Happy and sad in good ways.