The Hobbit: An Unexpected Journey - User Reviews
Thank you for rating this movie!
Read your review below. Ratings will be added after 24 hours.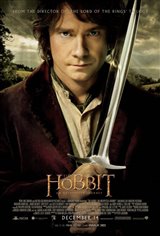 ---
Please rate movie 1 to 5 stars
Showing 1 to 50 of 85
October 04, 2014
The Hobbit Is... 'AN INSTANT CLASSIC!'
August 02, 2014
THE BEST MOVIE OF ALL TIME
August 26, 2013
Loved loved it!!!!!!!
April 11, 2013
Fantastic!
March 25, 2013
Not for Tolkien purists. Jackson is banking in on his LOTR cred. Over the top, Transformer meets The man with the irons fists fight sequences. Flat one liners. Obvious character development with weak and predictable changes of heart moments. At one point, I was wondering if I had the 'The Hobbit, A musical' version by mistake. As Ignatius would say, 'What degenerate produced this technicolored abortion!'... An Epic failure from the man who brought us true classics like Braindead and LOTR.
February 19, 2013
Well done! I really enjoyed this movie, and look forward to the next two sequels. The beginning was a little slow which was necessary to introduce the life Bilbo Baggins had before he went on his adventure. From that point on, it was a hold-on-to-your-seat experience. For anyone who thinks this movie didn't have the intensity of the final Lord of the Rings movie, remember...JRR Tolkien wrote The Hobbit for his children. However, this is NOT for young children. Nuff said. Loved it!
January 21, 2013
Fabulous film! Enjoyed every minute.
January 15, 2013
Loved LOTR so I really looked forward to the Hobbit. Great movie! Well done!Good acting. I can't wait for the next! Wouldn't expect anything less.
January 14, 2013
AMAZING Movie!! You should go in knowing that they've split this book into 3 parts so you're only watching the first part of the sequel here. I didn't know it was broken up and was getting a little tired near the end. GREAT MOVIE - going to watch it again this weekend!
January 14, 2013
I was really disappointed in this. I really disliked how it was filmed in HD, I felt it took away from the myth, fantasy, other world like feel the previous 3 had. It felt fake, like a soap opera. The orcs were different and looked faked, the wolves were different. It was like Jackson wanted to re-introduce what everything looked like rather than staying consistent with what had previously been done. As an adult, I felt the movie was geared towards children, and there was a lot of silliness and stupidity. Very disappointing.
January 10, 2013
Gollum, if you're reading this, I think you're a very sexy man. I'm an attractive, petite (5'5") blonde with blue eyes and a figure no man can resist. Let's hook up and live happily ever after! xox, Dwan
January 10, 2013
Love it!
January 08, 2013
Martin Freeman has never been better.
January 04, 2013
loved the movie........can't wait till the next installment in December 2013. Better then the Lord of the Rings series.
January 04, 2013
Wonderful with beautiful vistas, incredible in 3D good situational humour. I enjoyed it much more than Lord of the Rings
January 04, 2013
This movie was great. It made me want to go back and read the Hobbit again (haven't read it in 40 years). Good character development. Can't wait to see next movie.
January 04, 2013
I watched this movie yesterday with my family and it was really boring i just wanted to leave, i noticed some people in the audience were sleeping. This movie is by far the most boring movie i have ever watched in my life. Very slow, too long, no action, waste of money and time.... a disappointment.
January 02, 2013
Very well done! Peter Jackson does it again!
January 02, 2013
Lately I quite going to big action flicks where the noise/background music rated 1 to 5 is 6 and all conversations is on the level of 2 and I leave with a headache. Only good news with these brain blasters is if you wait and rent them you can turn the sound off and enjoy the visuals since the plots are pretty thin anyway. My vote for worst ever was "Lincoln vampire hunter". Much better and cheaper to stay home and watch Turner classic movies.
January 02, 2013
Very interesting and kids loved it
January 01, 2013
Slept through most of it.
January 01, 2013
Loved, loved. Some beautifully filmed scenes. True to Tolkien's book and appendices. Perfectly cast. Music!
December 30, 2012
Very slow. No way it should be in 3 parts.
December 28, 2012
This movie looks much different than the LOTR trilogy. It is filmed at a higher frame rate that makes it look like a cheap daytime soap opera. Story wasn't bad, but they stretched it out and probably would have fit nicely into one film. Hopefully they make some changes to the film's look before it goes to DVD.
December 28, 2012
Outstanding movie! Jackson was detailed in ths movie, ths setting up the next two!
December 27, 2012
Beautifully crafted but bloated. The pacing of this movie crawls at a snails speed. With tighter editing, this could have been a much enjoyable experience but it felt more like watching an extended edition with unnecessary scenes. For a stand alone movie it's "OK" but compared to its predecessor, it's mediocre.
December 26, 2012
Great movie
December 26, 2012
Excellant
December 25, 2012
Loved it. The effects were amazing and the Gollum scene was hilarious. All the actors were perfect. I can not wait for the rest of the movies.
December 23, 2012
Pitt has received four Academy Award nominations and five Golden Globe Award nominations, winning one Golden Globe. He has been described as one of the world's most attractive men, a label for which he has received substantial media attention.
December 23, 2012
This is no Star Wars prequel trilogy! As high as the extended LOTR movies raised the bar for me, I was admittedly skeptical about the prequels being able to live up to the hype. This movie was not a disappointment, but I did feel like something was missing by the end and I'll wait for the next two movies to see if it gets sorted out. I have only read "Fellowship of the Ring" so this opinion is strictly based on the movies. It is worth seeing at least once if you liked the original trilogy to form your own opinion. I would also encourage an IMAX viewing to see the extended sneak peek of the Star Trek movie which looks EPIC.
December 23, 2012
long, boring and no ending
December 23, 2012
Its hard to please everyone. This movie is fantastic. The visuals and the acting was great. I love the movie cant wait for the next one.
December 22, 2012
Freeman steals this just as he had Robin Hood: Prince of Thieves.
December 22, 2012
Extremely slow introduction to the movie. Do no expect any action in the first hour. There is far too much narrative and unnecessary backstory, ok if naive to Tolkien but I don't suspect that is the majority of the audience. Movie improves once the action starts in the 2nd half but doesn't quite redeem itself. The villians are displayed a bit comically which made some scenes more silly than suspenseful. The scenery is beautiful just like in LOTR, but overall the movie was disappointing.
December 21, 2012
Morgan Freeman proves what an outstanding actor he is yet again.
December 21, 2012
We all loved it. Just saw it in 2D matinee and avoided the line-up. Will see again in 3D. Whoever was complaining about lack of action - there is a lot more to come - lots of giant spiders, etc. The name, being the title of the first chapter is perfect. It couldn't be called There and Back Again when they don't get back until the third segment. And whoever said there was no ending - of course there wasn't - it's a third of the way into the story, but showing Smaug's eye opening up was a good preview of what's to come. Those who left near the beginning must have ADHD. Don't comment if you walk out before anything happ
December 21, 2012
OUTSTANDING! Martin Freeman deserves an Oscar nomination!
December 20, 2012
Really loved this! Hard to imagine anyone but Martin Freeman as Bilbo now...
December 20, 2012
very well done. the beginning was a bit slow but then picked up. Saw it in IMAX 3D and it was breathtaking!
December 20, 2012
I really enjoyed the movie. My only complaint is I felt it was dragged out a bit. I love Bilbo, Gandalf & the dwarves!!! 4 out of 5!!! I was pleased since this is my favourite all time novel!!!!
December 19, 2012
It's WHOSE, not who's.
December 19, 2012
To the person who's only concern is the title, why even comment on it. The Hobbit-There and Back Again is the name of the entire story. An unexpected journey is the name of the first chapter in the book so it makes sense the movie should start with it. Please don't try to undermine the genius of J.R.R.Tolkin unless you have written an epic story that has endured the last 80 years.
December 19, 2012
Boring, LOTR knockoff. I dont need to learn all over again about the shire.Let's FF a bit and get to the good stuff.
December 19, 2012
Would love to see an extended edition!
December 19, 2012
The whole story might be good..but this movie is unneccesary..no battle..no ending..nothing..what a dissapointment :(
December 18, 2012
In the long run, the slow start will be worth it. So many movies neglect character development. After the first hours things got rolling and it didn't disappoint. It is a must see in the theaters.
December 18, 2012
Best of the best Peter did it again¡!
December 18, 2012
Actually guys, it's THE BALLAD OF BILBO BAGGINS, and yes, it was a nice surprise. I much prefer Nimoy's song to the one Annie Lennox did for ROTK.
December 18, 2012
My only complaint is it wasn't long enough!