The Hole - User Reviews
Thank you for rating this movie!
Read your review below. Ratings will be added after 24 hours.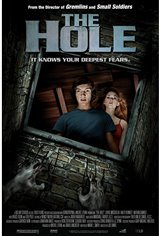 ---
Please rate movie 1 to 5 stars
Showing 1 to 35 of 35
November 27, 2006
its awsome i can watch it over and over again and that one dude with the brown/black hair is hott
July 11, 2006
it was brilliant i loved it
June 07, 2006
I love the movie . The stars really got into character to do the film . It is full of suspense . The moment the movie is introduced you can call it a `jaw dropper` . The scenes were so real . It fills you with fear, afraid to have a party . Scary. The teens pay for what they`ve done so it makes you scared to have a little fun.
March 21, 2006
i thought it was great! was good how you didnt know what really happened until the charaters did because most of the time in films you already do. i thought i was just brill!!!
March 20, 2006
mike is simply the best you have to admit go mike
March 19, 2006
Maybe it`s just because I`m tired, but this seemed like a genuinely great horror film to me. Definately worthy of cult classic status.
March 05, 2006
It is really one of the best things I have ever seen. Love is very good feeling, but crazy love is dangerous.
December 28, 2005
love meke you do crazy things, just like that
September 18, 2005
I thought it was a very good drama. I found however that both Desmond Harrington & Keira Knightly steal all the scenes from Birch who was, in my opinion mis-cast. I just can`t see characters Liz & Franky as close friends, which is the reality of the movie. While it was essential that Liz not be as beautiful and more of a bitch than Franky I still have a hard time buyiing Birch as the type of person Franky would be around. I think Liz`s first version is more believable. IN THE END I watch the Movie to see Harrington as Steele. Those sulrty eyes & blackish hair are a winning combo. Harrington was perfectly cast. I wish he would apppear in more
August 14, 2005
Mesmerizing! The screenplay is brilliant, the cast phenomenal, and the sets effective. Kept me creeped out and unbalanced almost all the way through. The ending was shattering!
July 01, 2005
I heard of Keira doing the movie, so I had to watch. A thriller, an amazement, and something that`ll keep your head spinning. You come up with questions on who is right and who is wrong, and it`s bloody amazing.
June 27, 2005
This has become my all time fravourite movie. I have owned the movie now for only about a year and I have every line memorized and have watched it at least 1000 times.
April 16, 2005
a new fave
March 19, 2005
very well done, all techincal aspects were respected and apreciated!
March 11, 2005
awesome, great ending
March 04, 2005
when i saw this movie, i had never heard of keira knightley before, but aftr it, she became this famous actress, and i think this film was a great portrayal of her talent. also desmond harrignton is soo sexy.. the movie overally was great, very exciting!
December 01, 2004
I thought the film was amazing and the twist was very unexpected. The filming was cleverly done and the actors and actresses couldnt have performed better.
August 20, 2004
i thought that it was one of the best british films ever made. the story was good and had me on the edge of my seat. most certainly one of my best films. it makes a change to see a great BRITISH film for once which is not so `Hollywood`. i think they are all great performers and i especially like Laurence Fox (Geoff) many of his films i love! i adore him- he is my best actor ever and i want to be like him. i liked the shower scene- he is so hot! so well done for making such an excellent film all of you! i will happily watch it again and again.
August 16, 2004
Great! Best movie of all time! Beats all other movies, old or 2 be released! Loving it, as equal as I love my boyfriend, Ash (That`s a LOT)!
August 07, 2004
I totally loves the hole, keira is my fave actress n she was gr8. The story line was really gd. THE HOLE ROCks
July 28, 2004
This movie is so dope! it kinda confused me at first but man like what a psycho...lol..phhh
July 27, 2004
awesome film. great cast, especially desmond!
July 25, 2004
i think that movie was gr8t my brother gave it to me cos he thought it was bad. cos he thought it was bad i wasn`t going to watch it but i was bored one sunday so i put it on.i watched it 4 times that day i was really good.
July 23, 2004
it was gr8, i fort keira was gr8 seeing as she was only 16 when she filmed it. she`s so pretty and desmond harrington is so fit in this film! wow he`s got a gr8 body!! the story was wickd, so many twists and it was really unexpected. it kept u guessing!
July 19, 2004
i thougth iit was great. desmond harrington is so fit. i love his part. i love the way the whole film was twisted. it was just amazing!!!!!!!!!! I LOVE DESMOND!!!!!!! THE FILM WAS AMAZING
July 19, 2004
ya, i think is really cool movie i think Desmond Harrington is real cute in that..i luv that movie..!!
July 08, 2004
that was the best movie i have seen in a while it rocks!!!!!!
June 09, 2004
I really liked the part of Frankie I thought she was really good!!
May 07, 2004
i did like this movie, it was quite original and it shows well how love can drive people crazy. the only thing that was wrong : the protagonists die "too easily"
August 08, 2003
That movie totally through me for a loop! Most of those flicks are predictable, but not that one.
July 29, 2003
it was so thrilling it kept your attention the hole way through, and there were loads of twist`s in the story line.
July 03, 2003
i thought it was a great movie and desmond played an amazing role in it he is such a good actor and ghost ship was great too!
April 08, 2003
It`s a very good movie... Lets`go Guy Burt, make other movie...
August 14, 2002
Pretty clever movie with lots of twists and turns. Ending is a bit of a let-down.