The Hours - User Reviews
Thank you for rating this movie!
Read your review below. Ratings will be added after 24 hours.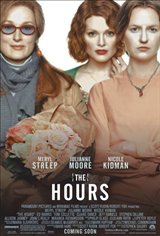 3.53 / 5
User Rating
Based on 3687 votes and 40 reviews
---
Please rate movie 1 to 5 stars
Showing 1 to 40 of 40
November 29, 2005
The Hours is an awesome movie!!! I loved it!!! ps- I love your comment Leanne!!! julio
November 09, 2005
I loved the novel and the movie followed the novel very closely. The performances by Kidman, Moore and Streep were excellent. I didn`t think Kidman could truly act until I saw this film. Very moving story lines from three eras left the theater silent and still at the movies end. Excellent, especially if you`ve studied any of Wolfe`s writing.
April 14, 2005
Just perfect. The people how vote between one and three stars is because they just did not understund the movie.
April 03, 2005
It should come with a disclaimer--please do some research on Virgina Wolff, and the novel Mrs. Galloway, before watching this film. Otherwise, you may find yourself constantly trying to figure out what`s going on.
January 29, 2005
I suffer from depression and suicidal thoughts. I bought the DVD. It`s the type of movie that I watch over and over again, because I see myself mirrored within it. I think it was a great movie.
November 07, 2004
This movie was full of depth and very well thought out. The connextions between the lives of the three women was brilliantly put together, to the point of giving me chills. Not to mention that Meryl Streep and Julianne Moore were fanominal, Nicole Kidman did a good job but her character didnt allow her to act to her full potential. The reason she won the oscar was the classic case of beautiful women gone ugly.
September 13, 2003
A excellent movie that has no bad acting, simply this movie is made out of performances, espically NIcole Kidman who barely reconisable on screen.
July 05, 2003
please!!! how can people like this kind of movies buuu!!, the worst movie in the world, it doesn`t have any interesting part at all, boring, I want my money back.....oscar???? how could I stay wake up during this movie...
May 04, 2003
One of the best movies ever seen.
March 10, 2003
Excellent acting. Hard to watch at times but very real and true. Yes some peoples lives are interesting!!!!!!!!!!!!! Kidman at her best.
March 07, 2003
My husband and I went to see it and both of us kept looking at each other with boredome and disgust. What an incredible boring, stupid, lame movie. I had to keep apologizing to him for suggesting it. I love deep movies, but I sure didn`t find it deep at all. Both of us agree this was one of the worst movies we have ever seen. I also agree with the other critic that said the people saying this movie was good had to have had something to do with making it. BOO! I hope it doesn`t win anything!!!
March 05, 2003
Simply brilliant!! One of the best movies i`ve seen in years. The acting was phenominal especialy from Nicole Kidman. The characters were so well portrayed in this elegant deep movie.
March 04, 2003
i thought it was boring ,poorly defined, julianna moores acting stiff and uninspired and just mostly depressing and dull except for meryl streep who did a fine acting job but ixnay on the gooey kisses.
March 03, 2003
The Hours was awesome the actress`s were great and the movie was very dramatic. The three women were fanomonal in their characters. It was all tougher a very interesting movie
February 25, 2003
Please people... how on earth could any self-respecting movie watchers give Daredevil a better rating that this? Are we so scared of having to actually think and be challenged in a movie? Brilliant acting and thought provoking!
February 24, 2003
I liked the part at the start where she trys to commit suicide but after that it sucked!!! I`d rather watch Titanic again i fell asleep so yeah vote 1 star for it thank you kids don`t do drugs
February 21, 2003
Long & depressing I felt like killing myself what a bunch of pitiful characters. If you want to feel awful watch this one!
February 20, 2003
I thought it was painfully BORING!!! All the above comments saying is was "hauntingly beautiful" etc I believe are coming not from audience members, but from people that have a vested interest in the movie (such as producers, or even actors). Don`t waste your money on this movie unless you`re looking for a cure for your insomnia!!
February 19, 2003
A fascinating film from start to finish. Intriguing how it all comes together in the end.
February 18, 2003
I am obviously not intelligent enough to read between the lines and understand what this movie is all about.. as entertainment it missed by a mile..
February 16, 2003
A wonderfully reflective movie...I found myself in tears and knew I`d have to see it again to answer why. Nicole Kidman shows her true strength as an actress when you notice her acting not her appearance.
February 15, 2003
In short: absolutely riveting. Forget all the stuff that snotty critics say about this movie. Take it form me, an average joe...if you want entertainment that doesn`t see you short but that really affects you, that will linger for more than a few minutes and for all the right reasons, buy a ticket to see The Hours. btw, Nicole Kidman is breathtaking and her performance will singlehandedly resurrect mass fascination for Virginia Woolf.
February 15, 2003
this movie is so slow and boring it should be titled "Eternity".
February 08, 2003
One of the best movies of the year.
January 29, 2003
Absolutely brilliant. I was curious how this fabulous book would translate on the screen. The scenes flowed so perfectly and Nicole IS Virginia Woolf. I want to see it again and again.
January 25, 2003
A hauntingly beautiful movie. Nicole Kidman was stunning. The writer wishes he could write another movie for Nicole using her look in The Hours. I agree! Nicole fleetingly reminded me of Princess Diana.
January 25, 2003
Wow, what an incredibly accurate portrayal of life. How we all can live our lives for other people or live our lives differently than we had imagined. Brilliant performances on all levels. Well worth the money I spent to watch it. Definitely one to buy on DVD for my personal collection. I would recommend this one to anyone who enjoys introspective and reflective films. Well done.
January 25, 2003
A hauntingly beautiful movie. Nicole Kidman was stunning. The writer wishes he could write another movie for Nicole using her look in The Hours. I agree! Nicole fleetingly reminded me of Princess Diana.
January 24, 2003
The Hours is an incredibly profound and emotional movie. There are so many layers to the story that you can`t help but be overcome by emotion when watching the film. Anyone who doesn`t like this movie obviously doesn`t understand what it is doing and what it is truly about.
January 23, 2003
A triumph of casting, writing, editing and cinematography. If I hadn`t known Nicole Kidman was playing Virginia Woolf, I would have been amazed at this terrific new actress. Nicole inhabits the character, and her performance has very little to do with the prosthetic nose. She`s just plain brilliant. This film asks as many questions as it answers. It is thought-provoking and timeless.....the first classic of the new millennium.
January 20, 2003
BRILLIANT! CLEARLY THE BEST PICTURE OF 2002!
January 19, 2003
Amazing!!
January 18, 2003
A work of art, something truly of high caliber and distinct taste!
January 15, 2003
Phenomenal! Bravo to the acting abilities of all 3 actresses and not to mention Ed Harris. An epic that touched my soul. I`m sure we`ve all been there.
January 03, 2003
Profoundly Inspiring and One of the Best this year!
December 31, 2002
Perfect
December 31, 2002
It was 1 of the best movies I ever have ever seen...NK easily a best actress winner and the rest of the cast just amazing...the dialoge / screenplay is great... one of those movies that will evoke emotion / questions for days following the viewing...
December 31, 2002
Brilliant!
December 29, 2002
it was a stupid movie and they all couldnt act, i believe they shouldnt win any awards