The Hurricane Heist
Thank you for rating this movie!
Read your review below. Ratings will be added after 24 hours.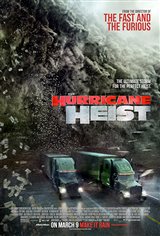 ---
Please rate between 1 to 5 stars
Showing 1 to 16 of 16
July 18, 2018
bad acting bad story dont waste your time .........1 STAR FOR THE ACTORS TIME SPENT MAKING THIS BUT WOW NOT GOOD AS MENTIONED..........RT
April 15, 2018
Like some others this was just really really bad .
March 22, 2018
Somebody stole the idea of this movie from me, nonetheless it was enjoyable.
March 22, 2018
This was a terrible movie from beginning to end. I was the only one in the entire theater, so word must have been passed on this low quality totally phony movie. I was expecting to see sharks flying around in the hurricane scenes after the other garbage this movie showed. This one will be rated "worst movie of the year." Stay away!
March 16, 2018
Terrible acting. Unrealistic chi. Obviously made for tv disaster movie.
March 16, 2018
worst movie I have ever watched. Acting is poor, story disjointed,
March 14, 2018
I thought the movie was very entertaining. And I actually saw the movie.
March 11, 2018
I left one movie because it was a 1 star and was sleeping through it and the seats were so uncomfortable only to check out this one. pathetic acting. you have the money, no, oh it was right here a long. who was the girl in the evening dress and stiletto heels during a hurricane. who in the heck cares whether you are eating skippys peanut butter during a hurricane on rainbow white bread. the only person I ever saw eat a white rainbow bread was a person who just left the check republic. I will not be going to a movie for a very long time. It is a waste of money, time and my mind. movies are truly pathetic in this country. If I watch something it will be a short documentary that has some substance to it. By the way this theater is over priced, popcorn is not the best, it is dry and tasteless and the seats are filthy and many are broken. the small theaters appear to have new seats and much cleaner. I should have gone fishing.
March 11, 2018
Great and existing movie. I love it. And I enjoy it! ?????
March 11, 2018
A lot of action and great and handsome actors.
March 10, 2018
Really very, very bad movie for what should be an interesting plot. Acting is horrendous with the exception of Ryan Kwanten. Even the seasoned film actors looked and sounded like they were reading their lines which of course, ruined the film. Not even entertainingly bad!
March 10, 2018
What a waste of time & money....terrible acting
March 10, 2018
What a waste of money......horrible movie
March 10, 2018
Not a great movie but ok to go watch on rainy windy day
March 10, 2018
Hilariously bad.
March 09, 2018
Excellent movie!!!