The Incredible Burt Wonderstone - User Reviews
Thank you for rating this movie!
Read your review below. Ratings will be added after 24 hours.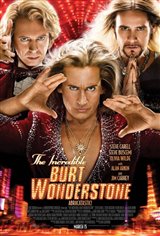 ---
Please rate movie 1 to 5 stars
Showing 1 to 46 of 46
January 03, 2014
MAGIC OF THE NICE STORY + VERY GOOD CAST and PERFORMANCE . ENTERTAINING , FUNNY, HARMLESS MOVIE. NICE to watch for whole family. There was't one bad word used...no nudity and still is VERY GOOD !!!
August 15, 2013
With Carell, Carey and Buscemi I thought this movie couldn't miss. It did. I didn't get through the first hour. This movie blew chunks.
July 24, 2013
Better than expected...Jim Carrey does a great impersonation of Chris Angel. Good laughs.
July 08, 2013
WASTE OF TIME
June 18, 2013
better than anticipated. Carell makes this movie with his funny facial impressions.
June 17, 2013
Funny in parts. Kept my attention
April 18, 2013
I thought it was ok. Expected more. Jim Carrey was hilarious at moments
April 05, 2013
This movie was awesome and funny to see!! Recommend it to all people!!
April 01, 2013
Average movie. A few funny parts at the beginning and at the very end but no LMFAO moments.
March 29, 2013
Reminded me of The Prestige.
March 29, 2013
Funnier than All About Steve!
March 28, 2013
A savvy, sexy, magic show!
March 28, 2013
Truly a magical movie! Five stars all the way, baby!
March 28, 2013
Jim Carrey is awesome. Hilarious movie!
March 27, 2013
met my expectations for a 'magician' movie themed spoof, covering contemporary 'street magic' vs 'old time' magic. it was fun/funny. that's all i wanted. enjoyed it. worth the see.
March 26, 2013
A wonderful picture.
March 26, 2013
The year's best comedy! More laughs than Bridesmaids and Ted put together!
March 26, 2013
Excellent.
March 26, 2013
Not great... at all. Very dissapointed. I think there was one really funny bit, but the rest was awkward. On the bright side, was glad to see Jim Carrey on screen again! Anyways: watch it if you insist.
March 26, 2013
Well worth the time and money,
March 25, 2013
waste of time and money........................
March 24, 2013
Worst movie I've seen in living memory. Bad acting, writing and execution. Terrible story, humour and plot. Oh, the humanity.
March 24, 2013
The gay love scenes between Jim Carrey and Steve Busemi were done very tastefully, but there were to many of them. Other than that a great movie.
March 24, 2013
That rare blockbuster that touches the heart but also makes one think.
March 24, 2013
Magnificent! Reminded me of Mr. Magorium's Magic Emporium!
March 23, 2013
My favourite film of the year so far...
March 23, 2013
One of the few films I've seen recently that was worth the $13 admission.
March 23, 2013
A complete waste of money.
March 23, 2013
Spectacular entertainment!
March 23, 2013
Save your money and see something else
March 23, 2013
This was a very disappointing movie. I would not recommend this at all!
March 22, 2013
I'm sorry I forgot to give it a rating. I was the person who said this movie was pretty good and I just rated.
March 22, 2013
I think it was pretty interesting. Most movies have their boring and uninteresting times. But overall I think it was pretty good! At the very least it didn't have pretending s**.
March 19, 2013
Wonder- Crap. These actors should be ashamed pumping out this movie...must need the $...save yours
March 19, 2013
Wait for video.....give your money to a hobo better spent
March 19, 2013
AWESOME peoplw say it looks like crap its not!!! go see it:)
March 19, 2013
it looks hilarous!!!!!!! i wanna see it:) :)
March 18, 2013
I liked it so much I stayed for three consecutive shows!
March 18, 2013
i almost walked out , please see something else .
March 18, 2013
Bad. Don't waste your time or money
March 17, 2013
On of the stupidest movies I have seen this year.
March 16, 2013
I was dying in there lol. Sooo funny. And I think i'm in love with Olivia Wilde. Go see it, you won't regret it.
March 16, 2013
lousy movie , not what i expectrd although Allen Arkin was the best part of the movie .
March 16, 2013
Not many movies make me laught BUT this one did, went to see it last night and me and the GF enjoyed it! ill give it a solid 3.5 out of 5 but ill do 4 out of 5 seeings how I laughed a few times1
March 15, 2013
no comment