The Incredible Hulk - User Reviews
Thank you for rating this movie!
Read your review below. Ratings will be added after 24 hours.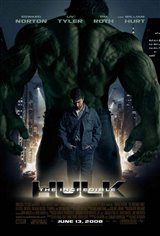 3.54 / 5
User Rating
Based on 3576 votes and 191 reviews
---
Please rate movie 1 to 5 stars
Showing 1 to 50 of 191
April 04, 2014
Funny, action-packed, and Edward Norton. Brings back the feel of the Hulk TV series. A must for ALL fans of the big green guy.
October 24, 2011
I liked the Incredible Hulk Movie in 2008 Film now I'm waiting for a Incredible Hulk 2 Sequel to 2008 with Edward Norton in the Film. Only thing they need is to blend in the Orignal Hulk from the Pilot played by Lou Ferrigno.
January 29, 2011
the incredible hulk is the thrid best superhero movie i've ever seen next to spider-man 3 and the dark knight!!! it soooo better than the 2003 trashy one!!!
July 16, 2009
This movie was MUCH better than the first Hulk movie. The acting was slightly better and the computerization was also good. Filled with action. 4 stars.
February 24, 2009
I really liked the movie because of how well Edward Norton and Liv Tyler played there characters and I really liked the Hulk because he looked very real to me and I just loved the special effects and especially how good Edward Norton played Banner and the hulk and I trully know that Norton plays the perfect Bruce Banner and Liv plays the perfect Betty Ross and I really want to see these guys in the sequel so bad because of how good they played there Characters in the movie, I liked hulk since I was nine, this movie sooo deserves Five Stars!!
February 24, 2009
I SOOO LOVED THE MOVIE SO MUCH BETTER THAN THE FIRST ONE!!!! I really liked how Edward Norton and Liv Tyler played their characters in this movie and I really want them in the next one so bad because of how good this one was, and even though I didn't want to se it because I thought it would be worst than the first one in 03 but after i came out of that theater I was really surprised and wanted to see it Again,Again,And again because I liked hulk since I was Nine years old plus when i first seen hulk in the bottling plant he Absolutly looked real to me instead of something else like someone has took a piece of clay and molded it and said thats hulk, I really enjoyed it alot!!!!
October 24, 2008
Almost as good as the last one!
October 12, 2008
The best movie I have watched this year, I highly recommend.
September 13, 2008
Tied with Iron Man. Worth every penny! This movie was very well made and it delivered. 5 Stars!
September 06, 2008
Enjoyed the movie!!
September 06, 2008
SWEET!!!!!!!!!!!!!!!!!
August 25, 2008
Eric Bana is the main reason to see this movie.
August 25, 2008
good awesome
August 03, 2008
why does every hulk movie have to suck?
July 24, 2008
I really enjoyed this movie - the best rendition of the Incredible Hulk to date with Edward Norton playing a believable tortured soul. The special effects were fantastic and it was a nail biter from start to finish. Can hardly wait to add this DVD to my library!
July 18, 2008
Definitley better than that piece of garbage by ang lee. Edward Norton did a great job. marvel has made some good movies this year but i still enjoyed iron man more
July 18, 2008
Wowwww great graphics. Go and see!!
July 16, 2008
ok. iron man was much better
July 13, 2008
Craziest movie EVAH! 5 stars!
July 13, 2008
Not bad, but I liked Iron Man better.
July 10, 2008
Fantastico!!!!!!!! I loved it so much it was awsome dude!!! The graphics of the Hulk looked so real!!
July 08, 2008
this movie was awsome!
July 07, 2008
Awesome movie. The characters were well played.
July 05, 2008
Glad they came out with this movie as it is a major improvement over the last one. Is there still hope for the Daredevil? Perhaps the same team that helped put the Incredible Hulk back on the map could salvage the Daredevil franchise.
July 05, 2008
Outstanding! CGI was much improved. Hulk's green colour was toned down and his veins popping was wicked! Great script thanks to Norton. Loved Tyler and Norton, they both brought depth to the story. Hope they'll be in the next one. Brilliant work.
July 05, 2008
Loved it. Script and acting was excellent. Norton and Tyler had chemistry. This movie has made Hulk a relatable character. This reprised story-line fits in beautifully with the Avengers. Worth seeing.
July 05, 2008
awesome best marvel movie ever
July 04, 2008
good movie, well done
July 04, 2008
terrible plot
July 03, 2008
Predictable. Already seen the special effects in the first movie - absolutely un-imaginative script. Yuck.
July 03, 2008
Good movie. Better than the first one with two gamma irridated combatants slugging it out. A few good hints of possible sequels too.And nice to notice Lou Ferrigno did both a cameo role and the voice of the Hulk too. Just one thing missing: what happened to the Abomination after Hulk defeated him?
July 01, 2008
This movie rock and its awsome!!!I LOVE IT through the end! a MUST see! -5 stars! go HULK!!!
June 30, 2008
action packed
June 29, 2008
i like this movie because its like 1 hulk facing another its the perfect movie for older kids and parents this movie is like experimenting with the first movie it has a lot of action oh buy the way my cousin alex is an extra hes one of the extras in the backround
June 29, 2008
Greatest ending.
June 29, 2008
this movie is so bad and so horrible
June 29, 2008
i think its horrible
June 29, 2008
this movie sucks
June 27, 2008
I'm not a HULK fan so at first I didn't want to see it. I must admit it wasn't boring. It is what it is, a good movie to just sit down and watch, it's not a deep movie (nor was it meant to be), it was entertaining and enjoyable for everyone.
June 27, 2008
what a great movie a lot better than the first one let me tell you !!!
June 26, 2008
Very good movie. Some parts could have been expanded by maybe 5 minutes, such as the "final fight scene". Over all, the movie was incredible, great graphics, and great story line. 5 stars all the way!!!!
June 26, 2008
I was impressed. The first movie was garbage but, this one takes the cake! It was true to form. Good story, nice seeing Bill Bixby and Lou Ferrigno, The Hulk looked awesome. Definitely worth seeing.
June 24, 2008
The best comic movie ever much much much much much better than the first movie I am definitely looking forward to the sequel cant wait.
June 24, 2008
Better then the first. Worth seeing. Jenn Brooks rules.
June 23, 2008
I am probably a bit biased. However, I would say that while not exactly a deep movie, it is what it should be. The movie has respect for the source material, a decent amount of humor, and plenty of action.
June 23, 2008
I liked the first one better. Had hoped for more continuity. Waited years for a Sandanista but kicking but not to be. Then again, my favorite Hulk comic was TIH vs. U.S. army. Why people shoot Hulk again huhgh? This is nitpicking though. Good movie, good solid comic episode, and they addressed the stretchy pants issue! Hey, bet Hulk can't fight the forces of nature though!
June 22, 2008
ONe of the best movies ive ever seen. the CGI was OKAY, and it went by really fast, but still alot less boring then the first crap. 5 stars definately!!!!!