The Invention of Lying - User Reviews
Thank you for rating this movie!
Read your review below. Ratings will be added after 24 hours.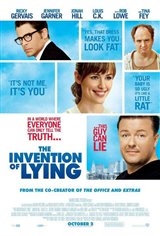 ---
Please rate movie 1 to 5 stars
Showing 1 to 38 of 38
July 10, 2010
meh not very funny ok
January 21, 2010
loved it great flick
January 10, 2010
Fantastic film. I'd like to assume that the negative reviews are people who had unbiased dislike of the movie, but I have a feeling a lot of them are people who were offended by the unapologetic Atheist nature of the story. Religious people are funny that way. Not as funny as this movie though. Two thumbs up!
January 03, 2010
Ricky Gervais' outrageously funny satire of the human condition proved too bitter and cynical for mainstream audiences, but anyone who has ever found themselves on the outside looking in will find much to appreciate here. "The Sermon of the Pizza Boxes" is a comic gem!!! 4/5
November 10, 2009
Wow, fabulous. While an understanding of the satyrical nature of the movie, a basic understanding of religion, and a desire to ponder the meaning of life is necessary to "get" this movie, it was beyond fabulous!
November 08, 2009
while funny at times, the movie drags on and on - - despite being only 92 minutes, it felt like 3.5 hours. Good performances by all teh cast, especially Garner. However, the movie felt a bit disjointed, which was distracting. Overall, a dissapointment.
November 06, 2009
Very refreshing, different and well written and acted. Stirs the mind and makes you think about what you really believe in.
November 05, 2009
BORING! Got lured in by Ricky Gervais and his last movie which I really liked. Don't know what happened here - theme had lots of potential - virtually none of it was met.
October 31, 2009
Very romanticized version of religion (no I'm not being sarcastic). The idea that it originates from the need to comfort oneself from, well, the world, is all very nice, but really it had a lot more to do with power structure and control. Make up stories and rules not to make people feel better but to control them. This is religion in a nutshell. Still, I really enjoyed the movie. For something called "The Invention of Lying" it has a whole lot of truth to it.
October 28, 2009
Great twist on the meaning of life.
October 27, 2009
Wow, I wasn't expecting this movie to offend me as it did. I was quite offended by the notion of the concept of God being formulated as a lie by a character with ulterior motivations. The opening scene's references about masturbation were totally unnecessary to plot development. I won't be recommending this movie to anyone.
October 21, 2009
if only zero stars was an option... absolutey the worst movie i've ever seen! i begged for death approximately 28 times during this movie!
October 21, 2009
Finally!!!! A GOOD movie!!! Expect for the very 1st part of the movie with an actresses and actors very 'choice word'!! That could have been omitted. Wheres your originality and Creativity??? But the rest of the movie was very Creative and Funny!! It was thought provoking too. It made me think about Life itself and how to improve it where I think it needs improving.
October 19, 2009
Boring!!
October 18, 2009
So funny!
October 18, 2009
Fantastic and hilarious movie! I have a strong feeling that a lot of the negative reviews are from people who were offended by the fact that this film is unapologetically Atheist. I still recommend anyone to watch this film though, it's very funny and sweet and has a great message overall about core values and love and respect. Two thumbs up!
October 17, 2009
Simply hilarious! Not for people who can't digest brutal honesty.
October 15, 2009
Utter garbage. I didn't laugh at all.
October 13, 2009
3 stars. Entertaining with a few sentimental spots. Definitely predictable, but so what. They can't all be 4 or 5 stars, espescially comedies. Having said that, you might want to wait for the DVD to come out and watch it at home.
October 12, 2009
An interesting idea for a film that runs out of steam after an hour.Would have been a better 30/60 minute TV show and could have been so much funnier with better writing.
October 11, 2009
The funniest movie in a long, long, time!!!
October 11, 2009
Hilarious movie! If you like Ricky Gervais you'll love this movie!
October 11, 2009
worst movie i ever seen in my life
October 10, 2009
Totally overdone and overrated. Wait for it to be released on DVD instead!
October 09, 2009
entertaining...Wouldn't watch it again.
October 09, 2009
Humorous and thoughtful throughout. I think Gervais certainly works at the true meaning of comedy and displays it to good effect in this film.
October 07, 2009
An awesome movie
October 07, 2009
Divulging everyting on your mind is not equivalent to telling the truth.
October 07, 2009
this movie was awful! I don't think I laughed once during the whole movie. Not impressed at all.
October 07, 2009
This movie is a satirical look how people tend to be like sheep which follow the goat on the most part. There are some biblical parallels that make the viewer question his/her thoughts, but this movie is not religious. The dialogue also pokes fun at how people's arguments are not only commonly repetitious but fruitless. The humour is well written and intellectual, but the acting could of been done by unknown actors with little difference to its rating. I found the movie an entertaining commentary about people and would be great as a rental. Due to a few 'choice' words and adult thoughts used in the movie, this movie is better suited for an adult audience.
October 05, 2009
Loved it! Very funny, cute, entertaining!
October 04, 2009
this was a movie with depth, insight and intrigue. I sat ther after the movie had finished and pondered the world around me for over 30 mins. Then went to see Zombieland so I could stop thinking. I think it has changed my life. An exsplosive outburst of originality.
October 03, 2009
Wow! I did not expect that...for those of you who are religious, this movie will shake the very grounds that you walk on. I am surprised that nobody is protesting this movie. I liked this movie because of its message and the humour.
October 03, 2009
Don't go into this movie thinking that it's going to be another regular Ricky Gervais comedy. You won't like it. It's more shocking than wildly hilarious. The humour is subtle, not crude. People who are religious may find this movie insulting but if you go into this movie with an open mind, you'll see that Gervais was trying to portray how sad life would be WITHOUT faith.
October 02, 2009
A funny and very original film. Ricky Gervais proves he's a comic genius as actor, co-writer, co-director, and co-producer. The sleeper hit of the fall!
October 02, 2009
Disappointing....2 stars
October 02, 2009
Uproarious! Would I lie to you???
October 02, 2009
BRILLIANT! Gervais' comic genius prevails and Garner's sex appeal lights up the screen!!!!!