The Irishman (Netflix) - User Reviews
Thank you for rating this movie!
Read your review below. Ratings will be added after 24 hours.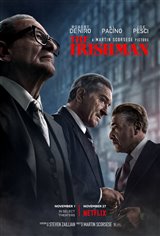 ---
Please rate movie 1 to 5 stars
Showing 1 to 35 of 35
July 13, 2021
Another great mob picture by Scorsese. Less flashy but no less involving than Scorsese's earlier mob tales, perhaps more mature and sad. Don't let the epic running time scare you away. It still races by...not like a race but like the way time slips through your fingers before you know it, the way life slips by. A brilliant film, Scorsese's best in many years.
September 20, 2020
People who say this movie is stupid, are the ones that are stupid and only like movies that have no point.... this was a masterpiece, 10/10, it was nice to see De Niro and Pesci working together again
March 02, 2020
You don't have to be Irish to appreciate this fine film.
February 10, 2020
De nero has shown us it's time to retire, poor performance , stupid plot
February 06, 2020
what a joke , total trash
January 10, 2020
Very long and far too slow.. condense it to 1 1/2 hrs and you might have a B movie
January 06, 2020
Very disappointing. Possibly good enough for TV mini drama. Not worth going to big screen. It seems that creators called on De Niro and Pacino for the hype - their performances were predictable and uninspiring. De Niro should know when to retire. It will be the last movie I'll watch with him in it seeing as his last three movies have been a waste of my money.
January 06, 2020
Easy to see why this cleaned up at the Golden Globes. 10/10
January 05, 2020
Excellent drama and good acting
January 01, 2020
will probably end up an HBO sitcom,, de niro go away already
December 26, 2019
Ya , lets get an Italian to play an Irish mobster. HOW STUPID CAN YOU GET
December 21, 2019
the people that give this a low rating don't understand the real story behind this movie excellent job to thumbs up PS great to see Joe Pesci again
December 17, 2019
I think the people that give this movie a high rating are like the same one's that think SNL is still great. We've heard for years how great SNL or certain actors are so most people just think, "yea, they were great". When you finally think for yourself, you'll see SNL is horriable and De Niro is washed up.
December 17, 2019
It's time for De Niro to hang it up.
December 17, 2019
Boring. I fell asleep a few times in the 3 hours+.
December 12, 2019
Why is nobody playing this???
December 11, 2019
Terminally boring. Way too long, stupid and dumb.
December 08, 2019
I've yet to find a theater playing this movie. Why make a movie so difficult to find, especially one with this pedigree?
December 08, 2019
Should be in more theatres.
December 07, 2019
DeNiro hasn't been this good since Bad Grandpa.
December 07, 2019
I was not really impressed , I think they are just over hyping this movie like they always do
December 07, 2019
This isn't playing in nearly enough theaters.
December 06, 2019
I believe DeNiro has lost it as person and an actor. He's gone into playing one type of role, that of a gangster. Boring at 3.5 hours long.
December 05, 2019
Cinco Estrellas, (5 big ones -stars!). Scorsese and his mob of stellar stars have made a superb film. Only a minor critic would give it 4 stars or less, come on, learn to appreciate true movie art.-- ER, the king of Movie Critics.
December 03, 2019
a bit long you kind of want it move a little faster , will never be" the godfather"
December 01, 2019
It's a bit over-hyped, but it's better than most movies out now. It's controversial in that the authorities don't agree with Sheeran's take, and like Jack the Ripper, it's a continuing mystery what happened to Hoffa.
November 28, 2019
Believe it or not, all big Hollywood companies refused completely to be involved with this masterpiece. It's an absolute 'must-see'! The only 'mafia' movie based on real events that's better than 'Goodfellas'.
November 27, 2019
if you can't handle 3 hours than take a break. don't diss a great film because you don't have an attention span.
November 27, 2019
Oscars alll around!
November 26, 2019
This could have been a great move if they had paid more attention to character development and ran it at a faster pace. At 3&1/2 hours, it's not like they were restrained for time. With a stellar cast and an iconic director, I expected a helluva lot more. After sitting for 3&1/2 hours watching this movie, I really could care less about what happened to any of the characters. Really big disappointment Marty. Two stars for sets and costumes.
November 22, 2019
Disappointing, It doesn't live up to the hype. It is a very good made for TV movie, but not the iconic movie of the decade I expected. It deserves only one Oscar nomination. Joe Pesci deserves the award for supporting actor. Despite the de-aging process, De Niro and Pacino carried themselves as the old men they are.
November 21, 2019
Tremendous story, acting and direction in one of the best films of the year!
November 18, 2019
VERY interesting! If you like learning about the 1960;s & 1970's style gang land mob history this is a great movie. The acting is stellar - all of them! The story in historically interesting ... although very long (3+ hrs) it's well worth the time. I would highly recommend this movie.
November 16, 2019
Great movie by Martin Scorsese!! Top notch actors and gripping plot! Loved the story and loved the old time tunes!!!
November 10, 2019
Iconic movie