The Italian Job - User Reviews
Thank you for rating this movie!
Read your review below. Ratings will be added after 24 hours.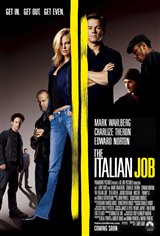 4.25 / 5
User Rating
Based on 5507 votes and 117 reviews
---
Please rate movie 1 to 5 stars
Showing 1 to 50 of 117
May 30, 2008
BEST MOVIE EVER!!!
September 03, 2006
I loved that movie its one of my favorites its got my two favorite actors in it mark wahlberg and charleze theron mark wahlberg is the sexiest man in this movie oh my god LOVED IT.
July 31, 2006
Mark wahlberg is soooooooo hot in this movie
April 20, 2006
mark wahlberg is hotter then ever in this movie this is his best work
August 09, 2005
It was the best movie of the year
February 25, 2005
the movie wuz quite gud but hansome rob ain`t dat hansome charlie is quite fit n e as muscles
January 25, 2005
this movie was great.especially seth green .great work the director did. those minis are tempting me to speed off the roads of malta (cause i am from malta)with a mini .napster is greaaaaaaaaaaaaaaaaaaaaaaat.
January 25, 2005
THIS MOVIE ROCKS . THE CAST WAS EXCELLENT AND THOSE MINIS SURE SPEED UP THE MOVIE TO THE BOX OFFICE I REALLY ADMIRE DONALD DE LINE AND GARY GRAY FOR COMIN UP WITH SUCH AN EXPLODING MOVIE KEEP IT UP
November 09, 2004
NAPSTER or LYLE IS SOOOOOOOOO HOTTTTTTT and BEAUTYYYYYYYYY and SEXYYYYYYYYYY and I don`t know what all.....His BIGGEST FAN IN GALAXY L.O.O!!!!!!!!!!!!!!!!!
October 11, 2004
I dont think this movie was good, though i guess that`s a typical hollywood action movie. All i know is that it could`ve been a looooot better. All the cool scenes are in the trailer :P
July 25, 2004
Well the movie was cool specially because the cast portrayed there role very well. Mark Walberg is sooo hot!!!!
June 07, 2004
Charlie Croker (Mark Wahlberg) and Stella (Charlize Theron) were fanominal and Mark is sssssssssssoooooooo hott!!
May 25, 2004
It`s nice to see an intellegent action movie for once where stuff is blowing up for no reason like in XXX. This is one of the best movies of the year
April 11, 2004
it was really really good, and im gonna buy it soon!
January 29, 2004
its a great action ride and has you hooked from the beginning right to the end!
December 14, 2003
I think it was amazing. I loved the whole concept of the safe and how the stole it. It also made me want to buy a mini cooper. They look so good in that movie! But all in all it was a very good movie, one of the best action movies I`ve seen lately.
December 04, 2003
I`d like to say it`s complete rubbish, but it`s not that good!!! My family and I found it boring, all I can sy to those giving it rave reviews is that they need to get out more and watch the original!!!
November 29, 2003
That movie was AWESOME. The action was GREAT. It had a perferct CAST with GREAT CHEMISTRY. Handsome Rob(Jason Stathom) did an EXCELLENT job he should do more action movies. Mark,charlize, and mos def wa AWESOME TOO.
November 24, 2003
with all the minis and car chases it makes it really cool.
October 21, 2003
I think it was great but not the best I`ve seen...
October 16, 2003
the best movie i`ve seen in this year! keep it coming! I loved it.
October 15, 2003
Very smart and well done!
October 09, 2003
The greatest flick in a long time. Even better than the original. A must see several times
October 03, 2003
The greatest movie on the world
September 22, 2003
A typical Yank effort of mediocrity ......do not attempt to remake British movies....you just cannot get it right . Like Ford making Jaguars .To call it The Italian Job is a complete travestie ...it is The LA Hiest with little BMW`s....an obvious piece of product placement to establish the Mini brand in North America . The car had to be seen on US roads .The Italian Job come on ....Why so many product shots of Dell Computers too ....watch the original...it is a million times better...
September 13, 2003
great cast well acted better than i expected, and i expected lots.
August 31, 2003
really good movie, reminiscent of Ocean`s Eleven
August 30, 2003
I thought that it sucked it took them to long to get to the part when they stole the gold, it seemed like it would never end!!
August 30, 2003
Awesome movie.....I will defenitely be buying it when it gets released on DVD. Go see it!
August 29, 2003
OH Man...... It was so awesome!! My friends didn`t want to see it, but i made them go on Cheapy Tuesday and did we love it!!! I`m serious, if you hadn`t had the chance to go, DO IT NOW!! You`ll want to buy an Austin Mini after it`s all over. Be careful when driving home after this movie, I almost got pulled over for speeding!!! Oops!!
August 17, 2003
sweet movie
August 12, 2003
Very good movie!
August 11, 2003
It was a very thrilling movie. The excitement was continuous. I highly recommend seeing it.
August 07, 2003
I loved this movie! But my Dad liked it the most.
July 27, 2003
I really liked it
July 23, 2003
I think that this movie was one of the very few walberg remake movies that are good. Charlize T is gorgeous, and all the actors are excellent. Is there any movie that Statham can`t drive well in? Seth Green (NAPSTER) is hilarious, what an idea for the napster name, brilliance. A reall good movie. Watch it, trist me!
July 23, 2003
Very good suspense
July 23, 2003
Very Entertaining
July 23, 2003
Great Movie --- Very entertaining
July 22, 2003
I think it was the best! I thought it would be some predictable movie but when i watched it it was the best
July 21, 2003
I saw this movie about a week before it got released pieced together from the trailers. It completely ruined the plot for me. They showed every best line and all the story twists. Awsome movie though especially if you go in to the theater clueless about it.
July 20, 2003
Fun, action-packed, and great twists.
July 20, 2003
Good Movie.. Good Story
July 19, 2003
Really good movie with a great story... I loved the minis
July 18, 2003
great movie! lot of da action gotta love that.
July 18, 2003
Didn`t expect much, I was pleasently surprised.
July 17, 2003
it was the best movie ever because of seth green. he is the best actor ever!!!!!! and those minis were awesome. i cant get over how GREAT the movie was!!!!!!!!!!!!