The Italian Job - User Reviews
Thank you for rating this movie!
Read your review below. Ratings will be added after 24 hours.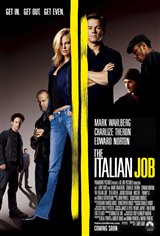 4.25 / 5
User Rating
Based on 5507 votes and 117 reviews
---
Please rate movie 1 to 5 stars
Showing 51 to 100 of 117
July 16, 2003
predictable movie line with few new twists. the trailer killed all the suspense.
July 16, 2003
Loved the fast-paced action. Great story. My husband thougt it was as good as the original (which he actually remembers!). We thoroughly enjoyed the movie.
July 15, 2003
i thought that it was very exciting and breath taking.
July 13, 2003
A fun movie to watch. I enjoyed every second of it.
July 12, 2003
absolutly fantastic!!! fun and fast.
July 11, 2003
-Don`t waste your money. There`s barely any room for anything else after the products. It was like one long commercial by BMW`s mini-cooper, ASton Martin`s Vanquish, and Pepsi. I can definately see why Edward Norton tried to leave the project at the beginning. Good thing Charlize Theron looks good throughout the movie, or I would`ve ducked into another movie...expected her to lean out the Mini window halfway through the chase scene and say how much she likes to drink Pepsi. Can`t Americans make a movie that isn`t one big extended car chase?
July 11, 2003
Great fun...exhilarating with a fine sound track. Suspend a little of your disbelief and enjoy yourself thoroughly! Mission Impossible with a point. "It`s NOT about the money."
July 10, 2003
Above averages heist film. A well made re-make, but Mark Walberg still can`t act. Stop giving this man "starring roles" for goodness sakes.
July 09, 2003
we thought the movie was AMAZING!!!! the whole plot and the way every thing was carried out was ingenious!!!!
July 08, 2003
DID ANYONE ELSE NOTICE THE COLORS OF THE THREE MINI`S??? RED, WHITE, AND BLUE!!!. ewwwwww. But yea cool movie.
July 08, 2003
Thought it was really good. Great Venice scenes at the beginning. Having been there it was wonderfull to see again. Action, suspense with a little romance. Good movie for men and women! Overall, very well done!!
July 06, 2003
SUCKS!!!!!!!!!!!!!!!!!!SUCKS!!!!!
July 05, 2003
The acting was inferior despite all the talented actors that joined the cast. Needed a bit more action. It was definately a rental
July 05, 2003
Entertaining but light weight
July 05, 2003
The Action MOVIE this SUMMER! ACTION-PACKED ALL THE WAY!!!
July 02, 2003
Great movie! Totally recommended on my part!!! Mysterious and interesting so it kept you into the movie and not into what time it was or what to do when you get home! It`s a MUST SEE FILM!!!
June 29, 2003
NOT BAD! good action and cool story! it`s a not great, but not awful!
June 28, 2003
Awesome 1000 times better than the awful kelly and justin crap
June 28, 2003
Makes me want to go out and buy a mini, and get a mechanoic like the one in the movie!!
June 27, 2003
I thought that the movie was amazing! It reminded me alot about the movie Oceans 11! great job guys would love to see a second!
June 27, 2003
very predictable dialogue
June 27, 2003
Awesome movie, very entertained by it and the characters are the best part of the movie and plot also. Definetly worth seeing more than once.
June 27, 2003
Out of 5 movies I`ve watched this month, this is the only one I`d pay to watch again and I`m not Italian nor do I currently have a job.
June 27, 2003
I think the Italian Job was an incredible movie I`m going back & seeing it again
June 26, 2003
One of the best movies I have ever seen.
June 24, 2003
I think Kelly Clarkson was great and she`s definitely in the running for the best actress Oscar. this movie is on my top ten list!
June 24, 2003
Amazing amazing movie kept me on the edge of my seat and never got boring fabulous action movie the best ive seen in a long time!!:)
June 22, 2003
Nowhere near as good as the original
June 21, 2003
this movie was pretty good but i have seen better, i wish the previews didnt give away so much.
June 21, 2003
SUCKS!!!!!!!!!!!!!!!!!!!!!
June 18, 2003
as soon as it comes out on dvd i am going 2 buy it
June 17, 2003
It Was sooooooooo kool! I just Loved it ! it was as good as the first!
June 16, 2003
A fun summer action movie, truely a great novie with an all time winning cast that kicks but! This movie has what it takes to win an audience.
June 13, 2003
Excellent movie for this year! Entertaining cast, exciting chases, humuorous story lines. A lotta fun and action all rolled into one!
June 13, 2003
I thought the Italian Job was a fantastic movie. Some people on this site refer to predictability due to the viewing of the trailers. If they give that excuse, they shouldn`t be watching the trailer, and any movie will be better if you go into it with no expectations such as I did. The same went for the Matrix... no expectations made it a better movie and less predictable.
June 12, 2003
Italion movie is a great action movie. Its one of my favourite sinse ocean`s eleven.
June 12, 2003
Italion office is the best action movie. Seth Green was great
June 11, 2003
It`s just like ocean`s eleven.
June 11, 2003
it was good
June 11, 2003
not into action movies however, I really liked this one
June 10, 2003
LOVE THE MINIS!Action was great too, plus the little dose of comedy made it great.
June 10, 2003
Great and exciting thats what movies should be about.
June 08, 2003
Italion Job was ultimately the best movie i have ever seen and i have seen a lot i mean a lot of movies
June 06, 2003
ONE OF THE BEST MOVIES RELEASED THIS SUMMER
June 05, 2003
Good, worth the $$$
June 04, 2003
Despite the promising cast, this movie is a dud that falls victim to stiff acting and predictable stereotypes. If you`re a Donald Sutherland fan, be warned that he has *maybe* 1 page of dialogue and gets killed off in the first 20 minutes. There`s plenty of better `caper` movies out there worth seeing instead (...`Ocean`s 11` comes quickly to mind).
June 04, 2003
it was a wicked movie
June 03, 2003
It was sooo good!
June 02, 2003
it wuz pretty crazy...the ideaz and thoughtz r unbelievable