The Italian Job - User Reviews
Thank you for rating this movie!
Read your review below. Ratings will be added after 24 hours.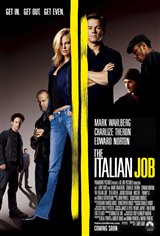 4.25 / 5
User Rating
Based on 5507 votes and 117 reviews
---
Please rate movie 1 to 5 stars
Showing 101 to 117 of 117
June 01, 2003
I think its a very good action movie. They did a great job creating a action movie with humor and something peeps at all ages can see. The Mini`s were awesome!!!!!!!!!!!!!!!!!
June 01, 2003
Great movie, go see it.
June 01, 2003
Great fun! Great entertainment! Great times!
June 01, 2003
I just saw it this evening. The Minis steal the show, but don`t forget the the acting, directing, editing and sound effects were awsome too.
June 01, 2003
This was the best ride I have been on In a really long time. Fun, Fast and Smart. Great cast, Story and Action. Go see this this film.. You will be sorry if you miss it.
June 01, 2003
mediocre at best....all the good parts of this movie were seen in the trailers. It lacked umph!
June 01, 2003
This was a truly good action movie. Lots of great characters and the only think I didn`t like was that the trailers and previews gave away a bit too much of the film but still lots of surprises and twists. Really enjoyed it.
June 01, 2003
This movie was awful!
June 01, 2003
The movie was very good! Love the Coopers! Now I want one! Overall, the movie kept me on the edge of the seat most of the time. I give the movies 3 Thumbs up (just pretend I have 3 thumbs)!
May 31, 2003
I thought it was a good, smart film overall.
May 31, 2003
Stupid movie....predictabke
May 31, 2003
Long, tedious and unimaginative
May 31, 2003
Great action sequences, very clever plot and some good acting make this movie outstanding. The movie had my attention from begining to end. Excellent film!
May 31, 2003
Excellent stunts, action packed and great cast.....Mark Walberg is the man!
May 30, 2003
A great movie. I appreciated how they could make an engaging action film, and yet avoid any expletives, nudity, inuendos, or gross violence. The touch of comedy was great, and did not cheapen the movie going experience. I would definately reccomend this movie to my friends. Worth watching in theatre.