The Jacket - User Reviews
Thank you for rating this movie!
Read your review below. Ratings will be added after 24 hours.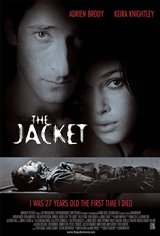 ---
Please rate movie 1 to 5 stars
Showing 1 to 37 of 37
April 18, 2006
IT`s a very good movie Adrien Brody Is Just amazing!!!!!!!!!!
February 13, 2006
Anything Adrien does is good to me. He`s hot.
November 14, 2005
I thought this movie would have been a thriller...but it didn`t turn out to be one(in my case). I thought it was ok but i also thought it was sad at some times. The actors` performances were good, too.
September 25, 2005
This movie is awesome. Mind-twisting. And heartBreaking. This was suggested to me by my bf. Two-thumbs up!
September 01, 2005
pretty good movie, entertaining too. quite the trip.
July 28, 2005
Can`t say I enjoyed it...
July 03, 2005
I really liked it, in spite of some of the reviews. I did find it similar to "The Butterfly Effect" (supernatural, future-seeing), however The Butterfly Effect was riveting and deeper. Brodie and Knightly were very good and Leigh was excellent. (I normally dislike her acting very much). All in all, very entertaining and I`m glad I rented it.
June 26, 2005
It`s a very amazing movie with perfect performances of Adrien Brody and Keira Knightley. Thank you, Adrien, thank you, Keira and thank you, John Maybury
June 26, 2005
If you need your movie`s to be reality based then this isn`t the flick for you. If, however, you enjoy a movie for it`s storyline, performances, and overall direction I think you will be happily suprised with how well all the characters played a part in this movie. You will either love it for what it is, or be dissapointed that there wasn`t more to offer. There is no good way to describe this movie well to anyone without ruining it.
June 23, 2005
This a good movie. It`s very much like "12 Monkeys" with Bruce Willis and Brad Pitt. Both movies have the same premise -- People who time travel and speak of this in mental institutions where doctors believe they are delusional. In both movies, the characters are trying to manipulate the outcome of thier own fates. Similar stories but done different ways.
March 31, 2005
this was a really good movie..but i found it really hard to get what was happening
March 20, 2005
I really liked this movie. I hear lots of people saying that they didn`t like it because they didn`t understand it. But it`s not a "realistic" movie. When you watch it you have to let your mind capture the amazing characters and the complexity of the film. Best movie I`ve seen in a long time. You`ll either love it or hate it though. Personally, I loved it
March 19, 2005
Excellent movie! I enjoyed it very much. However, it is not a movie that intellectually challenged individuals can easily understand. I guess that is why it has received mixed reviews with ratings that are split mainly at each end of the movie satisfaction rating scale.
March 18, 2005
It is a good film, i enjoyed it very much
March 16, 2005
I saw The Jacket today and I thought it was wonderful. I bought the ticket thinking that the movie was a different movie until it came on. I didn`t think I would like it at first but I gave it a change and in the end it was an amazing movie.I think it had a pretty good stroy line. It`s one of the best movies I have seen in a long time. I truely recommand it.
March 15, 2005
This movie is a much smarter film than the Butterfly effect. Excellent acting on all counts. Brody give a tremendous performance. Far better than your average movie. If your a fan of Donnie Darko, Altered States or Jakobs Ladder, this movie will be food for thought. Trust Me, most movies stink. This doesn`t.
March 13, 2005
This is one of the worst movies I have ever seen in my entire life....Adrien Brody and Kiera Knightley have to fire whomever told them to do this movie - it was sooooo bad that I actually sat in the theatre counting the number of seats!!
March 12, 2005
Whoever said "if you like The Game or Butterfly Effect you`ll like this" is giving too much credit. It was a good movie but not as good as either of these two movies. The actors were great and the premise of the movie was really unique. The trailer for the movie gives an incorrect impression. Overall, I liked this movie but would recommend renting it when it comes out on DVD.
March 12, 2005
this was a horrible movie!!!!!!!!!!
March 11, 2005
This was a really good movie. Adrien Brody is a very believable actor, he did a wonderful job. Kiera Knightley, on the other hand, was terrible. I actually found myself rolling my eyes in disbelief of how bad her acting was. Overall, the movie was good to watch, I really enjoyed it.
March 10, 2005
"The Jacket" is an exhilerating suspensefull movie that keeps you guessing and on the edge of your seat until the last minutes. The play on with the time travel aspect made a pretty good balence too it. The acting was very well, good script, good settings. This movie was very enjoyable. It was worth the money spent, I assure you. It makes you think though, could this be what doctors are doing now a days?
March 09, 2005
I just saw this movie this morning, amazing! Its very well written and well acted. I havent really seen a movie this good in a long, long time! Worth every dollar and I recommend it to EVERYONE! :)
March 09, 2005
good good good
March 08, 2005
It really was a shocker, it really had me thinking "do you think the government could really do something like that"? Great movie to watch with your best friend or spouse. Worth every penny!
March 08, 2005
great movie. i think it was better then most movies out there. 10 on 10. great !!!!!!!!!
March 07, 2005
Maybe if you didn`t understand it you thought it was a stupid movie, but then you`d have to be a child. This was an excellent movie better than anything else playing out there right now. See it.
March 06, 2005
pretty intenseful movie
March 06, 2005
I was absolutely `wowed` by this movie...I don`t remember the last time I liked a movie soo much...
March 06, 2005
Keira Knightly is waaay tooo hooott
March 06, 2005
This movie was so bad...adrien brody..wow..what a bad actor, and the old guy was so annoying and hard to look at, one of the worst plots and storyline, watching movies like this..makes me hate movies
March 05, 2005
It was amazing! It is a definite thinking movie and will leave you pondering a lot of things. It is like a cross between vanilla sky and the butterfly effect but if they had been well done and if they had good endings.
March 05, 2005
Wow.. This movie was great. If you liked the Butterfly Effect or The Game. You will like this movie. It keeps you thinking the whole movie. You begein to question reality. Its a great movie all in all. Dont` go to it expecting some horror movie cause you won`t get it. Its more of a thinker. Enjoy it.
March 04, 2005
It is the dumbest movie ever made.....it throws random ideas into the plot....if creating the stupidest movie ever was the goal....it was reached...
March 04, 2005
Adrien Brody Looks Like My Friend Tony
March 04, 2005
I would definatly recommend it!!!:P
March 04, 2005
THE JACKET IS THE MOST SUSPENCEFUL FILM I`VE SEEN IN A LONG TIME!!! ADRIEN BRODY AND KEIRA KNITGHLEY ARE FANTASTIC!!!