The Killing of a Sacred Deer
Thank you for rating this movie!
Read your review below. Ratings will be added after 24 hours.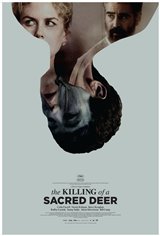 ---
Please rate between 1 to 5 stars
Showing 1 to 11 of 11
February 09, 2018
Dark, disturbing and uncomfortable. Not for everyone but personally had me engaged throughout every minute. Great watch.
February 03, 2018
Here's the synopsis of this project: Some famous Greek guy, who probably took too many drugs as a youth, tries to invent something never seen before. He does, but that doesn't mean it's good, but since he's famous, they give him awards, great actors agree to star in it, and people from his genera and who don't know any better say it's fabulous! Picture an alternate reality where mentally disturbed people are horded into a 'gated city/community'. Drive down a few blocks, pick a neighbour and follow them around with a camera. Okay so after an hour something half interesting happens, but not that interesting. Nobody expresses any emotions for 96.8% of the film. It's beyond interesting. Waiting 2 hours for the ending was painful. It's for the type of people who would give it a standing ovation at a festival but had actually slept through it.
January 29, 2018
should not be aired, stupid & pointless. This generation is so lost it's sad. well known actors that I will never care to see again.
January 21, 2018
Immensely DISTURBING. Cannot believe something like this could even be made. What was Nicole Kidman thinking playing this part? This will seriously be burned into my memory bank as being the most awful show disgusting show I've ever watched.
January 19, 2018
The trailer is the best part of the film and only because 90% of it is completely out of context ... This movie is 90+ minutes that I'll never get back. It doesn't even qualify as a "filmfest" or "art movie" ... The only redeeming part is the cast ... Don't be fooled.
November 20, 2017
Dark and weird. They acted like zombies
November 11, 2017
It is definitely a constructed piece of art/film, and a psychodrama - it was a little bit like seeing a play - I liked that about it. Great performances by great actors.
November 11, 2017
RUN, RUN from this movie. It is at the top of my list for some of the movies I have seen and I have seen many. Everyone talked as if they are robots. The plot was vague and the whole movie was confusing and disgusting to say the least. I cannot believe that two well-known actors are scraping the barrel for parts in this movie. Seriously one of the worst I have ever seen. Do not waste your money!! or your time!!
November 09, 2017
The only way to describe this movie in one word is disgusting. Most disappointed to see two of my favorite actors being a part of a very sick story line. I gave it one star only because I couldn't figure out how to give it a minus.
November 05, 2017
A strange but interesting movie . The dialogue was very badly done though in my opinion ,kind of like it was translated from Greek to English .If you can get past that ,it might interest you.
November 02, 2017
Greek director Yorgos Lanthimos delivers a brutal, tense psychological horror movie. At Cannes, Lanthimos and Efthymis Filippou won the Best Screenplay award.