The Last Duel - User Reviews
Thank you for rating this movie!
Read your review below. Ratings will be added after 24 hours.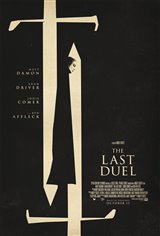 ---
Please rate movie 1 to 5 stars
Showing 1 to 15 of 15
February 26, 2023
Just watch RASHOMON instead.
March 07, 2022
I was curious about it, plus I thought I would see Affleck and Damon try English accents. I was wrong, it was set in France! I thought Damon was good, but Affleck seemed like his dialog was too modern with his swearing and such. But ultimately, I thought it was interesting showing what happened from 3 points of view as though was a Law and Order SVU episode set in medieval times. I can see how frustrating the rules of the duel are to determine if someone is lying or not! So ridiculous.
December 17, 2021
Mishmash of pychological antics by the director. Could have been much better.
November 12, 2021
Thought the acting was terrific and really liked the way it was told from each person's perspective. A wonderful job with the set and costumes. An absolutely great movie considering it was based on a real event.
October 27, 2021
the beginning
October 26, 2021
RIDLEY SCOTT AT HIS BEST! GREAT ACTING THROUGH OUT AND THIS IS A MOVIE THAT KEEPS YOU ON THE EDGE OF YOUR SEAT! IF YOU LIKE KNIGHTS AND MOVIES ABOUT THE DARK AGES THIS IS IT!! DON,T GET ANY BETTER!!
October 26, 2021
Really enjoyed the movie.
October 25, 2021
Historically accurate.
October 23, 2021
Great actors and lot of actions !?
October 20, 2021
This was hard to watch at some points, but I'm glad this woman got her story told after all these years. Acting wasn't that great sometimes but that's because the story is told from 3 POVs, each trying to make themselves look good and others foolish. I think
October 20, 2021
Hard to believe this was written by the same pair who wrote Good Will Hunting. Bad story told three times. Also unnecessary to show a rape scene over and over. Throw in bad acting and you get a terrible movie that is way too long.
October 18, 2021
Poorly written script, not much action, just Damon and Affleck looking laughable with bleached and mullet hair do's. So boring
October 17, 2021
I really enjoyed this movie, held my interest and loved the actors, gave it a thumbs up
October 16, 2021
I liked this movie much more than I thought I would Especially considering the fact that it was written by Batman & Jason Bourne :/ Adam Driver and Jodie Comer made the movie for me. I also enjoyed the ultra-violence.🩸
October 16, 2021
I expected more but what I got was Matt Damon and Ben AFFleck acting like they were at a drunken frat party. I never laughed so hard. What a waste of money. The story gets 3 different parts and everyone is ridiculous. I don't know how Damon and Affleck did this with a straight face.