The Light Between Oceans - User Reviews
Thank you for rating this movie!
Read your review below. Ratings will be added after 24 hours.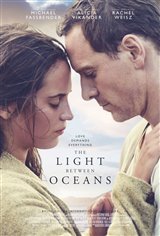 ---
Please rate movie 1 to 5 stars
Showing 1 to 25 of 25
February 06, 2017
It hard to say what I would give it, a three or a four star it for sure a 8 out of 10 as I find it better rating that way, the first half of the film I thought it drag and until a certain moment and then half way it started to get better until the last act, it for sure will leave u tearing up in the end and it a movie that made my sad and happy at the same time in the wife and husband choice in life, but for sure at the end it made me thinking about went just happen to both their life's after it was done, wish I saw it on the big screen but miss that chance and saw on DVD, The Light Between Oceans is for sure a great film
January 31, 2017
If there was a 3.5 I'd probably give it that. On second thought, a 3 is plenty for this movie.
January 30, 2017
Oh my where do I start- what a beautiful film. I almost did not bother to watch it after I read all the negative reviews. Please experience this film for yourself. The scenery is breathtaking and the lead actors have perfect chemistry. The costumes are gorgeous. You can literally feel them falling in love. No surprise they are a couple for real. The painful scenes are raw and you can really feel it. A tear jerker that makes you want them to keep doing what is wrong because it is right for them. I normally love Rachel Weisz but she was less convincing in her role than the rest of the cast. If you like movies like Jane Eyre, etc let this amazing film sweep you away.....
September 18, 2016
Excellent movie. Outstanding acting, great story and beautiful cinematography. one of this year`s best movies.
September 18, 2016
The charcters were really great .I loved it !
September 18, 2016
I really enjoyed this film probably as I am a woman and it was geared to that sex more. It was a real tear jerker but I still loved it.
September 17, 2016
Acting, cinematography, music, story, direction, editing
September 17, 2016
A bit slow at times but a thought provoking film. Beautifully acted and produced. Loved it! Want to see it again.
September 16, 2016
Definitely a chick flick, I thoroughly enjoyed this movie. Bring Kleenex it's a movie to cry at!
September 14, 2016
Beautiful, emotional, well made movie. The actors potrayed their characters with great skill.
September 11, 2016
Brilliant! So beautifully directed, acted, shot, scored.
September 10, 2016
Wonderful portrayal of story, emotional characterization of actors of devotion,sacrifice, and love.
September 09, 2016
I loved this movie, and will see it again. A very human story, with such love and devotion. Fassbender and Vikander are perfect, powerful, terrific acting. It is slow to start but it draws you in and makes your heart ache but at the the same time asking what would you do and understand the power of love.
September 08, 2016
Thought this was a wonderful story & very well portrayed by lead actors.
September 06, 2016
A well written, beautifully portrayed love story. The acting was marvellous. A must see. Well done.
September 06, 2016
Having read the book three years ago, I was anxious about seeing this made into a movie. However, the actors, director, cinematographer, editor, etc did NOT disappoint!! It was beautifully done. I loved every minute of it. You could feel the emotional struggle that affected them. And the scenery was breathtaking. I will see this again and probably buy the DVD.
September 05, 2016
Tells the story of post part partum; turn of the century. How the bizarre rantings of one person can affect the lives of an entire town and nearly ruin two families. Spends time on building relationship, asks us to ask "what would you have done".
September 05, 2016
This movie is my favorite brought so much emotion. I know what it's like to miscarry more than once and its not easy. Im glad I saw this movie the acting is outstanding very amazing actors hubby and i loved it. It was worth watching.
September 04, 2016
Enjoyed the movie. Very close to the book. Cinematography is just breathtaking, acting terrific. You were left understanding every character's emotions and point of view.
September 03, 2016
A great story that is powerfully told and acted. Then add the scenic feast for the eyes. Wonderful!
September 03, 2016
This movie is very slow. But when it finally picks up you find yourself immersed in a film about love, devotion and selflessness. This is refreshing from hollywoods typical romcoms and sci-fi thrillers. For once you can't figure out the ending within 15 minutes. I enjoyed it, but the best part was all the what if discussions I had with my husband afterwards!
September 03, 2016
I thiught this movie was dumb and stupid don't waste your money and time,as i did
September 02, 2016
Superb acting; emotions run deep; great scenery. You imagine if you could live there, then the 'what would I do' contemplations set in. Very good movie.
September 02, 2016
I have not seen such an excellent drama brought to the big screen in a very long time. The acting was supreme and it touched my heart. A beautiful story. I highly recommend this movie. Alicia, Michael and Rachel were magnificent.
September 02, 2016
Wonderful story. A lot happens. Don't won't to say much and risk ruining it.