The Lincoln Lawyer
Thank you for rating this movie!
Read your review below. Ratings will be added after 24 hours.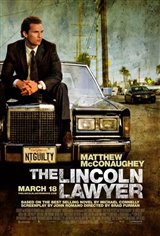 3.96 / 5
User Rating
Based on 400 votes and 105 reviews
---
Please rate between 1 to 5 stars
Showing 1 to 50 of 105
January 25, 2019
LOVED IT !!!!!!!!!!!!
August 04, 2017
McConaughey at his best
May 21, 2015
Loved Matthew's character and how the relationship was between his character and Marissa's character
January 09, 2012
A bit silly, but fun nonetheless.
September 04, 2011
Good movie, enjoyed it very much.
August 08, 2011
Found this a tad boring and too unbelievable to be enjoyable.
July 14, 2011
A bit too unrealistic for me.
July 11, 2011
This was a real enjoyable movie. I liked the ending a lot
July 11, 2011
It was an interesting film but lacked a certain amount of intregue. It was fairly predictable and to anyone with a working knowledge of the law - not quite accurate. However, the story was good and overall it wasn't a waste of time - like some films are.
July 11, 2011
Enjoy this grown up movie a lot.
July 11, 2011
Meh. It was okay. More of a renter.
July 11, 2011
Excellent story and McConnaughey was excellent!
July 11, 2011
An outstanding movie. I enjoyed this film from beginning to end. Loved the twisty ending.
July 11, 2011
Awesome. Very entertaining, Matthew M. (won't even bother trying to spell his last name) puts in a wildly amusing performance in a vastly entertaining movie unlike most legal films you'll ever see.
July 09, 2011
Amazing, very well paced movie..keeps a good flow.Matthew really sharp!!
July 08, 2011
Too slow and dull in parts.The book was much better.
July 01, 2011
This is a scary movie...I bet this kind of dishonesty actually happens freak'n holy! Excellent acting, superb plot & really good story.
June 23, 2011
OK, not great, but not bad either.
May 20, 2011
not bad...found it a bit boring and stupid at times.
May 17, 2011
Not nearly as good as I had hoped. I felt it had too many twists and turns to be believable.
May 10, 2011
corny, unbelievable and a bit stupid
May 04, 2011
A tad boring and unbelievable. I did enjoy MM's acting, but the writing/plot was a too distractingly stupid for me to enjoy the film.
April 30, 2011
alright, renter or if u have nothing to do, mathew m. played a good part, story line was good for tv.
April 28, 2011
Average, at best. A bit too unbelievable.
April 27, 2011
Great cast but generally fair performances. Bill Macy was completely wasted. There were more holes in this than a golf course and the whole premise was ridiculous. It's a rental only. The best thing about the film was the soundtrack.
April 26, 2011
I liked this movie and would view it again. I enjoyed all of the acting & encouraged my daughter to see this show. It's really good! The story is likely true just who would admit it right? Take care...LOVE ALWAYS JOANNIE :):):)
April 25, 2011
One of the most pathetic movies I have seen in a long time. No plot, weak acting by all involved. Waste of money
April 21, 2011
It was my favorite movie ever!
April 19, 2011
Good movie...I enjoyed it. To me Matthew M found his nitch. He was supurb ! He fit the role like a glove..he did a super job..
April 17, 2011
I liked it. Book is better, but overall solid flick.
April 14, 2011
Was expecting the movie to be a lot better than it was... just average and I thought there were some fairly cheesy parts.
April 14, 2011
Average,at best...disappointing
April 12, 2011
Not nearly as good as expected or hoped.
April 10, 2011
Excellent movie.
April 10, 2011
Excellent with twist
April 10, 2011
One usually expects the book to be better than the movie and it was. Found movie was boring. Actors not cast well and superficial character development.
April 07, 2011
it's very entertaining, nobody likes to be outsmarted, revenge is sweet.
April 07, 2011
matthew does another outstanding character.
April 07, 2011
Loved Lincoln Lawyer. Matthew finally shows us his stuff. Clever and edgy.
April 06, 2011
another home run ! A sit on the edge of your seat movie , with an all star cast to boot ! Never mess with a lawyer and his family !
April 06, 2011
great story
April 06, 2011
Excellent movie. Good acting, plot.
April 06, 2011
Really great movie...loved Ryan Phillippe. The ending was a bit cheesey and it felt like the just kind of ran out of time, so they cut it off but overall, a great movie.
April 05, 2011
Good movie, the person who said there are too many twists to make this movie believable is an idiot because this movie is based off true events. Matthew does an excellent job and Ryan was good, but not great. Overall, glad I saw the movie!
April 05, 2011
Very good movie! Good to see Matthew McCaunaughey in something other then a chick flick
April 05, 2011
So-so....too many twists that made the movie unbelievable and corny. Ryan Phillipe needs an acting coach.
April 04, 2011
A great movie: good plot, great acting by Matthew McConaughy. This was one of the best we have seen in a long while. It kept my interest and enjoyed the surprise ending as to was the murderer.
April 04, 2011
very good movie, very entertaining
April 04, 2011
Not as good as I expected...however, the acting was good!
April 03, 2011
Great Movie Very enjoyable