The Lord of the Rings: The Fellowship of the Ring - User Reviews
Thank you for rating this movie!
Read your review below. Ratings will be added after 24 hours.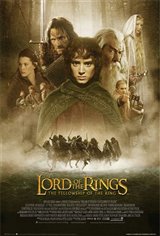 4.66 / 5
User Rating
Based on 102060 votes and 1213 reviews
---
Please rate movie 1 to 5 stars
Showing 1 to 50 of 1213
January 01, 2013
Gandalf doesn't want the ring but he doesn't want anyone else to have it, either. I think he's being difficult just to spite everyone.
December 30, 2012
Why didn't Gandalf want the Balrog to pass?
May 27, 2008
Greatest and will always be the Greatest EVER!!!!!
January 07, 2008
My favourite movie of all time.
June 04, 2007
Dragged on and felt like hours. Could'nt waite to leave the theatres. The 2nd installemnt in the series was sucky too,bearly no action,only talking,and walking,etc. Lord Of The Rings:The Return Of The Rings was completely AMZING! Super-action packed,bloody,had a good story,and completely blowed me away! Overall,a good movie series!!
March 04, 2007
Very fine movie with characters one cares about. Excellent production values, and interesting plot line.
March 02, 2007
This movie wqas so well done, acting, directing, special affects....I would see it more than once & bring others to it, or give them movie passes as HB gifts, etc. ....Thanks - a lot of hard work went into this movie & it truly shows...
September 30, 2006
This is my favourite movie of all time, I love the special effects and animation, extremely intense. I love it, I will never tire watching Lord of the Rings.
September 09, 2006
the best movie ever made was the three part Lord of the Rings.
August 27, 2006
The one movie to rule them all. Hurry you must watch this masterpiece
August 26, 2006
Excellent movie. I quite enjoyed it as well as reading the book.
August 21, 2006
One Word(well actually a few): The Lord of the Rings are the best films ever made.
August 20, 2006
gimli kicks butt
July 31, 2006
i loved this movie and can`t wait to see the next one. they did a great job!!!
July 31, 2006
it was a really good movie
July 18, 2006
Ian Mckellen was really good as gandalf
June 27, 2006
ORLANDO BLOOM IS SOOOOOOOOOO HOT I LOVE HOW HE ACTED IN LORD OF THE RINGS 1,2,AND 3 HE PLAYED AN ELF CALLED LEGOLAS HE IS SO COOL I WISH I COULD MEET HIM BECAUSE I SAW ALL HIS MOVIES AND I CAN`T WAIT TO SEE PIRATES OF THE CARRIBEAN 2 WITH JONNY DEPP AND ORLANDO BLOOM AND THAT MEANS DOUBLE TROUBLE!!!!!!!I LOVE YOU ORLANDO!!!!!!!!!!!!!! CRISTABEL
June 25, 2006
orlando bloom looked so cute in his elf costume...
June 19, 2006
I can`t believe how long I`ve waited for this to become a great movie! Now all I can say is WELL DONE!
March 03, 2006
I`m a late "Bloomer" to the LOTR Triology. My hubby introduced me to the movies and now I`m about half way through reading "The Return of the King". Like one fan said in their comments here, I too NEVER thought I`d EVER get into this kind of fantasy. Now, like yet another fan here put it I can NOT get ENOUGH of it!! I only watched "The Fellowship" over a year ago for the first time, then again just before this past Christmas. Since then, I started on the books (including "The Hobbit") AND have watched "The Fellowship" twice, "The Two Towers" twice and "The Return of the King" once--so far! I feel the second time coming on real soon now!
February 26, 2006
I thought it was awesome.Frodo is a total hunk,i would so date him.
January 20, 2006
WOW how anyone one can think this movie was horrible it was absolutly amazing I loved every minute of it. I`ve watched this movie a billion times and never get tired of it.
December 28, 2005
I really in enjoyed the movie, there was a lot of action in the movie.
October 01, 2005
By far the greatest trilogy to ever touch the earth!!!!!!!!!!
September 17, 2005
amazing....
August 18, 2005
The Lord of the Rings Trilogy is the Greatest movie ever made!
August 11, 2005
the begining of a timeless trilogy that puts star wars to shame! i cant seem to get enough of this movie. you almost feel like you are one of the charactors and that is a treat in itself.
August 02, 2005
It can be said the best movies ever seen. It is an epic!
June 25, 2005
This movie was absolutely awesome. The acting was wonderful, the whole story-line was carefully producted. I can`t wait to see Lord of The Rings: Return of The King. Let`s just hope that they`ll make a movie for the Kings.
June 15, 2005
I think they`re the best movies ever made!!! I gave it 5 stars
April 20, 2005
Absolutly Outstanding!! The scenery in this film desicribed the locations in the book farely well. Understanding of course that Peter did not get to work with Mr. Tolkien (Because of death) on the project therfore he didn`t know what was in his mind. Peter Jackson had to make it up along side Fran Walsh and all the other producers and co-workers. I think they did an amazing job and matched the book very intelligently. Of course alot of the credit goes to the incredible work of the actors/actresses. Special congrats and thanks to: Sir Ian Mckellen, Elijah Wood, Viggo Mortensen, John Ryes-Davies, Orlando Bloom, Christopher Lee, Sean Bean, Sea
April 20, 2005
Lord of the Rings is an amazing movie with breath-talking scenes and packed with lots of great and exciting action! If you haven`t seen this movie (or any of the other two) then you dont`t know what you`re missing. GO WATCH IT!! By the way, Sir Ian Murray Mckelln rocks!!
March 01, 2005
I loved Lord of the Rings. Especially Orlando Bloom. Yummy!
February 25, 2005
It`s with the rest of the triologie the best film and book ever!!!
January 31, 2005
the lord of the rings is the best movie ever there is no challange, nothing comes near this epic movie
January 14, 2005
i loved the movie its really good!!!!!!!!!
October 17, 2004
Pippin = the love of my life
September 06, 2004
It was good, but Return of the King was better
August 28, 2004
IT`S THE BEST MOVIE I EVER SAW!!!!!I Like it!!!!
August 23, 2004
it iz the best movie i have ever seen!!!!!!!!!!!!!!!!!!!!!!!!!!!!!!!!! i so love it and legolas is so hot!!!!!!!!!!!!!!!!!!!!!!!!!!!!! i love orlando bloom!!!!!!!!!!!!!!!!!
August 11, 2004
It was totally cool..........the best movie of it`s year!!
July 05, 2004
Superb. magnificent, brilliant. I LOVED it. It`s the best movie I have ever seen. I love Orlando. Elijha, Viggo, Billy, Sean.B,and Sean.A. I have never really been crazy about movie`s and actor`s before but this is amazing. I really hope they make the hobbit.
June 27, 2004
its the best movie of all time!!
May 24, 2004
I had never even heard of this movie or the books before in my life. And I was so impressed and struck after viewing it. I never even really liked fantasy before. But this movie...The landscapes, the architecture, the history; it`s amazing. J.R.R. Tolkien is the genius behind the book and Peter Jackson is most certainly a genius behind the movies. I didn`t know a lot of the actors, and they were all so good and they all had a unique and strong personnality. No other movie (unless it be in the LOTR trilogy) has made such a difference in my life.
April 27, 2004
the Fellowship of the Ring last on the best Lord of the Ring movies. I a totaly crazy about all three Lord of the Rings movies they are the best movies i have ever seen.
April 10, 2004
these three movies have changed the way i think about movies they were absolutly amazing thank you peter jackson
April 07, 2004
i think this is the best one yet!!