The Lord of the Rings: The Return of the King - User Reviews
Thank you for rating this movie!
Read your review below. Ratings will be added after 24 hours.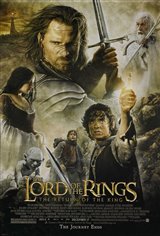 4.44 / 5
User Rating
Based on 174035 votes and 798 reviews
---
Please rate movie 1 to 5 stars
Showing 1 to 50 of 798
June 28, 2009
elijah wood is a 5 star actor
June 28, 2009
i liked this movie it was the best action movie of 2003
June 27, 2009
this was the best movie out of the whole lord of the rings trilogy
February 26, 2008
sean astin should win an acadamy award this movie was awsome and sean astin was brillent
January 07, 2008
Incredible
May 31, 2007
The Lord of the Rings trilogy is the best ever made. These movies are better than star wars, Harry potter, the matrix all combined in one word - Awesome
April 09, 2007
its unbelievable it is so good that I watch it every day its really a very good movie I would have given it 5 stars and not 4.4 stars the sound the effects its one of a kind and the actor viggo was wonderfull thank you
April 07, 2007
best movie ever
November 23, 2006
Truly the most amazing movie its so well made that there is no description on to explain the amazinness of the movie
November 15, 2006
the best movie ever
September 10, 2006
this is the movie event we have been waiting our whole entire lives where good and evil is clearly portrayed through the greatness of peter jackson`s eyes.
July 31, 2006
i once again enjoyed this movie and can`t wait to see the next one. i really thought it was great.
July 27, 2006
i went to see the first lord of the rings,and it sucked so so much, it was wo boring,then i saw the 2nd one,i thought it was so so,still boring,but then i saw the 3rd one,and loved it! it has great visuals nall,lots of action,blod and guts,etc. but i was so suprised that a movie with so much violence and gore would be rated 14a,and the theatre was just packed with kids!
June 16, 2006
A trilogy that has set the bar high! A classic that outshines any other; with such fantastic special effects and well scripted rendition of J.R.R.Tolkiens` books. In a word - SPECTACULAR!
January 27, 2006
i am the biggest fan in the world i love it more than anyone else and viggo is the best he is so good looking its not over yet there is still one more movie the hobbit so peter jackson start making it with the same cast especially viggo and orlando
October 07, 2005
I am the most biggest fan of the lord of the Rings trilogy, I have read the books about 300 times, and I have started writing the 4th book, and I got to talk to Elijah on the phone... long story but my dad met him in the airport and got him to talk to me n i was SOOO happy
October 01, 2005
Whoever thinks this movie is bad has some issues! I bet they`re mother dropped them when they were a baby.
September 30, 2005
LOTR: ROTK was the best movie ever made. It had laughs, crys, mystery, suspense, action, and sadness. Everyone should buy this movie right away.
September 02, 2005
This is the best SCI/FANTASY movies CAN GET!Action,acting,effects,were all superb!Peter Jackson really done it this time with the ending of the Lord Of The Rings Triolgy.
August 15, 2005
LOTR is the best movie ever! I have read the books and have fallen in love with this trilogy It has changed the way movies are now made and films will forever be compared to it! It definately deserved the 11 oscars, but the actors should have received awards as well. This my favourite movie of all time.
August 15, 2005
The lord of the Rings: The Return of the King was was of the biggest achievment in film history..I would love to see "A Hobbits Tale" produced by all the same people and not one thing changed...this film is a masterpiece.
August 10, 2005
more pittiful than the first
July 04, 2005
One word= Brilliant
July 04, 2005
The best movie ever.... Exceeded all possible expectations
June 13, 2005
THE BEST MOVIE EVER MADE IN FILM HISTORY, LOVED IT!!!!!!!!!!!!!!!!!!!
May 30, 2005
The Return of the King was the most adventureous movie i have ever seen in my life
May 29, 2005
this was the best movie of our time, 10 out of 10 stars
May 12, 2005
rotk is the best movie!...well all three were amazing, who ever gave this movie only a one star....shame on you!! this was a bloody fantastic movie, i mean it won like 11 oscars. the trilogy is my favorite set, books and movies!
May 08, 2005
This trilogy is a masterful achievement, not only artistically but also philosophically and spiritually. The viewer is swept into the turmoil of loyalty and treason, of greed and selflessness, and, in the character of Gollum particularly, the duplicitous character of language, of truth and falsehood. For all its fictional underpinning, it may yet prove in time to come to be prophetic.
April 19, 2005
The Lord Of The Rings is a beautiful and an aw-inspiring movie, it`s filled with fantastic imagination and excellent and un-forgetful acting (especially by VIGOO MORTENSEN), filming, and incredible adaptation of J. R. R. Tolkien`s trilogy of The Lord Of The Rings by the infamous director Peter Jackson, and not to mention once again the auther of this devastating classic tale is none other than J. R. R. Tolkien. I mean to say this movie is so breath taking that there are no words powerfull enough to discribe this work of pure genius. Further more I should like to say that, the legacy of this striking movie will live on through the hearts of
March 26, 2005
You really must have a bad attention span to hate this movie. It seems that everyone who hated this movie keeps telling us not ot go see it. Speak for yourselves.
February 14, 2005
An amazing and inspiring movie, directed by Peter Jackson! Exciting and beautiful music, and breath taking scenes. Roles played by incredible and very talanted actors/actresses. These movies are my most favorite movies i have ever seen, and will ever have seen, probably. I`m really going to miss all the actors working together to make a wonderful masterpiece for J.R.R. Tolkien!!! I could sit here and write days and days worth on the Lord of the Rings, but i have to save room for other people too! :) I love lotr and always will, way to go PJ! And Sir Ian Murray Mckellen is the most incredible and experienced actor i`ve seen in my life! You ro
February 09, 2005
The best movie of all times!!!
January 18, 2005
my FAVorite is a better ACTor in lost then lord of the rings
January 12, 2005
I was very glad when I knew finaly that the book of tolkein will be on the wide screan, the best movie I ever saw better than titanic or other movie I watch all three movies everyday, and I read the books again and again you should see my living room with posters from the lord of the rings best movie of all the years to come ita a 10 stars
January 09, 2005
wait a minute, 13% gave it one lousy star, what the heck does it take to impress you people, this is the single greates movie ever made second to none (even though titanic won more academy awards and grossed more, ROTK is still the best) if the emotional intensity or the special effects don`t impress you, nothing will don`t even watch movies cause you have crummy taste
January 02, 2005
THE LORD OF THE RINGS SERIES WAS THE BBBBEEEESSSSSSTTTTT!!!!!!!!!!!!!!!! I COULD WATCH IT A MILLION TIMES!!!!!! WHOEVER VOTED 1 STAR SHAME ON YOU!!!! 4.4 starts What the Heck!!!! it Should have google stars!!!!!!! *************
December 30, 2004
ARAGORN IS HOTT! I LOVE YOU BABE!
December 22, 2004
this movie, i mean all the movies are spectacular. you can not compare these movies with each other, because its all one movie, one big story all your saying is that one part of the story is better than the other. and i cant believe some people as to rating this movie second to the passion of the christ. i personally love the trilogy. you should buy the extended editions and watch, for the people who have not read the book it will help make more sense. for the other who have read the book its a nice little extra to all those fans. buy it, love it, enjoy it, it deserves all those awards it has revieved especially the oscars for best director
December 17, 2004
As I have read the books, I`d say the movie was spectacular. Combined factors such as good humor and great acting make this movie great. Director Peter Jackson definatly had a large task to do and a great hunger for a good LOTR movie and I`d say he deleivered. I`m not the the least bit surprised by the overwhelming responses and comments by impressed viewers like myself!
December 11, 2004
My favorite movie in the whole wide world! Nothing could compare! EVERYTHING was done perfectly!!!
November 27, 2004
Most incredible movie Ive ever seen!
November 25, 2004
I think Its well done
November 19, 2004
There will never be a movie that will even come close to this masterpiece. The whole story just blew me away. It`s kind of depressing that it`s over. But I will keep watching them over and over again. I wish they could have put everything from the books into the movie, I would have loved every minute of it. I`ve seen a ton of great movies but none of them compare.
November 16, 2004
this movie is the bomb!!!
November 07, 2004
worst movie ever
November 06, 2004
I think that all the LOTR movies are the greatest movies of all time adn should definately not be second to the passion of the christ. I think that these movies should go down in history for the amount of effort and dramatics put in by all those working on the set from elijah wood to peter jackson to the guy that painted the pictures of gollum.
October 27, 2004
This movie...in fact, all three of them...are the ultimate movies of all time. They are so beautiful and well-directed that I feel part of the movie. It`s an amazing experience!!!! :-D More than five stars!!!
September 06, 2004
Awesome, to tell you the truth I was never a fan of Lord of the Rings, I am really a big matrix buff, but since I have seen this one, I like this trilogy just as much as the matrix. It will be a long time before someone creates a brilliant trilogy like these two. Two thumbs way up for Return of the king