The Lord of the Rings: The Two Towers - User Reviews
Thank you for rating this movie!
Read your review below. Ratings will be added after 24 hours.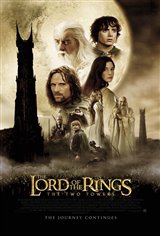 4.58 / 5
User Rating
Based on 166718 votes and 772 reviews
---
Please rate movie 1 to 5 stars
Showing 1 to 50 of 772
December 27, 2019
Incredible, can see why it won multiple oscars!
December 27, 2019
Save ur time and money. Worse movie i've seen my whole life. Just men being so emotional about everything. Overrated. Bad acting and slow moving, it wasnt going anywhere
June 27, 2009
this was the best 2 hours and 59 minutes of my life
February 28, 2009
it was the best LOTR after Return Of The King. Peter Jackson is a genius. 5 stars
December 19, 2006
One of the best movies ive ever seen. This must have taken a lot of passion and effort to make.
October 03, 2006
this is one of the best movies of all time based on one of the best books of all time go if you havent seen this movie you need to go see it.
August 31, 2006
I have read the book at least 20 times SO FAR lol and I have to admit this is one book I thought could never be made into a decent movie.I was so thrilled to be wrong.I love the whole series and would highly recommend it to everyone.
July 31, 2006
i enjoyed this series very much. the suspence and the graphics were great!! i was kind of upset that it was the end , but it was good!!
July 26, 2006
absolutely a great movie i love this one the most out of the other Lord of the Rings movies i think
June 16, 2006
absolutely brilliant
January 20, 2006
LOTR:TT is amazing Peter Jackson is a fantastic director and made this movie one of my favorites of all time especially when Sam makes his speech about how there is some good in this world and its worth fighting for. I cry every time i see it.
August 10, 2005
I would give it less than 1 star but i can`t...
August 07, 2005
Absolutely brilliant, loved every minute of it...sad that they`re all done now
January 11, 2005
it is the best movie i ever seen only one character i like was one of the men that wasin the followship
December 21, 2004
I DESPISE GOLLUM ! PEOPLE TRASH TALK JAR JAR BUT I FIND THIS UTTER MESS OF A COMPUTER GENERATED CHARACTER TO BE A TRILLION TIMES WORSE THAN HIM!
December 03, 2004
ZZZZZZZZZZZZZZZZZZZZZZZZZZZZZZZZZZZZZZZZZZZZZZZZZZZZZZZZZZZZZZZZZZZZZZZZZZZZZZZZZZZZZZZZZZZZZZZZZZZZZZZZZZZZZZZZZZZZZZZZZZZZZZZZZZZZZZZZZZZZZZZZZZZZZZZZZZZZZZZZZZZZZZZZZZZZZZZZZZZZZZZZZZZZZZZZZZZZZZZZZZZZZZZZZZZZZZZZZZZZZZZZZZZZZZZZZZZZZZZZZZZZZZZZZZZZZZZZZZZZZZZZZZZZZZZZZZZZZZZZZZZZZZZZZZZZZZZZZZZZZZZZZZZZZZZZZZZZZZZZZZZZZZZZZZZZZZZZZZZZZZZZZZZZZZZZZZZZZZZZZZZZZZZZZZZZZZZZZZZZZZZZZZZZZZZZZ...
November 19, 2004
GOOD ,BUT ITS TO LONG AND TOO SLOW!!!!!!!
November 14, 2004
I think it was the best movie, ever!
November 13, 2004
Pretty good ,but it has it`s flaws: TOO LONG,A BIT SLOW & A LITTLE WEIRD & CONFUSING & GOLLIM JUST ANNOIYED THE HELL OUT OF ME !! HE`S WORSE THAN JAR JAR & C3PO COMBINED!!!!!!!!!!!!!!!!!!!!!!!!!!!!!!!!!!!!!!!!!!!!!!!!!!!!!!!
August 24, 2004
FAntastic..............WAY KEWl.......GREAT PLOT,STORY,and Characters. NUMBER #1 LOTR....FAN!
April 27, 2004
The Tow Towers is second on my Lord of the Rings list.I just loved it but it is not the best out of them all.
March 25, 2004
It`s amazing. So moving.. the battle at Helm`s Deep is awesome when Gandalf comes. its one of the best movies of all time
March 21, 2004
I loved this movie. Filled with amazing special effects and amazing performances, it is just as outstanding as its predecessor. The Battle at Helm`s Deep is the best battle I`ve ever seen in a movie.
February 28, 2004
LOTR for life! AMAZING.
February 26, 2004
this movie a legend it ha created a new relavation,i have never seen a movie like this and i can assure that i will never see one in future also.
February 23, 2004
I loved it!!! I love all three movies! I love the part where Legolas surfs down the stairs at Helm`s Deep on the shield!
February 12, 2004
the best if ever seen i love elijah en orlando
December 21, 2003
Best movie that I have seen to date. Action scenes are incredible.
December 13, 2003
IT SUCKED MORE THEN THE FIRST ONE
December 03, 2003
It was awsome!! I really enjoyed it!
December 03, 2003
Loved it.. Cant wait for the return of the king...Viggo Mortensen rules..
November 28, 2003
It was so good. It made me cry...
November 28, 2003
Amazing, the sound and imagery actually brought the movie to life.
November 26, 2003
OMG!!!!!!!!!!
November 25, 2003
breath-taking images
November 23, 2003
Very good, engaging. Good acting and great effects. Seems to reflect the tone of the book very well.
November 21, 2003
It IS A AWESOME movie because Like the battle between men and orcs at the Helm`s Deep also love the Riders Of Rohan.I can belive that Halidur have to die I mean He is sort of my favourite character.Anyways I can`t wait to see the 3 movie RETURN OF THE KING I hope it is better than the first and second
November 15, 2003
one of the best movies of the year can`t wait for the third one. the story line is very close to the books, I think that tolkien would be very proud of the work done on all three movies.
November 08, 2003
Phenomenal! This movie puts Tolkien`s mythical world of middle earth into reality! It could not have been done better! Well done Peter Jackson!!!!
November 06, 2003
awesome
September 30, 2003
This was the best movie i ever saw in my whole intire world i would like to see more movies with these characters together.
September 26, 2003
I LOVED IT! I LOVE ELIJAH WOOD TOO!
September 20, 2003
This movie is amazing. It delivers with great success, it includes all great aspects of movies. The effects are better than ever, Gollum was physically and emotionally beatiful. All of the actors/actresses portrayed the characters with emotion, triumph and downfall. This movie to me is considered history in the making! It is the best movie ever!
September 09, 2003
it`s really great. I think that they could have done a little better in the sets, and keeping with the character discription in the book, but otherwise, it was really good.
September 03, 2003
great movie already seen it 20 times and it was just released.
September 03, 2003
It was spectacular. Of course, Helm`s Deep was just a skirmish compared to the battle of Middle Earth -soon to come. The movie had great cinematography and wonderful acting. The only part I didn`t like was how Arwen got this ten minute cut in - come on, she wasn`t even in the second book. But, in the movies, I suppose, it explains her "struggle".
September 01, 2003
I didn`t think LOTR, The Fellowship of the Ring could be topped...I was wrong!
August 30, 2003
I HAVE ONE WORD TO DESCRIBE IT WOOOOOOOOOOOOOOOOOOOOOOOOOOOOOOOOOOOW I WAS SPEECHLESS AFTER COMING OUT OF THE THEATRE BEST MOVIE OF THE YEAR. THE BEST REMAKE OF A BOOK EVER, INCREDIBLE AND BREATH TAKING!! BULIDS ANTICIPATION FOR THE FINAL INSTALLMENT: THE RETURN OF THE KING I NEVER THOUGHT A MOVIE THAT WAS 3 HOURS LONG COULD GO BY SO FAST, ALL OF THE ACTORS AND ACTRESSES WERE FIT FOR THE PART I COULD NOT THINK OF NE ONE ELSE TO PLAY NE OF THE CHARACTERS PARTS VIGGO AND ELIJAH WERE AWESOME EVEN BETTER THAN THE FIRST WELL DONE PETER JACKSON 2 TUMBS WAY WAY UPPPPPPPPPPPPP!!!!!!!!
August 29, 2003
Best film ever. end of story.
August 29, 2003
The movie was absolutly possitively amazing. I couldn`t believe how really everything looked - and felt - watching it, i felt i was going to be lifted off the seat whereas i was sitting, and pulled and thrown into the movie. i couldn`t realize jsut how enchanting it was. I must say all the actors and actresses did an outstanding job at making this true to the novels which i love so much.