The Lord Of The Rings: The Two Towers - User Reviews
Thank you for rating this movie!
Read your review below. Ratings will be added after 24 hours.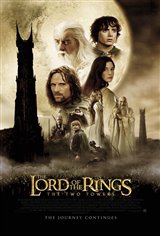 4.58 / 5
User Rating
Based on 166718 votes and 772 reviews
---
Please rate movie 1 to 5 stars
Showing 151 to 200 of 772
March 11, 2003
I love that movie ! it`s the best in the world!! the books r great too! Legolas is hott!! J.R.R Tolkien is truely a genius.
March 10, 2003
nasty, ugly and will never get an oscar. although it was my friends favourite its my least favourite
March 10, 2003
It was a thrilling movie. The movie had plenty of adventure and action.
March 10, 2003
Pure Genius
March 07, 2003
Beautifully made, breathtaking scenery, wonderful actors, perfect CG creations - and I also love those parts, where the film does not strictly follow Tolkien`s book: especially Morwen and her children.
March 07, 2003
Legolas is hot! go elves!! we loves it saw it ten times so far!!
March 05, 2003
for one thing, Gandalf isn`t even a human, he is a supernatural being- a wisard. How can people not like this movie? it is so good, a true epic, but with a perfect story. Tolkein is a genius, the fact that he had all this running through his brain ( way more, they cut tons) i highly recommend reading the books, its written like a prehuman history, its so accurate. Just amazing, dazzeling. anyone that doesn`t like this falls into the "fast and the furious, i don`t need a story to entertain me, just violence and naked women, swearing and overall nothing with substance"
March 05, 2003
The acting the cinematography and the story all are truely excellent!!
March 03, 2003
this movie has every thing. sad,happy,fighting.funny. i cant wait 4 the 3erd one comin out:christmas 2003
February 28, 2003
If Tolkien saw this movie he would roll over in his grave. Farmir was destroyed. Elves at Helms Deep, since when? And Aragorn falling off the cliff to go meet Arwen...she is only in the trilogy about 4 times! I guess it just shows you that it is impossible to make a book of that stature into a 3hour movie.
February 27, 2003
ELVES 4EVER!!! (especially legolas...)
February 26, 2003
Just go and see it and judge for yourself. You will be doing yourself a favour.
February 26, 2003
One word: PHENOMENAL!
February 26, 2003
i loved the movie going tonight again to see it
February 26, 2003
Visually stunning... the downside, it makes the actors and story secondary.
February 25, 2003
Orlando bloommmm ..... (drool)
February 25, 2003
No other movies could compare. It`s by far one of the best movies ever made.
February 25, 2003
They did a great job of intensifying the action and the story to make this a great trilogy. I can`t wait for part 3.
February 24, 2003
I though Lord of The Rings The Two Towers was better than the first on because it was more action packed than the first one.
February 24, 2003
Bunch of hog wash for the lame brains
February 21, 2003
I LOVED THIS MOVE SOO MUCH:) ORLANDO BLOOM IS SOOO DAMN SEXY AND HE WAS THE BEST FIGHTER!! VIGGO IS 45 AND IS USED TO THINK HE WAS HOTT! I CAN`T WAIT FOR THE THIRD ONE! LOVE YOU ORLANDO!:)
February 21, 2003
I thought it was a good movie. I enjoyed the first a lot more, but perhaps that was because the viewer got to enjoy a taste of different cultures of Middle-Earth; elven, human, dwarven and hobbit. I disliked a couple things that were added to the actual story (such as the elves who came to Helm`s Deep), but I really enjoyed other parts (like the Entish march to war). As for the person who said there wasn`t enough blood, well, I agree in that regard. Some added blood would have been better, but not to the point where it was gory.
February 21, 2003
ONE WORD "EXELLENT"
February 20, 2003
I saw it about 4 or 5 times, and it keeps getting better and better each tiem you go and see it. I say if you haven`t seen it already go out and see it!
February 20, 2003
excellent
February 19, 2003
This was an awesome sequel! The first one really didn`t catch my attention but the TWO TOWERS really kept me on the edge of my seat! It motivated me to read the whole trilogy of books. Bravo...i can`t wait until the next one, beat that Harry Potter!
February 19, 2003
It was amazing id recommend it to anyone full of action and suspense
February 19, 2003
Outstanding! I`ve watched it once on IMAX and once on a normal screen and loved it both times. If you get a chance to see it on a large format, DO IT! You won`t regret it. The only thing I regret is haveing to wait a year for the final installment of the story.
February 18, 2003
I saw this movie 4 times, ITS THE BEST!!!!!!!!!!!!!!
February 18, 2003
the lord of the rings is awsome good job and can`t wait for return of the king.
February 18, 2003
The Two Towers is AMAZING! I love the Lord of the Rings!!!
February 17, 2003
LOTR-The Two Towers was an excellent movie!!! Everything was extremely stunning about it....visually, and emotionally!!
February 16, 2003
Totally amazing. way better then the first one. makes u wanna see wuts coming next. i cant wait much longer for the 3rd one to come out so peter jackson better hurry. I think all of u who r dont like it shood give at least one chance. Its magic
February 15, 2003
I LOVE IT! i mena what can i say?!? everything is PERFECT!!! LORD OF THE RINGS ROCK! its soooo alive! though i know J.R.R tolkien is a great writer i could`ve never finished now almost half the book! I mean like it was actually the interest in me to get going on reading it! I wanted to know every little detail of the story! ORLANDO BLOOM, ELIJAH WOOD, LIV TYLER, VIGGO MORTENSEN, SEAN ASTIN, BILLY BOYD EVERYONE ELSE(b/c theres too many to shout)RULE! I`m gonna watch this movie again and again and again that i could almost memorize every quote there is! one thing i dunno about is there was a part of the trailer that wasn`t in the movie, i dunno
February 15, 2003
Best Movie Ever Go and See!!!!!!!!!!!!!!
February 15, 2003
a beautiful, wonderful and action-full film!
February 15, 2003
I thought the lord of the rings was amazing. Peter Jackson really broght the trilogy to life. The effects are great and the actors were well chosen. These actors really complimented their characters in the movie. I hope The Lord of the Rings: The Return of the King will be as good as the first two films!
February 15, 2003
It had a lot of action. It was great.
February 15, 2003
I think being a fan when i was younger of the book s i think it was the greatest movie ever made well along witht he others. i don` they could of done a better job making it and picking the characters. i would give it an oscar in a minute i can`t understand why people say its not good becasue i think they did a great job..good work guys keep it up
February 15, 2003
thi s movie is the best of all the best and i love it legalos is sexy no matter wat and i`m gonna merry him
February 15, 2003
3 thumbs up baby!!!
February 15, 2003
I REALLY LOVED THIS MOVIE
February 15, 2003
i loved it best movie EVER!!!
February 14, 2003
best movie i have ever seen!!! i hope they will make more books or somthing cuz i dont want to keep reading them over and over agion! (but i will no offens) kewp up the great stuff guys and frodo is the most cutest guy i have ever seen! (and sam pipin and merry!)
February 08, 2003
What an awesome movie. Nonstop action and it was terrific to see the book come to life.
February 07, 2003
BEST MOVIE EVER
February 07, 2003
For the person that said: "Could have been shorter, a little unrealistic with the lack of blood. Poor acting, the fact that Gandolf could survive a fall that long, makes me sick"...Well maybe if you would have read the book u could`ve found out that Gandalf (with an a) does survive the fall. AND it couldn`t have been shorter b/c too many things would`ve been removed from the book (even now a lot has already been removed)Poor acting? i`d like to see you do a better job. Lack of Blood b/c Orks aren`t HUMAIN AND THEY DONT HAVE RED BLOOD. and blood doesn`t just squirt out uncatrolably when getting shot with a arrow, THAT would have been irrealis
February 07, 2003
way to long
February 06, 2003
Totally amazing, I have never seen anything like it before in my life, and I am a picky person. It was excellent.