The Matrix Reloaded - User Reviews
Thank you for rating this movie!
Read your review below. Ratings will be added after 24 hours.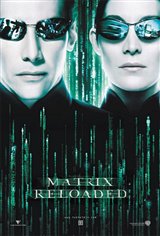 4.42 / 5
User Rating
Based on 33437 votes and 380 reviews
---
Please rate movie 1 to 5 stars
Showing 1 to 50 of 380
May 03, 2009
Another amazing matrix film I thought there was way more action and thrill well done
July 08, 2008
it was a good movie
October 12, 2006
I have to say that I`m not really sure why I saw this film. I`m not a fan of the Matrix, but I just thought it would be interesting to see how the whole thing ended. I like the ending, but I found it kind of boring. Plus, then I really wasn`t a fan of Keanu Reeves.
March 01, 2006
I loved "the matrix", it`s story is TOTALY waterproof, I`ve seen it maby 30-40 times and I can say truthfully, I can`t find one little hole. But when the end of THIS movie came... I was crying! How can they make Neo stop the machines in the REAL world and then only give us a fools explination that: "The power of the one extends behond this world" and then just think that we should get with that and swallow it. How can the Wachowski brothers do something like this? How can they destroy the werry perfect thinking of the matrix. I am SO disappointed!
January 31, 2006
I know The Matrix Reloaded is the best movie I have ever seen in history and I have some ideas to make a new movie.
November 14, 2005
Matrix reloaded is a very very very beautiful film.
July 08, 2005
it is the best movie that i have watched
June 28, 2005
I only liked it because Leigh Whannell was in it.
May 11, 2005
No Story. It was the worst when compered to The Matrix, But a okay movie whan compered to other movies. Some scenes were very needed. Like this Zion scene, I felt like I was waching a movie about cavemen in 414256 B.C. The fight scene with Smith to long. And where did Tank Go Between Matrix 1 & 2?
May 09, 2005
It was the best movie ever! The graphics and animation is amaizing and it is so action - packed and keeps you on the edge of your seat!
April 20, 2005
The Matrix trilogy was one of the most extraordinary and original efforts by a film maker in the last 20 years. The Wachowski brothers rank with Tarantino as groundbreakers taking the craft of filmmaking to the next level. The Matrix is an allegorical tale that exposes much of the hypocrisy that has infected the the country and the world through corporate and various megolomaniac`s thirst for power. The use of advanced film technology does not overshadow the story line because like the layers of an onion that can be seemingly endlessly unravelled, these films can be watched more than once with each viewing revealing more to the audience.
December 02, 2004
This movie makes you think if there actually is a world like the matrix.
November 20, 2004
I think that the matrix was unbelievable, amazing, I wld like to give praise to the writers. Q: is there anymore games or videos coming up for the matrix
September 10, 2004
I thought it was really good, it really lived up to it expectations. It had gripping action from start to finish.
September 09, 2004
the best film ever made, it has everithing if you dont think like that, see it again! don` t waste your time with lord of the rings...
September 05, 2004
A lot faster and better than the first one. But the storyline was too confusing and at times didn`t make any sense. The new characters introduced made this movie a lot more enjoyable than the main stars.
September 05, 2004
I think the 3 movies are wonderful and really awsome !!! i hope that there will be a 4th one !!! Kanus Reeves was really great !!!
August 07, 2004
This was THE BEST movie ever!!! i seen have
March 09, 2004
I thought that Matrix Reloaded was a decent movie. It tried to match the spark of the first Matrix but didn`t quite catch it. It had amazing special fx and action sequences. A good sequel but not as good as the original.
January 18, 2004
Worst Movie Ever!!!
January 02, 2004
best matrix movie and the best action movie I have ever seen!
December 03, 2003
gooooooooooooooooooooooooooooooooooooooooooooooooooooooooooooooooooooooooooooooooooooooooooooooooooooooooooooooooooooooooooooooooooooooooooooooooooooooooooooooooooooooooooooooooooooooooooooooooooooooooooooooooooooooooooooooooooooooooooooooooooooooooooooooooooooooooooooooooooooooooooooooooooooooooooooooooooooooooooooooooooooooooooooooooooooooooooooooooooooooooooooooooooooooooooooooooooooooooooooooooooooooooooooooooood
November 16, 2003
This was THE BEST movie ever!!! It was amazingly done and very perplexing! I LOVED it! Keanu was wonderful!
November 05, 2003
Great movie..however, someone scenes were a little murkey and confusing...I found that you have to watch the sequel at least twice to understand everything that went on leading up to the third and final installment.
November 03, 2003
I`ve Watched The Matrix 200 Times
November 01, 2003
coollllll
October 31, 2003
Personally I think all those 3 Matrix movies are the most unique and amazing things that happened to movie history, i think people gonna go on about it for years, all i can say is i am a HUGE fan, and its just amazing, Keanu & Carrie rock!
October 31, 2003
Awesome! I`m not disappointed.
October 31, 2003
i love the fighting part arfter neo talks to the oracle.
October 24, 2003
I think this sequel is of a dieing breed, a sequel which overcomes its amazing root.
October 20, 2003
All the fight scenes were amazing and the story was excellent even if you didn`t like he first one you will love this one
October 15, 2003
very well animated, want a role in it myself.
October 09, 2003
Great movie...... very philosophical and great special effects!! Highway scene and the battle with the agent smiths were awesome! GREAT MOVIE>>> A+
October 05, 2003
Coolest fighting I have ina long time.
October 05, 2003
Amazing storyline? What? Do you think anyone would like this movie without the fighting?
September 04, 2003
people who hate the movie probably did not understand it. it was a terrific movie and to those who, for some reason, have trouble understanding the movie don`t judge something you don`t understand.
August 25, 2003
This was the best movie in the world and i cant wait till matrix revelotions
August 20, 2003
The Matrix Reloaded delivery`s none stop action scenes. The action scenes blow you alway with there amazing special effects. Watching the second movie makes you go futher down the rabbit hole along with the movie charaters and you never want it to end. I cannot wait for the third installment of the Matrix. Matrix Reloaded was best R rated film, I watched this year. NEO!!!! RRUULLEEESSSS
August 09, 2003
The best S-F movie I ever watch!
August 08, 2003
Well made; covered same ground as MATRIX. This repetition took me out of the experience, and I found the "wonder" of the first film to be missing. Hoped for more - we`ll see what`s next!
August 08, 2003
one word *********GARBAGE**********
July 29, 2003
one word ******* AWESEOME******** tats all i gotta say GO WATCH IT ITS WORTH THE MONEY
July 24, 2003
GO AND SEE IT AGAIN...AND AGAIN...AN AGAIN!!!
July 23, 2003
Good Special effect, but story not so good
July 23, 2003
wow.. AMAZING!.. simply AMAZING.. best movie ever!
July 17, 2003
This movie was one of the best action movies I have ever seen. The end of the movie was kind of chessey, "to be concluded",but...great picture, great story, in short....GREAT MOVIE... cannot wait to see the third one, " Matrix evolution".
July 13, 2003
I thought that this movie had great effects. There was a lot of acrion and i thought that it was worth the money
July 13, 2003
Better than the first. Cannot wait for the third now.
July 12, 2003
very good story truly amazing!