The Men Who Stare at Goats
Thank you for rating this movie!
Read your review below. Ratings will be added after 24 hours.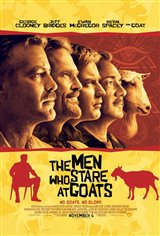 ---
Please rate between 1 to 5 stars
Showing 1 to 50 of 72
December 23, 2010
My son and I liked the movie love the actors very funny
September 16, 2010
very disappointing!!!! With all that talent in the movie, I expected something far more entertaining - that didn't happen.
August 16, 2010
Who thought this nonsense up???? Terrible
August 16, 2010
I must have missed something, for the list of stars it was the worst picture i ever saw. It was garbage.
June 06, 2010
Improbably entertaining! Everything you've heard is true!
June 04, 2010
One word...horrible.
April 27, 2010
I must have stared too long. I felt like those goats that keeled over and died. It happened to me right at the beginning and again just before the credits. 1*
April 09, 2010
An intelligent perspective as man as an island. Interestingly funny and witty.
April 07, 2010
strange, weird, a bit funny....actaully, not very good
April 02, 2010
A strangely funny movie that does not fall to the stupid funny used a LOT nowadays in comedy movies.
March 29, 2010
Not the greatest
January 21, 2010
Left me staring at my navel - not worth the trip to th theatre.
January 02, 2010
The worst movie I have seen.
December 29, 2009
worst movie of all time
December 02, 2009
a lot of people left after 40 minutes, the rest were sleeping. I was texting the whole time. Just couldn't listen to the crappy lines. Very disappointed. Not worth the time nor the money
November 25, 2009
Can't understand how you can have so many class actors and have a movie that just doesn't work. Confusing,was lost and just didn't make any sense. We paid $1 to see film and even this was too much. Really disappointed in acting and their roles. Glad our next showing, Amelia wiped out some bad taste left over from the first movie! I'm still frustrated because of the big names that drew us. Actually, the goats had the best part and should be the Oscar winner! yup... Silence of the Goats!
November 22, 2009
If you are just expecting something funny, you might be disappointed after watching it. But if you could think from an anti-war perspective and discover the meaning behind each scene , this is definitely the best sarcastic movie of the year.
November 20, 2009
I would recommend flushing $20 down the toilet and watch it go around and around as it goes down instead of watching this crappy movie. What a complete waste of time/absolute garbage....shame on the actors who pimped themselves to work/get paid for this
November 20, 2009
High Camp. Think new age meets U.S. army top generals meets Timothy Leary. Very different and rather strange. Not your usual moving going experience - so I guess there's merit there.
November 20, 2009
Absolutely idiotic and boring (trailer was composed of all the funny parts in the movie) ... one of the worst movies of the year.
November 19, 2009
Very good film, but not for everyone. If you like absurd...go. Well put together.
November 19, 2009
It was a really well done movie. Continuously funny and was really well acted.
November 17, 2009
An average movie, some parts are funny and the ending is kind of strange. However, I am really surprised to hear that this movie is actually being considered to be an Oscar nominee for the year!
November 17, 2009
fantastic film, as long as your not a common dolt.
November 16, 2009
I wish I had read these reviews before seeing the movie. I could have saved myself the money and a couple of hours I'll never get back. Best part of it was the popcorn. The movie itself was horrible, idiotic. How in the world did these actors convince themselves to work on this piece of garbage.
November 15, 2009
Had some funny parts, draggy in bits. Overall just average
November 15, 2009
OK movie
November 15, 2009
I fell asleep at this movie and when I awoke and saw how boring it was , we walked out. It was awful. I don't think any one would go if it wasn't for Clooney and it was a terrible movie.
November 14, 2009
Boring. I expected a lot more from a movie with an all star cast.
November 14, 2009
Very slow, most of the good parts are in the trailers.
November 13, 2009
Its awesomely awesome. Great job. Awesomely awesome.
November 13, 2009
Totally lame! This boring piece of crap should go straight to rental oblivion. I almost walked out but stayed to the end cuz I have been naughty lately and I deserved a little punishnment. Save your money.
November 12, 2009
Great movie! The whole cast (including Goat) was wonderful in this movie.
November 12, 2009
Horrible movie. can't believe I wasted my time with this one. Nothing more than an extended LSD flashback to the 60's flower power era with delusional and paranoid undertones. I kept waiting for the funny parts and for the film to make a point. Any point. It never did. Don't even wait for the DVD
November 11, 2009
by far a movie that is one. with the cast it could have been more, the laff is on us Mr. Clooney
November 11, 2009
If you got your kicks on Route 66, you'll feel your oats on Goats.
November 11, 2009
Wonderfully zany and probably true!
November 11, 2009
Very funny send up of secret (of which there are many) military projects. Echoes of Catch-22 and Slaughterhouse 5. McGregor, Clooney, Bridges and Spacey each turns in an hilarious performance. If you adore God and Country, stay at home.
November 10, 2009
Aww... I expected more. The preview was so awesome but it the movie was totally lacking. :(
November 10, 2009
Good thing I went on "half-price night".... I would have been really disappointed if I had paid full price. I thought it was a terrible movie.
November 10, 2009
A few funny moments, but on the whole not very entertaining. Wait until the DVD comes out and rent it.
November 10, 2009
T-E-R-R-I-B-L-E!!!!!
November 10, 2009
This movie "SUCKS"...worst movie I've ever seen.
November 09, 2009
A funny look at how kooky the military establishment can be. It helps to have lived through the New Age nonsense of the '70s and '80s. It is scary to think about what goes on that we don't know about.
November 09, 2009
Aweful!!SOOOO BORING!! what a waste of time and money! Who lost a bet and was forced to release this piece of crap? A grade-schooler could have made something more engaging. People were falling asleep in the almost empty theater!
November 09, 2009
I fell asleep during it, nuff said
November 09, 2009
The worst movie i've seen in years. Borrrrrrrring, why did they waste money making this movie and why did i waste my money watching it. With this cast i thought it would have been good. Wronnnnnnnng!!!!
November 09, 2009
Just read the reviews after seeing the movie last night and while being over 60 I must side with the -this is one dumb movie. It does have some funny situations but what a waste of time, talent and money on both sides of the screen.
November 08, 2009
Awful movie. Very boring, put me to sleep!