The Notebook - User Reviews
Thank you for rating this movie!
Read your review below. Ratings will be added after 24 hours.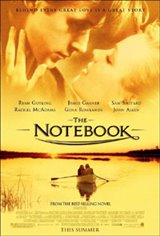 4.04 / 5
User Rating
Based on 104008 votes and 777 reviews
---
Please rate movie 1 to 5 stars
Showing 1 to 50 of 777
January 31, 2016
The best love story of all time. Absolutely beautiful.
February 19, 2014
You'll hate me, but I must tell the truth. I grew up with parents in show business and met many stars over many years. No one today can hold a candle to Katie Hepburn, Burt Lancaster, Charles Laughton, Edward G. Robinson, Olivia de Havilland and more. The Notebook is however an artistic effort combining lush backgrounds and sensual performances. But it's not "Wuthering Heights" or "Of Human Bondage." B+
February 22, 2012
i loved the movie, could watch it over and over again, ryan did an amazzzzing job, and he iss verrry sexxiii <3<3<3<3<3<3<3<3<3<3<3
June 28, 2011
One the best movies I have seen.
February 23, 2010
excellent beyond words.all the actors were super. makes me cry at the end everytime i watch it. all i can say is excellent!!!!!!!!!
May 01, 2009
thought that Gena Rowlands and Jack Gardner were terrific in this film. Never expected the ending it had....she is a terrific actress.
January 11, 2009
I LOVE THIS MOVIE
October 27, 2008
loved it
October 22, 2008
I was thrilled and a bit ashamed at how much I enjoyed this movie. McAdams and Gosling's chemistry and appeal made the movie. This is the movie that you want to watch with your daughter when she's grown up and say "that, you want that." I was lost in the flashbacks for days. If the movie was all flashbacks, I'd watch it again, and I'm not one for sap...
August 02, 2008
I've been watching it so many times and cried EVERYTIME. It's just not any ordinary love story.
July 21, 2008
great movie a must see for all hopeless romantics and those who have ever loved someone so deep as to be willing to do anything for their love.
June 15, 2008
loved the movie and cry everytime I watch it! just a real love story
June 01, 2008
A wonderful love story. It captures the meaning of love between two people, a love that even overcomes the anguish of one partner's dementia.
January 14, 2008
AWESOME!!
October 16, 2007
The best movie ever!!
July 29, 2007
Lovely story that captures the heart of anybody. Loved it
May 25, 2007
Tributefan: 3.0 / 5 stars not an amazing movie.
April 27, 2007
The most amazing Love Story...I'm still crying..
April 03, 2007
This would have to be one of the best Romance movies ever made. Personally it is way better than romeo and juliet as the are actually speaking English and it is a beautiful love story. Becky
March 27, 2007
i loved it i think its the greatest love story and i cant belive its a true story.
March 15, 2007
UMMMMM i just recently saw the movie, but when i saw it i fell in love, and now i cannot SHUT UP about how great it is!!!
March 14, 2007
AMAZING ! : )
March 05, 2007
This movie does an excellent job of illustrating altruistic love. If you haven't seen it, BUY it! You won`t be disappointed. It's the best love story ever!
February 10, 2007
One of the greatest love stories ever told...........
February 04, 2007
i love this movie rachel mcadams is amazing
January 28, 2007
TeAr-JeRkinG MoViE..! BrIngS OuT Ur EmoTioNs WiTh WonDerFul ScEnEs aNd AcTors..!! 5-Star.!
January 13, 2007
The lady in the video store told me to buy it ,she told me it`s the best romantic movie but i tought she was trying to sale but i was wrong when i watch it i felt jealous of them.. It`s the number 1 for me i watch it every day..
December 14, 2006
incredible!
December 07, 2006
This movie rocksss!
November 25, 2006
After watching The Notebook, I have to say it is my favorite movie. I couldn`t stop crying throughout the entire movie. I love it so much that I tell all my friends to watch it too.
November 19, 2006
I was suprised at how good this movie was most of the time. Parts were rather pointless, I don`t know what girls find so sad about this movie, some would say it is just because i am a heartless guy. The Story was good, the acting was well done, the music gave certain parts a boring feel. overall 4.5/5 stars
November 19, 2006
I thought the notebook was the best love story I have ever seen. It is really sad to and When I saw this movie I felt that the characters really played their roll good and they put lots of effort. The notebook is the best movie I have ever seen and I hope Nicholas Sparks makes another movie and put as much creativity. I would rate this an A+.
November 19, 2006
om my gosh this movie is so sad! i had a boyfriend a little while ago. than he moved away, i was so sad than about a month later he wrote me a e-mail and said things are not going to work out because we are in different countries!,this movie totally reminded me of us, and also gave me lots of hope telling me true love is beautyful.
October 15, 2006
passable story with terrible acting and a predictable plot, only possible reason to see this movie is in an effort to try and get a piece of tail for seeming to be romantic
October 14, 2006
What chick flick lovers won`t love about this film. It fits the mold perfectly about everything you want to see. The Notebook will stand the test of time as one of the greatest love stories ever told.
October 09, 2006
amazing love story!! Well DOne!!
September 29, 2006
the characters are hot and the story is heartbreaking and romatic its a gotta have movie
September 20, 2006
i think it`s a really good movie.. i fall in love with it..when i saw it. my boyfrien and I see it everytiem we can.
September 09, 2006
love it....very good story and good acting
September 08, 2006
A True love story .. A romance that will truely LIVE for ever ...
September 02, 2006
Great story... actually very similar to my first love.
September 01, 2006
Truly a romantic love story that I enjoyed so much. Ryan Gosling made my heart melt as Noah. His eyes spoke even when he didn`t. I think I am in love. hehe
August 09, 2006
The Notebook is by far the best love story ever adapted to the big screen. I rented the notebook and watched it 3x over in one sitting. I cried each time and I fell in love with Ryan Gosling as Noah. I read the book afterwards and cried my brains out during that too. A must see to all the believers out there!
August 07, 2006
I thought "the Notebook" was super. I would give all the actors the highest grade posible.
August 05, 2006
the notebook book rocks
August 02, 2006
This movie is so incredibly touching. I cried so much! I watched it at a sleepover with my friends and I loved it so much that I made them watch it three more times with me that night. It`s very romantic and touching. The acting is some of the best that I`ve ever seen and you really won`t want to miss this one. At first I just coudn`t understand why they cast Ryan Gosling because I thought that "Noah" was so ugly but then I began to fall for his sweet and caring personality and it`s just so incredibly nice the things that he did for her. This movie touched my heart and I still think about it all the time. It haunts me in a good way. 5 Stars!
July 30, 2006
I can never stop crying watching this movie!
July 19, 2006
this movie was wiked. it made me want to cry. i can only hope that i find someone who loves me half as much as what Noah did... :)