The Order - User Reviews
Thank you for rating this movie!
Read your review below. Ratings will be added after 24 hours.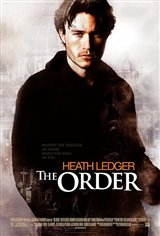 ---
Please rate movie 1 to 5 stars
Showing 1 to 26 of 26
February 24, 2005
I think that this movie gets more interesting if you see it more than once. I thought it was an intelligent movie and very well acted.
April 07, 2004
A moive before the ages. To enjoy the movie you would most likely have to be a non-stereotypical movie go-er. If you thought the movie boaring...then you are just another stereotypical movie go-er and I am sorry... ~*Tru*~
January 24, 2004
An intelligent storyline with a very new and interesting concept. A must see for educated viewers.
January 01, 2004
Heath Ledger played his character well and the location(s) and sound were brilliant. However, the story line left much to be desired. Lacked continuity and left me with a few questions. Still, I`ll probably purchase the DVD previously-viewed, rather than new.
November 25, 2003
HEATH LEDGER IS AN AMAZING ACTOR! THIS FILM WAS SO EERIE AND ENTERTAINING THAT IT KEEPS YOU AT THE EDGE OF YOUR SEAT! 2 THUMBS UP FOR THE ORDER!
September 22, 2003
DISAPPOINTING!!!! This movie started off good and ended off bad. The storyline sucked, it was way too slow, and too long. I agree it was boring at times and I even fell asleep being a fan of these type of movies.
September 20, 2003
boaring!!!!boaring!!!!!boaring!!!
September 20, 2003
quite possibly the worse movie ever invented!!!!
September 14, 2003
I think it was an amazing movie which brings out a lot of controversy about the Rman Caltholic Religion. A must see!
September 14, 2003
This was a bad movie period. confusing to follow. horrible to watch. save your money and stay home!
September 14, 2003
Interesting concept...One of those "love it or hate it" type movies.
September 13, 2003
worst movie ever
September 12, 2003
I had high expectations for this one, being a huge fan of movies like The Exorcist, Lost Souls, End Of Days, Bless The Child and Stigmata. Needless to say, I was disappointed. The plot was convoluted, the character development was weak, and the whole premise was just lame. I could not get into the story and pretty much dozed off near the middle. Also, enough of these alcohol drinking, smoking, swearing priests already! Let`s see some real men of God do battle with evil! Yay Exorcist!
September 11, 2003
I thought the movie was interesting! Concept of the Sin Eater had me on the end of my seat, however I think there is only ONE who can forgive sin. Interesting what Hollywood thinks!
September 11, 2003
I thought it was a facinating story and I would like to know more about it. Great acting, writing and cinematography.
September 10, 2003
A SUPRENATURAL THRILLER WITH A SURPRISING TWIST. HEATH LEDGER IS OUTSTANDING AND SUPERB!!!
September 10, 2003
terrible movie, it went no where... i just couldnt believe that nothing happened, was it suppose to be scary or serious?
September 08, 2003
This Movie is FANTASTIC. This movie deserves an Award. AMAZING... Nobody should bad mouth this movie. If it`s not your type of movie, than say so...
September 08, 2003
It was pathetic. Nothing scary about it. The plot had too many lose ends. Overall verdict - don`t see it, save your money, and watch a paint dry. Its more fun.
September 08, 2003
At first I didn`t like it, but then I couldn`t stop thinking about it, so now I must say I liked it. I would say it`s not for everyone, it`s an aquired taste kind of film.
September 08, 2003
it sucked
September 07, 2003
It was really good.
September 07, 2003
It was definitely a movie that made me think about what makes God "God" and what the essence of faith really is. I liked it but it had a bit more potential than it used.
September 07, 2003
A great film worth seeing
September 07, 2003
Boring, long and a waste of time and money. The best part of the movie was in the trailer and the rest is just useless talking that will put you to sleep. Stay away unless you have problems getting to sleep.