The Other Guys
Thank you for rating this movie!
Read your review below. Ratings will be added after 24 hours.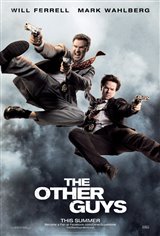 3.28 / 5
User Rating
Based on 580 votes and 172 reviews
---
Please rate between 1 to 5 stars
Showing 1 to 50 of 172
April 07, 2011
Hilarious movie!
April 03, 2011
Wow....spectacularly bad.
January 09, 2011
funny but terrible movie
January 02, 2011
Not what I expected with having so many stars.
January 01, 2011
I'm a will ferrell fan, but this was a huuuuuuuuge miss in my books. The funny stopped after about 10 minutes into the movie.
December 28, 2010
just not funny, poor acting
December 26, 2010
Will Ferrell is the reason I will never watch this. He is the worst actor in history of the world and shame on America for making him a star - says a lot about y'all.
December 16, 2010
I'm not a Will Ferrell fan but this was a pretty good movie. i really enjoyed it.
December 14, 2010
Hilarious!!!!
December 09, 2010
Yet another great movie from Will Ferrell, couldn't stop laughing and was surprised to find that Mark Wahlberg was extremely funny and one cannot skip over the great comedic acting of Michael Keating, he was priceless as Capt. Gene. If you want a good laugh see this movie, it's well worth it.
December 09, 2010
Best comedy I've seen in a very long time. Hilarious. I had no idea Mark Walberg could be so hilarious. Definately Will Farrell's best character yet.
December 06, 2010
While I am not a huge Wil Ferrell fan, I thought this movie delivered more laughs than anticipated. The rest of the cast puts on a solid performance and I found myself smiling through the majority of the movie.
December 05, 2010
better rental... had some funny points.
December 03, 2010
This movie was quite funny, as per usual when you involve Will Ferrell, but if you are not a fan of his style of humor, you will not enjoy this movie...it had it's moments, but it was not a movie I would pay to see again.
November 28, 2010
its the best movie ever!
November 26, 2010
Not as good as I thought it would be.
November 22, 2010
a few laughs
November 22, 2010
ok movie
November 17, 2010
A fair movie
November 14, 2010
no need for a brain to see this movie.
November 11, 2010
A different but interesting senario-Worth seeing.
November 07, 2010
So disappointing. I thought it would have been a lot funnier.
October 31, 2010
better as a rental or buy it when it hits the bargin bin
October 30, 2010
ok movie
October 29, 2010
It was pretty clever casting to have Mark Wahlberg play the straight man underdog in a buddy cop comedy. A lot of really good lines, bit too long in parts, but all in all enjoyable popcorn fare.
October 29, 2010
Great combination of comedy and action movie.
October 16, 2010
best will ferrel movie yet :D
October 15, 2010
I found this movie far more enjoyable and funny than anticipated. I'm not a huge Ferrel fan and was dragged to the movie by a friend of mine. I was pleasantly surprised how much I enjoyed the film and both lead actors.
October 13, 2010
This was a typically funny Will Farrell movie. It was good, kept you interested in the action and lots of gags.
October 10, 2010
good rental not worth paying to see.
October 10, 2010
This is an inspired comic pairing.Will Farrell's character of the self-satisfied police desk rider is great geeky fun.His only embarrassment in life is his "ordinary" wife,super-sexy Eva Mendes!It's nice to see Mark Wahlberg put his comic mojo to work.I loved the scene where he double takes and triple takes upon seeing Ferrell's "embarassing" wife.There are all sorts of sight gags and great lines along with the usual mayhem(crashes and explosions)found in comic cop flicks. I really enjoyed this!
October 07, 2010
No where near as funny as I thought it was going to be.
October 05, 2010
Hilarious!! Great duo!
October 03, 2010
Not as funny as I thought, but had some good laughs throughout
September 30, 2010
Not as funny as anticipated
September 30, 2010
Some good laughs, more a man movie. My husband loved it.
September 29, 2010
Movie was fun and action comedy flick, I would give it 3 and half stars.
September 29, 2010
first time n a long time i liked wil ferells acting. Pretty funny
September 29, 2010
Too funny!!
September 28, 2010
Wasn't as funny as I thought it would be. Didn't think it was a great performance by either Walbergh or Farrell. Didn't like jackson or Johnson's part in it. There were some good laughs but few and far between
September 27, 2010
funny but not the best movie
September 27, 2010
Pretty bad movie as far as comedies go. You'd think Will Ferrell would have done a better job. But Johnson and Jackson do a great job...for the ten minutes they're in it.
September 24, 2010
Not as funny as I expected, but if you are a fan of Will Farrell or Mark Wahlberg, you will love this movie regardless!!! I laugh just looking at Will Farrell, and love Mark Wahlberg's dry sense of humour, so it worked for me!!! Go see it, but don't have expectations for non-stop laughter...just appreciate the laughs you get!!
September 24, 2010
Another silly movie
September 23, 2010
Top class comedy. Excellent performances from the leads and certainly up there with Ferrels best!
September 23, 2010
Will Ferrell is great as the straight man.
September 22, 2010
Good movie, lots of laughs. I've seen funnier from Will Farrel, but still a good watch!