The Other Woman - User Reviews
Thank you for rating this movie!
Read your review below. Ratings will be added after 24 hours.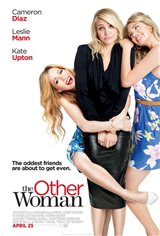 4.07 / 5
User Rating
Based on 778 votes and 364 reviews
---
Please rate movie 1 to 5 stars
Showing 1 to 50 of 364
October 08, 2015
I watched this with my daughter last night and we laughed so loud we were crying. It was so great to see the bonding between these women, the honesty and the revenge.
January 19, 2015
One of the funniest movies I have seen in a very long time. I laughed all the way through it. I watched it this past Sunday, and I'm going to watch it again this coming Wed.am. I loved it, and would like to see the 3 of them make another movie together. Great Job John.
August 28, 2014
very dull and boring movie - the trailors were far better than the actual fim. Diaz has lost her touch
August 19, 2014
a really bad movie - almost zero laughs. The acting and writing were horrible.
August 18, 2014
So funny!
August 14, 2014
awful film
August 04, 2014
Sorry, not the best movie out there...I was expecting SO much more but as much as I like Leslie Mann, and think she's hilarious, I'm getting a little tired of her playing the SAME character in every movie...and that anime character Nicky Minaj? I will NOT even bother with a movie if she's in it.....
July 29, 2014
Nice to see a show with no foul language to speak of. Good story and liked the ending.Funny enough with serious moments. Liked Cameron Diaz much better in this movie than in Bad Teacher.
June 21, 2014
I'm a guy that saw this on his own and I swear to god this movie is freaken hilarious I couldn't stop laughing
June 06, 2014
I ended up seeing this twice now and the first time it was great but the second time I was more picky and decided the acting wasn't the best and the plot is a little dry.
May 28, 2014
This was by far the funniest movie I have seen in ages. You don't have to be an ex to get the humor or appreciate the situation. Loved it!
May 19, 2014
I broke up with my boyfriend after this, but it was sooo worth it!
May 16, 2014
A great comedy!
May 16, 2014
Very funny..great movie
May 16, 2014
Hilarious comedy with superb humor. Nothing more rewarding than pure PAYBACK! $$$$
May 15, 2014
Silly, predictable and not very funny. A waste of time.
May 11, 2014
So entertaining. Went in thinking I would laugh once maybe twice. Had a lot of funny parts we laughed throughout the movie. Would recommend it to everyone! :)
May 11, 2014
Funniest movie ever! If you don't find this funny you need a sense of humour and you are what's wrong with this world
May 09, 2014
Go see moms night out instead - SO much funnier than this movie!!
May 09, 2014
I thought I was going in to watch a chick flick where all the funny parts had been revealed in the commercials.. But this movie was hilarious, and the story line was solid. Great movie!
May 06, 2014
I'm pretty sure it was supposed to be funny...too bad it wasn't.
May 06, 2014
Very fun and a cute story plot. The actresses had the perfect chemistry
May 05, 2014
My ex boy should see this movie it totally reminds me of him. Cheated on his ex wife cheated on his mistress and cheated on his ex gf (me)and I thoroughly enjoyed getting him back. Who knows maybe he wrote the script. I cant hardly wait to see this movie maybe I'll get more ideas...lol.
May 01, 2014
UCK...Horrible hardly describes this movie
May 01, 2014
Absolute complete waste of time. Go for a walk, you will enjoy it more
May 01, 2014
Ridiculous, poor acting, waste of time
April 30, 2014
Saw this movie last night and thought it was hilarious! If you need a good laugh, this is one to see. Leslie Mann should win an Oscar for her performance!! Men would enjoy this too!
April 30, 2014
Two hours of my life that I'll never get back! Had tremendous potential to be a very funny film - instead was boring with no laughs and rarely a smirk. Skip this one - and go watch grass grow! You'll have a better time - and at least that's free!
April 29, 2014
If you want to be entertained with light fluff, you will enjoy the movie. While some of the acting seems amateur at times, the story is amusing. If you keep your expectations low you will not be disappointed.
April 29, 2014
Very Entertaining.
April 28, 2014
Great chemistry within the cast! A lot funnier than I expected. A comedy for both sexes!
April 28, 2014
Great show
April 26, 2014
Not bad for a chick flick
April 25, 2014
Glad to see this finally opened after playing theaters the past two weeks.
April 25, 2014
This movie was laugh-out-loud funny! Excellent acting. a great cast and a very funny story! One of the best movies out!
April 25, 2014
great movie, enjoyed it with my girlfriends...would recommend it
April 24, 2014
It was alright, it had it's moments. I wouldn't exactly say it was intelligent comedy. It's the type where the whole audience chimes in at every scene even if it's really not funny. Leslie Mann was the winner in this movie, very good at acting crazy, funny or serious. I laughed at Cameron Diaz only a couple of times. I think the ending could have been a we bit better and the props used in the one scene near the end should have been red and not brown, you'll know what I mean. All in all it's a good movie to go see with your gal pals it you just want a relaxed night out with a few laughs.
April 23, 2014
It was cute - a modern update of the First Wives Club!
April 23, 2014
I truly enjoyed the movie. Would recommend it.
April 23, 2014
Very funny.
April 23, 2014
We thoroughly enjoyed the movie - laughed so much - loved every minute of the show - didn't want it to end and when it did, couldn't believe how long we had been in the theatre! Excellent show, great acting,and so hilariously funny. Will need to see it again to catch the parts I missed - laughing too hard! Thank you!
April 22, 2014
The story line is really interesting, showed great promise, but I found the execution lacking - certain sequences dragged on too long, others a little too ridiculous.
April 22, 2014
This was one of the funniest movies I've ever seen. Even my husband, who would normally not like this style movie, was laughing out loud. Cameron Diaz and Leslie Mann are great together! Get out and see it and have a good laugh.
April 21, 2014
We have been talking about this film as we really enjoyed it.. some parts were so funny that we are still laughing .... would like to see it again with other friends!
April 21, 2014
The movie was good and funny, I enjoyed watching
April 21, 2014
Loved it! Couldn't stop laughing and found it to be one of those movies that I'd watch again and again!
April 21, 2014
Very funny movie. Perfect for girl's night out. Leslie Mann was awesome. My sister & I had a great time.
April 21, 2014
Very entertaining and funny. The cast had great chemistry and definitely geared towards women. Also enjoyed the subplots and the duration was good too. Will recommend others to watch it.
April 21, 2014
Diaz is starting to look like Joan Rivers now...
April 21, 2014
funny chick flick as expected. Would see with girlfriends again!