The Perks of Being a Wallflower - User Reviews
Thank you for rating this movie!
Read your review below. Ratings will be added after 24 hours.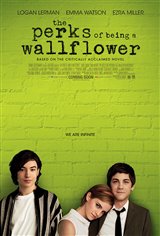 ---
Please rate movie 1 to 5 stars
Showing 1 to 50 of 73
August 02, 2013
A little uneven, but there were some nice performances.
June 01, 2013
beautiful movie!!
May 07, 2013
LOVE IT!!!!!
March 12, 2013
very emotional and very good movie
February 12, 2013
One of the better "coming-of-age" films I've seen in a long time. Ezra Miller steals the movie with an amazing performance.
February 09, 2013
I haven't laughed so hard since Battlefield Earth!!!!
February 09, 2013
A shallow, hollow mess; anyone over eight will be bored stiff.
February 07, 2013
a movie with a solid soul
February 06, 2013
a movie about finding oneself in a crazy world and tragedy..a talented cast brings this great book to life...a classic
February 05, 2013
haven't seen it yet and i know it will be amazing when i do.
January 14, 2013
Lovely movie about life and insecurities. Ezra Miller was a scene-stealer in the movie.
January 11, 2013
great coming-of-age story
January 11, 2013
Watson makes Kristen Stewart look like Meryl Streep.
January 11, 2013
The most unintentionally hilarious movie in ages!
January 10, 2013
Amazing movie, just amazing, with a great cast and great soundtrack!
December 16, 2012
People were yelling, "FART AT WILL!"
December 12, 2012
Excellent movie!!
December 10, 2012
Odious; you'd have to really hate someone to make them sit through this.
December 09, 2012
ONE OF THE BEST FILMS OF 2012
November 10, 2012
Great movie!
November 07, 2012
Just awful. Why did they even bother?
November 07, 2012
Unfamiliar w/ novel movie is based on, & not a fan of the young actors, i found the acting fine, and the various teen topics both contemporary and relevant. it covers plenty, from the usual 'sex-n-drugs', 1st kiss, crushes, as well as social exclusion/bullying of loners (a precociously intelligent one on literature, making him socially awkward), to taboo topics like suicide, depression, mental disorders, pedophilia, and even incestuous pedophilia. the blindness of an indifferent religious family to intolerance covering gay love, to straight love abuse/cheating of the usual jerks (guys) on vulnerable girls. if people 'hate' this movie, they may be homophobic, but unwilling to articulate it. w
November 03, 2012
Absolutely amazing. Very similar to the book. I loved it. Actors fit the roles perfectly.
October 29, 2012
The filmmakers may not have set out to make the funniest picture of the year, but they managed to anyway.
October 29, 2012
One hilariously awful movie. 0 stars!
October 28, 2012
It was crucial to have a solid lead actress if this was going to work; unfortunately, there isn't one in sight.
October 27, 2012
Not one flaw.
October 27, 2012
I loved it! Amazing actors, Emma is beautiful and the story is so moving. I love Charlie's character. I read the book and this was an amazing adaption. I'd see it again for sure! I don't know how people can be saying such awful things.
October 20, 2012
The worst movie I've seen in awhile. Emma Watson needs to stop making movies, she's becoming the Kristen Stewart of her generation.
October 19, 2012
At least the Kardashian's are nice to look at...
October 19, 2012
My daughter who is 11 loved it! I ejoyed it too> For me, was a nice change from the cosby show or Kardashian bs.
October 18, 2012
This movie is so dumb it's offensive.
October 18, 2012
Very nice story and good acting maybe people who didn't like it just cause they don't like these kind of stories it was so touching
October 17, 2012
I didn't think I'd see a movie that was worse than BATTLESHIP this year...I was wrong. :(
October 17, 2012
After loving the opening titles sequence of this movie, I found the following two hours extraneous.
October 17, 2012
Wow, loved this. The actors are amazing even if they're so young. Emma did a great job at being American too. The ending was a huge surprise for me, it was pretty dark, but I still left feeling hopeful.
October 16, 2012
Awful acting, awful everything. I can't imagine anyone giving this a good review. There's no accounting for taste, I guess...
October 16, 2012
The definition of dreck.
October 16, 2012
Oh man, I couldn't believe what a stinker this was! Plays like a bad sitcom, only less interesting.
October 16, 2012
Best film of the year! One of those whole-package films, with a little bit of everything in the story all carried by an incredible cast & crew.
October 15, 2012
Deeper themes were explored on Charles in Charge.
October 15, 2012
I haven't watched it yet, but I am a big fan of the book. I think for Charlie they should have got Anton Yelchin. Just knowing the character I think that would have been the perfect actor to play him... And also knowing the Sam character I'm betting Emma Watson was a great choice...
October 14, 2012
Amateur hour.
October 13, 2012
Quite possibly the WORST movie I have ever seen.
October 13, 2012
Save your money. The flaccid writing and lackluster performances make this a real slog. It picked up briefly during the "fart party" scene, but by then it was too late.
October 12, 2012
A piffle.
October 11, 2012
i love this movie
October 11, 2012
Go to watch Logan. He does some amazing acting this in this.