The Possession - User Reviews
Thank you for rating this movie!
Read your review below. Ratings will be added after 24 hours.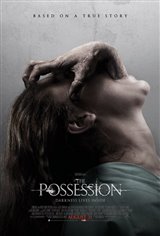 ---
Please rate movie 1 to 5 stars
Showing 1 to 50 of 51
January 29, 2013
Good movie
January 18, 2013
Lets remember, Based on a True "Story" is entirely different than Documentary. I've only watched the trailer and no. I seen "The Fourth Kind" did some research and lost complete interest in "Based on a true story" horror.
January 03, 2013
It was ok. Drags a LOT - need to get through some "character development" to start getting some chills.
October 13, 2012
Don't wast your time and money
October 01, 2012
Surprisingly good for what it was.
October 01, 2012
I loved this, it brought me back to a time when movies actually scared you and made you question what was happening.
September 27, 2012
sucked,thought it would of been alot scarier than it was!
September 26, 2012
well done, keep you jumping on our seat
September 25, 2012
great movie! worth watching.
September 25, 2012
a great scare with an actual story instead of unlimited gore and includes some actual good acting to boot. worth the watch for horror movie fans!
September 24, 2012
pretty good movie!
September 22, 2012
save your money, and don't waste your time watching this movie.
September 21, 2012
Terrible, don't waste your money
September 21, 2012
i was expecting so much more and was quite disappointed. the first half of the movie was so slow. it was only the last 10 or 15 minutes that really caught my attention. the trailer makes it look so amazing, and it was such a letdown.
September 18, 2012
i can't believe i've been going for years withuot knowing that.
September 18, 2012
best horror movie i have seen in a long time, although not very scary, still suspenseful and exciting, very entertaining, a repeat watch.
September 18, 2012
entertaining throughout the film.
September 17, 2012
loved it!
September 16, 2012
not the best horror movie i've seen, but not the worst. didn't really got into the jew thing, i would have added some more horror elements to the movie...
September 16, 2012
great plot, great characters and definite scares. see it now!!!!~
September 16, 2012
a let-down remake of an overdone theme. some scary scenes in the darkened morgue, but otherwise déjà vu! hope the young gal doesn't get twisted like some of her predecessors!
September 16, 2012
freaky effects that gave me a good laugh!
September 15, 2012
really good! i'm not a fan of supernatural movies but it was well done and suspenseful.
September 15, 2012
scary as hell
September 15, 2012
not scary...but a good movie.
September 14, 2012
this movie had the potential for some great scare factor, but it really ended up being the same recycled story. i found myself waiting for something to happen....and at the end i was still waiting. the acting wasn't so hot either
September 12, 2012
i loved it, i like watching horror movies, there are the best
September 11, 2012
could have been better...or scarier, but it wasn't too bad.
September 10, 2012
this movie rocks !!!
September 10, 2012
this was supposed to be a horror based on a true story? ha!.........even the addams family was spookier.....
September 09, 2012
i like it. it had a decent plot.
September 09, 2012
as usual jeffery dean morgan did not dissappont, the movie was fast paced and suspensful.
September 09, 2012
really good movie. i did some research on the story too. spooky. that's why i don't buy antiques!
September 09, 2012
i liked it! if people don't want to go to a horror movie...don't go. what do people really expect? i like that it had a real plot and story line rather than it just being a friday the 13th type storyline.
September 08, 2012
excellent movie !!!
September 07, 2012
some people will love this movie, some will hate it - i thought it was an okay horror story.
September 06, 2012
it was an alright movie. there was some pretty scary parts and alot of suspense. i dont know if it would be worth seeing in the theaters or just waiting till it hits dvd. however, if you are looking for a good thriller, this one is alright.
September 05, 2012
one of the year's funniest movies, the robert downy jr clone is hilarious and the little girl has the funniest line of the movie at the end
September 05, 2012
it was just 'ok'; expected much more. a few moments were sufficient to let us know it was 'serious evil' (scary). but premise is actually absurd. any box that [[ineffectively]] contains a 'demon' would've had a longer history of casualties than the story implies. contradictions of effective powers, yet at the same time impotent to cause more damage more consistently why not as a weapon of mass destruction? not. it takes only a few to 'contain it...almost'? duh. storyline is underdeveloped, as children involved are always 'scary-worry-creepy' and does work. a low-gory horror. 'insidious' was much better.
September 05, 2012
great!
September 04, 2012
i enjoy horror movies and given the nature sometimes they end up being silly but that is ok too. the reason this movie got 2 stars is more than half of it was very boring no matter how hard i tried to be engulfed by the story i was just bored 'till the end when the horror starts which wasn't bad but i have seen scarier in more average horror films. don't waste your money.
September 04, 2012
love horror movies!
September 03, 2012
fair premise, but similar to too many others.
September 03, 2012
not expecting much on this one & it delivered about as much as i thought, a couple shocks but not worth the time.
September 03, 2012
just enough scarey parts to fill a two-minute trailer....
September 03, 2012
another horror movie about a little girl possessed by a demon? yeah lets not do this anymore
September 03, 2012
It was ok a little on the off side
September 02, 2012
wow this is why they release movies in late august .....just to squeeze a couple of dollars out of your wallet... and at two bucks that what this movie is worth. poor acting, not scarey,