The Power of the Dog - User Reviews
Thank you for rating this movie!
Read your review below. Ratings will be added after 24 hours.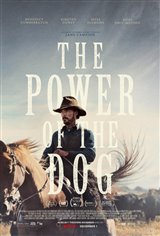 ---
Please rate movie 1 to 5 stars
Showing 1 to 9 of 9
March 29, 2022
The Movie never started, it was just slow and slower. The actors were good, but were not given enough to work with. I was looking forward to seeing a good movie but was left empty and surprised at the end.
March 12, 2022
Dont waste your time .
February 24, 2022
Slow moving and I had questions afterwards, like why did Phil suddenly change towards the boy? I thought he was softening, but that wasn't it. I read the book to find out. So as far as the screenplay, it was lacking. I feel like it could have been interpreted better. The actors were okay, but I felt like they were so restricted (except for Benedict Cumberbatch). Almost like they were puppets. I think the director might have had too heavy a hand. Loved the ending though.
February 18, 2022
Watched this entire movie, still have no clue what is about,,, someone owes me 2 hours of my life i wasted.
December 13, 2021
Incredibly directed for character-driven tension and beauty. The acting, editing, cinematography, and score are all exceptional also. The dialogue in the beginning gives you a lot of clues for what happened before the story in the film and what happens in the end.
December 08, 2021
Such a cool movie. The payoff at the end is huge, make sure to watch all the way through, in particular what the boy is doing.
December 07, 2021
I watched it on Netflix also the first day it was available, I was so looking forward to it. I didn't like it and am wondering if I missed something. I thought it was boring, confusing, dull and totally uninteresting. If it was any better I would watch it again to see what was supposed to make it so good but don't want to spend the time. Other than Benedict Cumberbatch there was nothing in it for me.
December 03, 2021
I didn't like it at all! Saw it on Netflix. Glad I didn't have to buy a ticket.
November 26, 2021
Full of surprises and sub-plots! The acting and the cinematography is superb!