The Predator - User Reviews
Thank you for rating this movie!
Read your review below. Ratings will be added after 24 hours.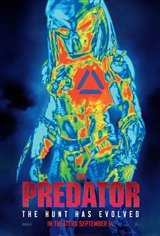 ---
Please rate movie 1 to 5 stars
Showing 1 to 43 of 43
December 19, 2018
Please do not watch this movie. There is not one good thing to say about it. I have no idea why there is one good review. I enjoyed the original and the sequel, they should have left it at that.... They wrecked a good thing!!!!!
December 02, 2018
Awful movie and the graphics BAD the Alien ship looked like something you would see in the 60 show so fake.
October 09, 2018
Was a great new addition to the story line of preditor films.
October 08, 2018
Great movie! It had laughs, science, suspense
October 07, 2018
I kinda liked it.
October 05, 2018
humorous rather than terrifying. the best of the p movies for me.
October 04, 2018
Low quality at best
October 03, 2018
3 out of 5 fun but no depth
October 02, 2018
This movie was terrible. Worst movie of the whole Predator franchise, worse than the Alien vs Predator movies. Throws away everything that made the original Predator work so they can make some really lame jokes. Deserves less than 1 star.
October 01, 2018
I was pleasantly surprised with this one . Lots of action and it was funny too .
October 01, 2018
Great predator movie... I really liked it. I dont want to ruin it for anyone but this is the second best one by far.
October 01, 2018
Hilarious! Great cast and writing. Must see!
September 27, 2018
The writing and script were weak ! Actors were Good
September 27, 2018
not much new , swearing , cheap sex jokes , everyone has an assault weapon, bad writing and script . made for the 13 year old consumer.
September 27, 2018
Lots of shoot em up action from guns that never need to be reloaded and taking jabs at hunters. It should called " losers vs the men in black" and by the way where are all the NAZI' s? .It turns into a comic in the end and we will probably be a new series on after the walking dead. this movie is simply a CIA cy-op , setting you up to believe in PROJECT BLUE BEAM .... investigate yourself.
September 26, 2018
It was a great film for the most part, except for the last 5 minuets. But honestly I had a blast watching this film and hope that more Predator films are made in the future
September 25, 2018
Absolutely awesome and fun SciFi...I loved it and would see it again. It was so cool all the FX were excellent and the acting was good...the story was a bit back and forth but that is for the set up for the next one probably...if your a predator/aliens fan you shouldn't be disappointed!!
September 23, 2018
Good entertainment. Better than I expected. Sets us up for a kick ass sequel to take on the Predators. Can not wait
September 22, 2018
Great movie. Hilarious especially the guy who plays the guy with turrets. Lol. He had some funny lines. Ones you never see coming. If this movie was serious it wouldn't have done well but the comedy was very welcomed and thoroughly enjoyed it. I have seen this twice and I still laughed at the jokes in this movie
September 22, 2018
Poignant, deep and touching. This movie stirs emotions and causes one to reflect on a more innocent time in our lives. A movie for the ages, just in time for the Academy nomination season. Best Director, Best Picture and best supporting actor are all locked up.
September 21, 2018
One of the best action movies I've seen in a long time. Loved it. Would go a second time to see. Loved Munn, she rocked.
September 21, 2018
The only real Predator in this movie is Casey Bracket(Olivia Munn)
September 20, 2018
Not close to the original....... lots of special effects but little else to hold the audience's attention..... Not worth seeing until it gets to the dollar movie theatre...
September 20, 2018
Ignore the haters, it's a ton of fun!
September 20, 2018
My hubby made me go see this movie, which is geared, for men, swearing, shooting, a little boy in peril, oh no....sigh, i've seen it all before. Cannot wait for Cinemasins, to get their hands on this one lol
September 20, 2018
It's this year's Christopher Robin.
September 19, 2018
Really dont get the negative reviews. Thoroughly enjoyed it. Not an oscar winner, but funny and entertaining none the less.
September 19, 2018
A new high for the series and the best action film of the year. Exceptionally well-done! 10/10
September 18, 2018
It was okay for a little bit, but after the seeing the trailer, you could easily predict the whole movie and what was going to happen. The movie was worth watching at least once, but not actually worth the 12 dollar ticket price, wait to redbox it if you want to see it.
September 16, 2018
Sort of disappointing. I did not like how the movie makers allowed a small boy to hear and be around so many adults using extreme foul language and even allowed the boy to curse himself. Also the crazy soldier prisoners who ended up fighting the predator was really stupid. This movie was never serious with good sane actors like the original predator with Arnold. The adult cursing and other foul language was way way too much and not needed at all. Don't even think about making another.
September 16, 2018
Ignored the bad reviews and saw it anyways. Let's just say that the coolest of the first Predator movie is definitely not in this one whatsoever. Good graphics though. But then again, every movie nowadays has good graphics.
September 16, 2018
Not an entertaining movie. Skip it if you can.
September 16, 2018
Sub par effort on all levels.
September 16, 2018
Predator is not a good movie. The plot has huge holes in it, disconnecting some of the scenes. The acting was sub par. Are acting lessons no longer provided? The action sequences were more about shooting stuff than anything else. Again another movie destined for blue ray. Come on Hollywood, where were the gay people to round out the diversity angle? Failed on so many levels.
September 15, 2018
Bad editing, terrible ending, confusing tonal shifts, was this supposed to be a comedy? I dare say AvP 2 was better!
September 15, 2018
I am a huge Predator movie fan, and so i was hoping for the same level of excellent story as the original. Not so.........I was hugely dissapointed !! Poor script. I had zero enjoyment of this movie. Save your money and don't bother seeing this one................
September 15, 2018
Looks like a lot of rent-a-trolls giving inflated grades on a movie that is now about as exciting as watching paint dry. Nothing new here folks in either acting or stroryline. Hollywood goes to the well just once to often a lot of times.
September 14, 2018
The predator was awesome. 5 stars
September 14, 2018
This is the worst Predator movie of all time. Terribly storyline, and just plain bad. Don't waste your time seeing this one
September 07, 2018
Amazing.
September 06, 2018
I love it how knit wits comment on how amazing a movie is before it even comes out.
May 11, 2018
HELLO GOOD MORNING MOVIE FANS . AND I LIKE THIS NEW MOVIE OF THE PREDATOR . AND I WANT TO SEE THIS PREDATOR MOVIE OF THE SECOND EPISODE TOO. AND THANKYOU VERY MUCH.
September 15, 2017
OH OH OH THE NEW MOVIE OF THE PREDATOR IS COMING IN 2019 AND I MAY BE GO TO THE CINEMA TO SEE THIS MOVIE TOO . AND HOW GOOD IS IT I DO NOT KNOW AT ALL. BUT THIS MOVIE IS VERY GOOD TOO . AND IF ANY ONE WHO LIKE THIS THE PREDATOR NEW MOVIE PLEASE SEND A NOTE FOR ME PLEASE TO LET US KNOW HOW DO YOU LIKE THIS MOVIE AT ALL TOO. AND THANKYOU VERY MUCH.