The Prestige
Thank you for rating this movie!
Read your review below. Ratings will be added after 24 hours.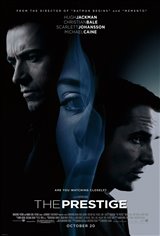 4.36 / 5
User Rating
Based on 14793 votes and 134 reviews
---
Please rate movie 1 to 5 stars
Showing 1 to 50 of 134
February 10, 2018
Very original movie from unusual environment ´cause there are not many movies about illusionists. But I would appreciate more linear storytelling, I got lost sometimes.
August 01, 2014
The Prestige was an amazing movie. It had a great plot with twist and turns. The ending is so awesome.
October 05, 2010
very nice movie
September 12, 2009
i think this is da best movie i ever watched in my life.its good to watch great movies like this compared with da cheap movies they produce now.
May 26, 2009
A two tumbs up movie! Amazing performances from Christian Bale, he totally steals the spotlight from Hugh Jackman. Because of the recent horrible Wolverine movie, I am not such much a fan of Mr. Jackman. But none the least, this movie is perhaps one of the most thrilling and exciting movie by far, 5 Stars!
February 24, 2008
This movie is amazing. I never saw the ending coming. But, to fully enjoy and appreciate this movie, it needs two watchings. You wont understand a thing the first time. Every character looks exactly the same. But the 2nd makes a hundred times more sense. It is a great movie!!
June 10, 2007
could, and ought to have been, much better considering the cast and director. I thought the movie tried to "out-think" itself.
May 07, 2007
Tributefan: Awesome story and a good twist at the end. 4.0 / 5 stars
March 08, 2007
Not a great movie but at least it was better than The Illusionist. Some interesting twists throughout the story and it was fun to watch Bale and Jackman.
February 27, 2007
What a waste of time. Sure glad that it was a free movie from the video store or I would have been even more ticked because it would have been a waste of money as well.
February 25, 2007
Too predictable, if you like a good mistery, not for you, acting was good but plot did not leave much to the imagination,
February 23, 2007
Excellent movie, but I`m glad I watched the dvd so I could watch certain parts again. You hated both characters, which you are supposed to. The Tesla story was a bit much though. Didn`t think it was quite as good as Batman Begins. Bale is an amazing actor.
February 14, 2007
Good movie to watch. Exciting, good acting..
February 13, 2007
Excellent movie, even though you could see the ending coming from a mile away. Still worth buying.
February 13, 2007
Honestly i have no idea how anyone could like this movie.... If it wasnt for the fact that i saw it on a date i woul dhave walked out in no time!!! This movie was very boring and i wish i didnt waste $10 to have to bear through it. if you plan on seeing this movie, My suggestion is this: DONT!!! Stay home and do laundry or something at least then youl have clean clothes and youl feel like you didnt waste 2 hours of your life!
February 01, 2007
IT WAS AMAZING.............. THE END IS SOMETHING U WOULD NEVER EXPECT...WOW!!!!!! BEST MOVIE OF THE YEAR LITTERLY, JUST AMAZING
January 21, 2007
Outstanding performance with a twisted ending too, I loved it!!
January 14, 2007
Loved it! I understood the movie and i enjoyed it very much. I was glad that it was somewhat long (in a good way), and I was very happy that they put some justice into Nikola Tesla`s work, and NOT Thomas Edison. Great movie, 5 stars!
December 29, 2006
It was an interesting movie it had exciting parts....
December 15, 2006
kik ass
December 11, 2006
It was ok
December 08, 2006
Disappointing.
December 05, 2006
It was pretty good, twisted, rather dark. I preferred the Illusionist, but I would still recommend seeing this movie.
December 01, 2006
Very Good movie, it just kept you guessing!
November 26, 2006
I think Perstige is a GREAT movie. But you have to pay ALOT of attention or else you may not get it.
November 21, 2006
After sitting thru one disappointing movie after another this year, I finally found one that made me sit up and take notice. THE PRESTIGE. Was half asleep watching the first time,I have insomnia. and probably missed alot because of it. Yet, I was unable to get this movie out of my mind, so many questions. I can`t remember when a movie made me use my brain,the twists and turns, and exchanged looks and body language - when you think you`ve got it, you realize you don`t. Talked it out with another watcher and her son had explained alot. But, still had unanswered questions. Thought if I saw it again, I would put it all together. No such luc
November 21, 2006
This movie was great. I loved it, and it kept you thinking, making sure that you were watching the movie. Couldn`t keep my eyes off it. And however says that they figured out the twists in the movie, all i can say is What Are You... Pshycic. :)*****:)
November 17, 2006
i loved it!
November 17, 2006
I thought it was a great movie! Really great acting and the ending is such a twist it was awesome!
November 17, 2006
Not an Amazing movie but very good, can seem a little long at times, but ends really well.
November 15, 2006
Finally, a movie with the slightest bit of intellect! I loved this one!
November 15, 2006
YAAWWWWNNNN!!! It`s incredibly easy to figure out the "twists". Everyone comments that it makes you think...but this had me yawning from beginning to end...good acting tho.
November 15, 2006
A gripping thriller full of intriguing ideas.
November 15, 2006
Amazing movie. I WILL be seeing this one again.
November 14, 2006
Best movie i have seen this year
November 13, 2006
it`s one of the best I`ve ever seen this year. different and surprising
November 12, 2006
Yet another great piece by Christopher Nolan(and his brother). The next Batman will obviously be agreat one!
November 11, 2006
I LOVED IT! It was real confusing but in due time the pieces fit the Puzzle and it just clicks, very clever story. Few annoying bits but not to worry, its confusing but rewarding when it is solved!
November 11, 2006
I loved this movie! Pay attention to what happens during the beginning because it all makes sense at the end! Everytime you figured something out, another puzzle presented itself! Great acting and great effects! I loved the cameo by David Bowie!
November 11, 2006
This was an amazing must see!!
November 11, 2006
The prestige was a mind tricking movie. It was worth its publicity and the actors and actresses did a great job. What more do you want from a movie with David Bowie as a guest star?!
November 11, 2006
Great plot twists!! You walk away with bunch`a things to think about... Magician story sounds a lil` lame at first but this movie puts an interesting angle for the viewers... GO WATCH IT!!
November 11, 2006
Lost me in the first half hour of the movie. I fell asleep. I don`t know if they had the sound turned down lower but so much of what they were saying seemed to be muffled. Disappointing waste of money...at least the popcorn was good!
November 10, 2006
amazing i loved it. It kept you going with twists and turns, and you were always thinking. Reminded me of the DaVinci Code where, you REALLY had to pay attention. Like a puzzle. In the end EVERYTHING made SOO much sense.
November 10, 2006
Smart movie, yes you spend some time in confusion but then it all clicks into place and you love the movie even more. Great cameo by David Bowie. Outstanding cast. Most interesting movie for a long time - finally something different.
November 07, 2006
The Prestige is one of the best movies ive ever seen i dont think il see another movie like it
November 06, 2006
If you liked the Illustionist... you`ll love the Prestige. If you like to keep quessing, sit on the edge and have fun... this movie is for you.
November 06, 2006
Really great movie. A little far fetched, but definately worth seeing!
November 05, 2006
like a huge logic puzzle. amazing techniques and excellent performances. keeps you thinking
November 05, 2006
Wait for DVD.....I found it just a little slow. Acting fine, fairly decent plot twists.