The Princess and the Frog - User Reviews
Thank you for rating this movie!
Read your review below. Ratings will be added after 24 hours.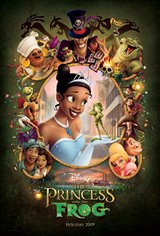 ---
Please rate movie 1 to 5 stars
Showing 1 to 45 of 45
December 08, 2016
LOVED IT :)
December 08, 2016
It is so great I love the music yes it was perfect!!!!!!!!!!!!!!!!!!!!!!!!!!!!!
December 08, 2016
I love this movie so much
December 08, 2016
Love my Disney, particularly their old school animation. For this movie, what really did it for me aside from the usual outstanding animation was the music. If you're a fan of Dixieland and New Orleans Jazz, the soundtrack will be for you too. Otherwise a familiar tale done with the usual Disney flare.
December 04, 2016
My daughter and I loved the movie! Such a great story!
December 04, 2016
Nice story. Highly recommend it.
December 04, 2016
It's really a Disney classic
December 04, 2016
Great music! Made me want to visit New Orleans.
September 18, 2016
This is the best disney princess movies of all time.
July 10, 2014
I've seen it twice, and I loved it!!
March 31, 2014
I love this movie it such a twist of The Frog Prince. I love the songs and characters, their so funny. Tiana is definetly my favorite disney princess!
March 31, 2014
It is so great I love the music yes it was perfect!!!!!!!!!!!!!!!!!!!!!!!!!!!!!
March 08, 2014
This is excellent! great voice acting, great writing, great animation, great everything!
March 08, 2014
This is a classic iloved it especially the music!
December 30, 2010
i luv it alright but.....it's not perfect..gud job!
July 28, 2010
There is nothing wrong with this Disney movie. It's much better than most contemporary children's cinema, but I get the feeling that that is because it so closely resembles the films Disney animation was cranking out twenty years ago. It's not often you see a film whose deficit in originality is a strength, and indeed this film is a strange breed that way. They bring in stock characters, the basic storyline, the princess trope and even Randy Newman from other movies to artfully craft a movie that will do everything right that past Disney movies did. To point out some of the highlights of this movie, I'd have to pick the "Almost There" musical number, which features a kind of Art Deco animati
June 11, 2010
Umm Hercules has devils in it and Mermaid has a witch and Disney has other movies similar... No biggie!
March 14, 2010
UH -HEllo little mermaid had a witch in it too and it wasnt scary.If your going to keep your children locked in a bubble then dont watch this movie.
February 01, 2010
It is a funny movie
January 23, 2010
I wonder what walt disney has become? Scary parts...ghosts .... demons and voodo practices. If I had seen this movie before I brought my 5yr old I would not have brought her.
January 14, 2010
This movie is perfect for the entire family. It has funny, cute, and serious moments, in a language all members of the family can understand. It's fun to see the young ones laugh so hard at the silly moments, and see them get serious at the calm moments. A wonderful tale of the Princess and the Frog.
January 09, 2010
Great fun For the family
January 08, 2010
I havenÈt stopped talking about this movie since I saw it. The bad thing with this is that I am 30 and I had to borrow my friends children to watch it. It was traditonal Disney movie - a feel-good movie, but made to suit the generation we are in. Any kid over 3 years old will love it. In my opinion, every adult will love it too.
January 08, 2010
This movie was awesome. It made me fall in love with Disney movies all over again. My three year old loved it and was not scared one bit. The music was very good, true to classic disney movies. This will definitely be one to buy.
January 03, 2010
I loved this movie!! It had many cute moments and lots of humour. It brings back the style of the old classic disney movies. The classis love story is evident and perfect. A great twist on the classic story.
January 01, 2010
It is absolutely brilliant. I recommend this to anyone. The people who are complaining about it being too scary for children obviously never read any real fairy tales, or let their kids watch anything else but the Wiggles. The music is fantastic, and fits into the setting of New Orleans perfectly. And oh my goodness! It has a plot! And a strong female character who isn't helpless! I love it.
December 30, 2009
Words cannot describe how (epicly) awesome this movie is. I would like to give a sincere thanks to all the wonderful people who put their best efforts and talent to this beautiful materpiece of animation.
December 30, 2009
This movie is full of voodoo and references to the occult. It should not be rated "G" and is not suitable for children.
December 27, 2009
Very Good MOvie, some say it was scary... no different from Aladdin...
December 27, 2009
The music was wonderful. My eight year old daughter really liked it. I myself postponed going to the restroom during the movie as I did not want to miss any of the story.
December 24, 2009
I thought it was okay. It got boring half way through. I think that it was too long. I don't reccomend it for young children. The animation was great. I wouldn't watch it again.
December 22, 2009
This movie was not what I would expect from disney, my 3 and 4 year old nieces were scared half the time and I give it 1 star out of 10
December 22, 2009
Got a little boring in the middle ...
December 20, 2009
I thought this movie was okay, but not the best Disney has every produced. It was a great idea to have the first Black Disney princess; I am surprised it has taken this long. However why is it that the princess has such a heavy accent? I don't remember any of the other princesses having such a thick accent, even Jasmine coming from the country she does didn't have an accent. Why is it that the princess has to work two blue collar jobs and live in a poorer neighborhood? I thought it would be a great thing to add Tiana to Disney Princess status but I'm not sure I totally agreed with how they went about it. I wasn't a fan of most of the songs even though I liked the style of music from New Orle
December 20, 2009
2D animation goes strong with this movie, it was as good as Aladdin! Really loved it.
December 18, 2009
Excellent movie for everyone in the family. The animation is breath takening and the music is amazing.
December 18, 2009
A grand return to the classic Disney stylings of animation. Truly loveable characters, great music and a wonderful storyline! This will be a Disney classic!
December 17, 2009
BEST MOVIE EVER!!!!!!!!!!!!!!!!!!!!!!!
December 15, 2009
Anything Disney is amazing.. love that this is the classic animation! Such a wonderful story!
December 14, 2009
Wonderful movie, loved that it was set in New Orleans...I cried
December 13, 2009
Great movie but not for kids under four my nepthew was afaird.
December 12, 2009
Wonderful movie! Every kid of any age and race will enjoy the movie. It was funny, sad,happy, romantic. It was a fantastic moive.
December 12, 2009
So good. Definitely some parts that were scary for the kids but a definite princess movie that could become a favourite.
December 12, 2009
This movie was great
December 11, 2009
I will it was out of 10, because I wanted to give it 10. It was so awesome and amazing! I liked all of it and you will too. Now I want to see you at the movies watching that! Go!