The Promise
Thank you for rating this movie!
Read your review below. Ratings will be added after 24 hours.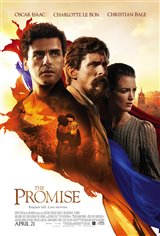 4.84 / 5
User Rating
Based on 574 votes and 147 reviews
---
Please rate between 1 to 5 stars
Showing 51 to 100 of 147
April 27, 2017
Really recommend it
April 27, 2017
A must see movie! Thank you Kirk Kerkorian and the entire production team too!
April 27, 2017
It was an important film which depicted the Armenian Genocide. An important part of history that needs to be told in order to prevent future genocides. Christian Bale was amazing along with the rest of the cast. Great Movie! Must see!
April 26, 2017
This movie tells the story about a tragic event that happened a hundred years ago. The story needs to be told and we need to understand that if it happened once it can certainly happen again. Much like the Holocaust - never forget.
April 26, 2017
Unbelievable story and great production. Amazing cast and awesome presentation of Armenian Genocide. Did not show blood and torture but the story tells you the atrocities of that era! I saw it twice. Going to see it again with friends.
April 26, 2017
Superb! The film is interesting and full of action and suspense. It is very well prepared and directed. The historic scenes, locations and costumes for real events which happened more than 100 years is amazing! There were about 2.1 million Armenians living in the Ottoman empire in 1914, and about 387,800 by 1922, according to The University of Minnesota's Center for Holocaust and Genocide Studies. Where are they now? A must see.
April 26, 2017
It's a powerful movie based on true events, it is entertaining, tragic with historical facts and educational at the same time... A must see movie!
April 26, 2017
Powerful and historically important film while at the same time a beautiful but sad love story. Watch it for the brilliant storytelling, great acting. Great cinematography.
April 26, 2017
Daughter of Survivor, of the Genocide perpetrated by Turkey and continuously denied by Turkey. I honor the memory of Kirk Kirkorian for funding, and thank all involved in the production. The movie has mitigated violence compared to eye witness accounts and experiences. Death in Historic Armenia, deportations, river colored red with innocent blood and do much more absent from the movie. Excellent acting and production.
April 26, 2017
Excellent movie ! Everybody should see ...
April 26, 2017
This was an amazing movie that portrayed the Armenian genocide. We will never forget or forgive what the Turks did to us. Everyone must see this movie, including all Armenians and non-Armenians
April 26, 2017
A film that presents the deeper meaning of the Armenian Genocide
April 26, 2017
Don't miss it! Best movie I've ever seen with a deep message!
April 26, 2017
OMG !!!! I loved it !!! A must see!!! Tells all the truth about the Armenian Genocide, despite the denial machine going against the movie! Kudos to Terry George and the wonderful cast!
April 26, 2017
Excellent movie
April 26, 2017
Amazing movie about The Armenian Genocide! Loved the fact that real historical characters were also included ! A must see to get a sense of the enormity of this inconvenient & forgotten Genocide!
April 26, 2017
Amazing film !!!! A must see movie
April 25, 2017
Absolutely great! I would have loved it if it was just a fictional story, but to know that it's based on the truth of the hardships endured by the Armenian people made it even more heart-wrenching! A must see by everyone!
April 25, 2017
Extremely touching! I would recommend everyone watch this movie. I had no idea what armenian people have gone through, absolutely cruel and inhuman.
April 25, 2017
Great great movie
April 25, 2017
This film educates those individuals who are unaware of the Armenian Genocide and its atrocities that took place from 1915-1923.
April 25, 2017
It educates people about horror of genocide committed by Turks against Armenians, Greeks and other minorities in Ottoman Empire.
April 25, 2017
Very interesting and emotional movie.
April 25, 2017
Something to talk about ! Yes!
April 25, 2017
We went with 15 members of the church choir, the all loved it! Great movie.
April 25, 2017
I encourage all Berkeley professors to go watch the Promise. Take all your students treat them to this powerful eye opening movie!
April 25, 2017
You do your best to watch the PROMISE with all of your family. Owe it to humanity! Don't waste your time watching other Hollywood movies till you see this. Beautiful! Powerful!
April 25, 2017
Background music from the beginning of the just melted my heart! Great actors. Very touching. My 14 year old loved it. The Greek lady sitting next to me broke in tears:( be strong, you need to see this movie)
April 25, 2017
This is the first movie in months I have been interested in seeing, nothing to do with aliens, superheroes or spaceships. A good engaging drama that deserves to be seen. Apparently the fact this story is being told is ruffling a few feathers. Not surprising when governments try to deny wrongdoing to a people: http://www.cbc.ca/news/entertainment/promise-armenian-genocide-film-ratings-1.4083684
April 25, 2017
Such an incredible movie.
April 25, 2017
A powerful artistic film crying out for recognition of the Armenian genocide at the hands of the Turks during WWI. They were murdered because they were christians! Today we see this same genocide of ancient christians once again and it must be stopped!!!! We all call upon President Trump to protect christians throughout the world!
April 24, 2017
Absolutely loved it - amazing movie. A must see.
April 24, 2017
True story. Amazing cast and masterfully done.
April 24, 2017
Great movie, a real masterpiece.
April 24, 2017
Amazing love story taking place during the Genocide of the Armenian's by the Ottoman Empire in the early 1900"s. Well done movie, love story and the history of what the Armenian's endured by the Turks.
April 24, 2017
Excellent ! Should win Oscar! Bravo👏👏👏
April 24, 2017
I was not aware of this conflict during the First World War. Humanity can be so cruel. These stories should be told and not hidden. The movie was very well done.
April 24, 2017
This film is based on the true events of the Armenian Genocide by the Turkish people of the Ottoman Empire. It makes me and my family so proud to have a piece of our story and history shared on a global scale. Our ancestors will always be remembered and this film brings to life the true struggles, endurances, deaths, and survivals that Armenians faced. Thank you to everyone involved in this film and making our voice heard on the big screen. One significant thing to take from this film for anyone watching is that reporters, such as Christian Bale's character, are what made the evidence we have today, with their articles and photographs. I'm so thankful for those reporters for their bravery and risky and dangerous jobs, all based on their goal to bring these stories out to all people around the world so they know what kind of terrible acts against humans are being made and historically documenting these true facts. I was brought to tears watching this film and it truly is great. Don't believe anyone who rates this less than 5/5 or 10/10 stars. Go see the film and do some of your own research online on articles and images of this day in history and you will see that although we faced it all, we still stand tall and proud today because we are Armenians. We never give up and always fight for what's right.
April 24, 2017
Excellent movie !!!
April 23, 2017
Best movie ever
April 23, 2017
perfect way to have our story brought out to the world
April 23, 2017
Based on a real story, very touching.
April 23, 2017
Epic scale movie, based on the true events of the Armenian Genocide. It builds up through fire and torment to the legendary resistance of Musa Dagh. Christian Bale, Oscar Isaac, Charlotte Le Bon, Angela Sarafyan, James Cromwell, Jean Reno and Shohreh Aghdashloo convene to give the depth and shine of a constellation to the film!
April 23, 2017
Amazing movie !!! Heartbreaking !!!must see.
April 23, 2017
Must see movie ! I was impressed how well this movie is made , and seeing the torture of Armenian people was very emotional .