The Pursuit of Happyness - User Reviews
Thank you for rating this movie!
Read your review below. Ratings will be added after 24 hours.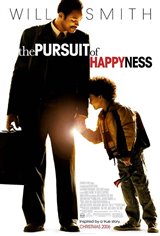 4.24 / 5
User Rating
Based on 1830 votes and 134 reviews
---
Please rate movie 1 to 5 stars
Showing 1 to 50 of 134
September 08, 2015
Very touching, excellent acting by father and son.
July 13, 2014
AMAZING MOVIE! One of my favorites. Watch it with teens. It will give them a piece of mind. Will Smith and his son are amazing actors.
April 06, 2009
a great will smith movie thumbs up
June 29, 2008
this movie is soo special
February 22, 2008
great movie, loved every bit of it
July 20, 2007
Tributefan: This movie should be a lesson for some people. I really liked the story it was somewhat sad and very touching. Will smith acted very well. Shows that if you try really hard you can accomplish your dreams. Good movie 3.4 / 5 stars
April 07, 2007
Amazing movie!~ 5 stars, and two thumbs up. Amazing acting by Will Smith! His son is ADORABLE ! Amazing acting by Jaden Smith as WELL! : ) Loved it!
March 30, 2007
very sad and a veeeeeeeeeeeeeeeeeeeery touching film.
March 04, 2007
It was an amazing movie with an even better story to it. Will Smith was definately at his best and should have got the oscar for this one. I would go to this movie again in a second.
February 07, 2007
"The Pursuit of Happyness" is probably one of the best films Will Smith has ever stared in, not say that it is one of the best movies of the year. It was more of a time-waster at the one hour mark, then the last fifty minutes made me want to fall asleep. Thankfully, my friend sitting next to me, nudged me a little. Boring, predictable, pointless, are just some of the words that can describe this unpleasant film. (*/*****)
February 06, 2007
very nice.
January 31, 2007
WOW WHAT AN ABSOLUTE GEM OF A MOVIE.IF ANYONE THAT NEEDED INSPIRATION IN LIFE DIDN`T GET ANY FROM WATCHING THIS BEAUTIFUL FILM THEN THEY NEED TO SEE IT AGAIN. AS FOR WILL SMITH I THINK THAT HE IS AND CONTINUES TO BE ONE OF THE BEST ACTORS IN HOLLYWOOD AS WE ALL KNOW HIM FOR BEING A FUNNY GUY BUT DAMN CAN HE ACT SUPERB IN A SERIOUS ROLE.WILL MY MAN I HOPE THAT AFTER DOING THIS ROLE AS CHRIS GARDNER YOU GOT TO SEE WHAT IT`S LIKE TO BE ON THE OTHER SIDE OF LIFE. I KNOW THAT YOU ARE A MULTIMILLIONAIRE IN REAL LIFE BUT ONE OF THOSE CELEBRITIES THAT PROBABLY VALUES THAT YOU WERE ONCE BORN IN EAST PHILLY AND WERE RAISED IN A POOR FAMILY.GOD BLESS YO
January 29, 2007
LOVE IT!!!!GREAT MOVIE...IT WAS GRRRRREAT!
January 29, 2007
Really good movie! Will Smith did a great job!
January 28, 2007
I think it was an awesome movie and it was a really good father & son movie. I went to Montreal in 1997 & one night my Aunt (Jody), Mom, my Uncle Jim and I went to see Men In Black with Will Smith.
January 28, 2007
Sooo good!!! Go to see it! Will`s performance is very good! His son works better than his father! I believe this kid has a great future as an actor. The movie`s music will touch your senses. Be prepared for a tissue just in case. The story is about problems, hope and courage. It deserves the ending, I left the theatre with happyness. My score: 90 of 100. Hollywood directors!! Please, more movies like this one.
January 26, 2007
Awesome Movie ! I was feeling down and out about my own life right now and I walked out of that movie theatre with a new sense of hope, things weren`t as bad as I thought they were -it could be a lot worse! Thank you Will Smith for bringing this to the screen !
January 25, 2007
a good father and son movie
January 24, 2007
In a time of confusion with evil all around Pursuit of Happyness provides a true story of hope and a shiny example of possibility if we truly want it. The fact that this is a true account strikes to the very core of the tiny spark of hope within us that says it is possible to design our own fate.
January 20, 2007
IT WAS THE BEST MOVIE EVER. IT REALLY TEACHES YOU SOMETHING
January 19, 2007
very boring
January 18, 2007
this was a good movie it just took along time to get to the point
January 16, 2007
my name is jahvon i saw the movie and like holy c*** this movie was excellently done i cant believe will put his kid throuhg all of that to get a job and fix there lives wills son is just five and can act like that wow he will really get a good job and for all you people who dont know the kid in the movie is actually wills real son 100% wicked
January 16, 2007
A feel-good, touching movie. Jaden Smith gave an amazing first-time performance. Its wonderful to finally see the underdog coming out on top for a change. - C.C.
January 15, 2007
I can actually say this movie was actually worth the money. Have seen an overall movie this good in a LONG time.
January 15, 2007
Wonderful!! Best movie I`ve seen in a long time. Everyone should see how the homeless live. Very touching. I hope Will Smith gets an oscar and his son was super for his first movie role.
January 14, 2007
Amazing and great
January 14, 2007
I actually thought the movie is the best movie I have ever seen! Will Smith and your son should win a grammy for the greatest movie ever! Excellent Job! =D
January 14, 2007
WILL SMITH OSCARS AWARD FOR THE BEST ACTOR, FIVE STAR RATING FOR THE FILM AND A BRILLIANT MOVIE, HEART WARMING
January 13, 2007
over rated.... 3 stars
January 12, 2007
It was a great movie. one of the better movies that Will Smith has done.
January 11, 2007
this movie was amazing! truly a master piece! Will Smith and his son both deserves awards for this work of art!
January 10, 2007
I thought the movie was excellent. Some parts were sad and exciting,but I would recommend this for all ages.I really enjoyed the movie, and I hope other people would like it,too!
January 10, 2007
It was pretty good.
January 08, 2007
This was a great movie, probably one of Will Smith`s best works yet. It was emotional and focussed on real life issues. People can relate to this movie and that is what makes it such a success! I highly recommend it
January 08, 2007
This movie was a very touching movie...I enjoyed it very much. I love how the producers and dirctors (film makers) made the movie seem so realistic and true...as it was true! Excellent Job!
January 08, 2007
This movie touches a chord with most who`ve had to struggle with changing fortunes and looming failure at every corner. W.Smith is just incredibly genuine in his portrayal. And J.Smith, as the son, makes the movie even more stirring. And so too, Newton. An EXCELLENT cast all around!
January 08, 2007
Good movie but I was disappointed to read here that thos movie is not accurate. The big problem in the movie is Dean Witter Reynolds does not pay Gardner but in reality he was paid. If they are twisting facts (um, lying?) to affect the audience emotionally, why should we buy the whole story? Who would be knowingly and willingly inspired by untruths and half-truths?
January 08, 2007
One of the best movies that I have seen in a long time. Great cast. Will Smith does an amazing performance! A must-see.
January 07, 2007
This movie was great. Will Smith played a role that he is sure to win "Best Actor." The introduction of his son in this movie was good as well.
January 07, 2007
Its a touching movie, realistic, dramatic filled with passion
January 07, 2007
I thought this movie would be cliche and lame, but I was definitely wrong. This is one of the best movies I`ve seen all year for a few reasons: I felt connected to the characters, whom did not seem fake or over-dramatic; I actually was hoping for the best for the main character; and it`s NOT a "wow, my life sucks so much and then suddenly I overcome my problems - the end!" story at all. The ending is satisfying, but so is the journey there. There are some rare moments with humour, and there are moments where you can feel the hurt and pain of the main character. One of the few times I didn`t complain about the $9.60 movie ticket. A must
January 06, 2007
so touching, A movie that shows my exact life story of living on the the streets to a complete turn around
January 06, 2007
THE MOVIE WAS GOOD. BUT THE BOOK IS BETTER. I HIGHLY RECOMMEND READING THE BOOK! ITS MUCH MORE WORTH THE TIME AND MONEY.
January 06, 2007
Excellent movie!! Will Smith and Jaden Smith did a fantastic job! A truly inspiring and motivating movie. A MUST SEE!!
January 06, 2007
I found this to be a very sad and depressing movie throughout. I felt like an elephant was sitting on my chest for most of it. The only uplifting part was the last few minutes.
January 05, 2007
I ABSOLUTELY POSITIVELY ADORED THIS GREAT GOOD SAD EXCITING MOVIE!!!
January 04, 2007
really good and inspiring movie!!! will smith was excellent...enjoyed the film alot!! way better than the good sheppard!!!
January 04, 2007
I great movie! W.S made it the best movie ever! Congratulations WS